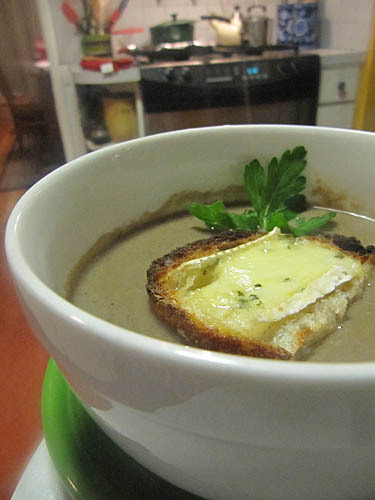 Here we are at the first French Fridays with Dorie of 2011. Paris Mushroom Soup.
Things I did differently and learned from this recipe:
1. I used 1 lb white button mushrooms and 1/2 lb portobello. This was mainly because that's what I had at home. Also, I used 1 white onion and 1/2 red onion, for the same reason. Because of this, I imagine my soup is a little darker than the white onion/white mushroom version.
2. I took this as an opportunity to try out my Porcini Salt from Red Ridge Farms. Mmmm…that's good.
3. This is now my favorite mushroom soup!
4. This was a great way to use up some turkey stock that I had in the freezer!
5. It's excellent with a toasted piece of sourdough bread on top. Especially if the toasted bread has some melted mushroom brie on it. I'm just saying…
Edited to add — See all the posts for this week here: LYL: Paris Mushroom Soup.

Onions sauteing.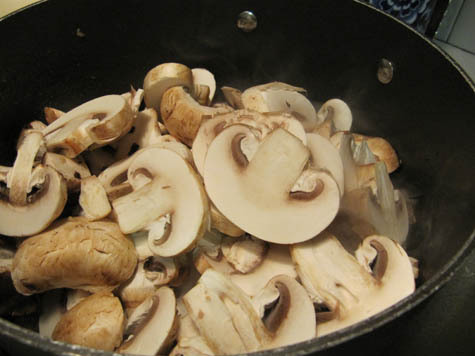 Mushrooms starting to cook.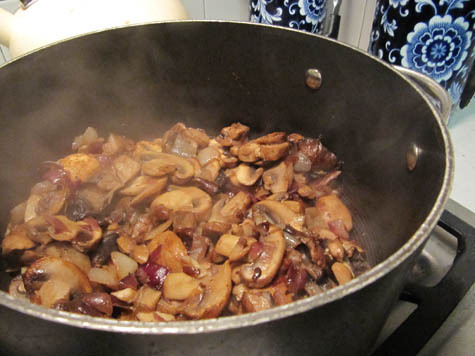 Mushrooms after they have released their liquid.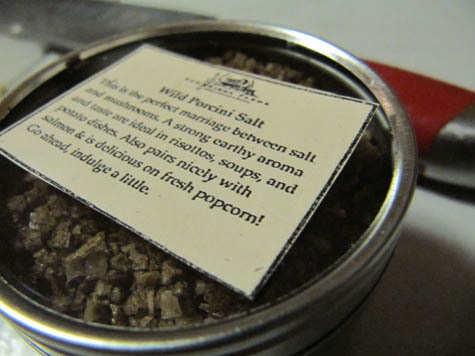 Porcini Salt FTW!!!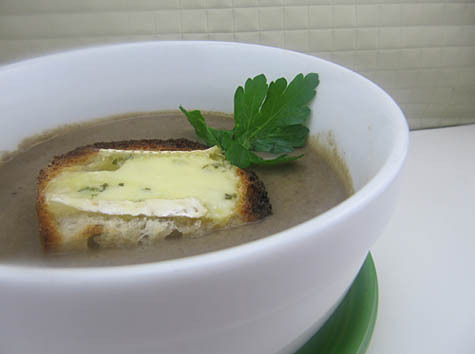 Delicious!
As usual for these FFwD posts, the recipe is in the cookbook, Around my French Table by Dorie Greenspan. You should get it if you haven't already…
And oh yeah, I didn't have the extra mushrooms for the mushroom salad on top. Which is why I made my brie-slathered crouton for the top of the soup. Yeah….that's why I did that.
Related tweet: "Eating Parisian Mushroom Soup for lunch. omg so good. Don't even mind that I'm eating it in Tigard and not Paris. Well, ok, I mind a little."