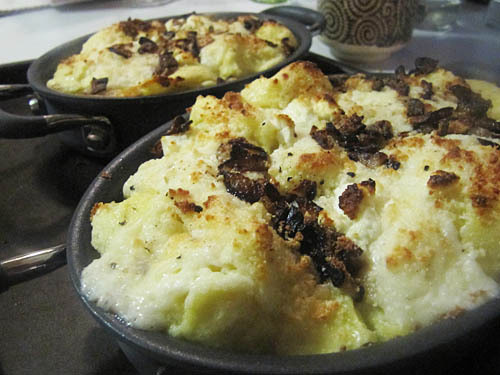 Well, damn, where did the week go? I really meant to do this week's French Fridays with Dorie post Thursday night. But instead, I got home from work and watched tv with jwa. Then, I was going to post this Friday night (better a little late than never, ) but once again foiled! This time by the $15 Italian appetizers + wine at Taste Unique, then by a quick stop at Whiskey Soda Lounge for a cocktail. Oops! Okay, then Saturday, I was all set to post but then there was something up with the server and I couldn't push my photos out. Finally, Sunday, I am posting. Hooray!
These were really good! And easy to make. The dough reminded me a lot of making the gourgeres. I will say that I think I like potato-based gnocchi a little better but these were great for a cold Winter's night (which it was last Friday, when we had them for dinner).
Things I changed/learned while making Gnocchi a la Parisienne:
1. It is impossible for me to make anything savory without onions and garlic. So, here I sauteed some shallots until they were brown and topped my gnocchi with those before going into the oven. I also added a minced clove of garlic to both the gnocchi dough AND the Béchamel sauce!
2. I made a half recipe and made two bigger single servings, instead of three. I did mine in two individual serving dishes.
3. I only had fat-free milk but I did have cream. I used almost all of the fat-free milk, but I did sub about two tablespoons of the amount for cream. Maybe that got me close to full fat milk?
4. I just used two spoons to form the gnocchi and push them off into the boiling water. Seemed to work okay for me.
5. omg, they puffed up in the oven! Neat! 🙂
6. On the side, we had a huge batch of the Spinach Steamed with Lemon from the same cookbook. Because really, this is the kind of meal that needs a whole bunch of spinach steamed with lemon. That was really good too!
Here are all this week's posts, at the French Friday's with Dorie site.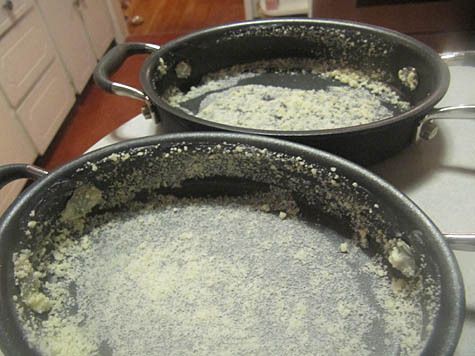 Serving dished buttered, parmesaned and standing by.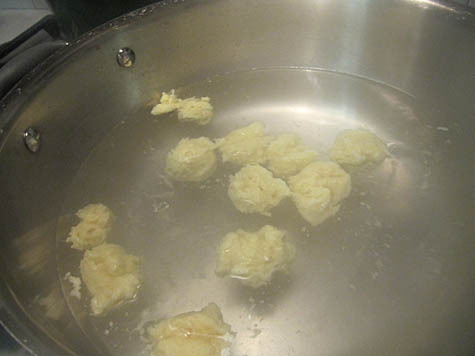 Gnocchis cooking away.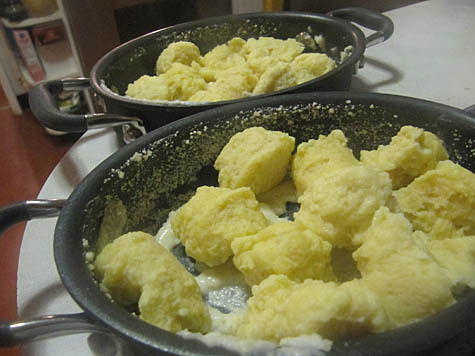 Gnocchis in the dishes, awaiting the béchamel.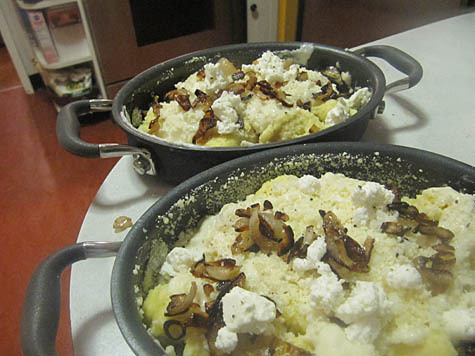 About to go in the oven.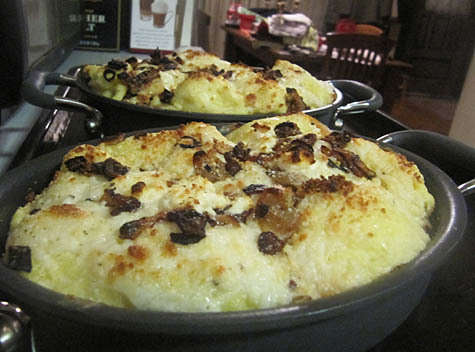 Out of the oven, look! Poofy!
As usual for these FFwD posts, the recipe is in the cookbook, Around my French Table by Dorie Greenspan. You should get it if you haven't already…