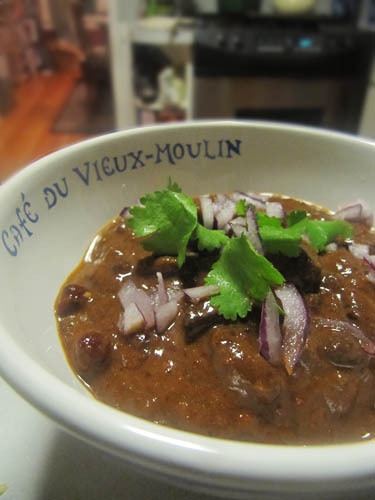 I love this chili! I've made it twice in the past month. It's really good…not mouth-burningly spicy (but it has a kick), very complex and if you are not from Texas, it's perfectly appropriate to add beans, imho. Hooray! If you want your chili all meaty and Texas-like, just increase the meat to 3 pounds and loose the beans. How you prefer your chili is between you and your kitchen, that's what I say. This is just how I like it.
The second time I made it, I actually grabbed a boneless rib eye steak from Trader Joe's, cubed that up and used that for the meat. I think it was about $5 and I liked that better than the $12 worth of short ribs I used originally. Go figure.
Oh and this leftover chili makes EPIC NACHOS. Seriously. Just load some tortilla chips up on a baking sheet. Scatter some spoonfuls of (warmed up) chili on top, add cheese and diced red onions and stick in a 400 degree oven until the cheese melts and the chip get a little golden. Wow. Yeah. You're welcome.
Portland-Style Chili with Beer, Coffee & Chocolate
Adapted from a recipe in Food & Wine Magazine
2 ancho chiles, stemmed and seeded
2 pasilla chiles, stemmed and seeded
About 2 cups boiling water
1-2 canned chipotles in adobo, seeded
1 cup brewed coffee (Stumptown! or in this case, Sleepy Monk Coffee Roasters from Cannon Beach)
One 12-ounce bottle pale ale (Bridgeport Ebenezer Ale because it was festive!)
2 tbsp vegetable oil
1 lb boneless short ribs, cut into scant 1-inch cubes (or 1lb stew beef, or 1lb other kind of red meaty steak-like substance)
Salt and freshly ground pepper
1 large onion, finely chopped
3 garlic cloves, minced
1/2 tsp ground coriander
1 tsp ground cumin
1/8 tsp ground cinnamon
1/8 tsp ground cloves
1/2 tsp dried oregano
6 cups chicken stock
1 can kidney beans, rinsed and drained
1 can black beans, rinsed and drained
1/4 cup masa harina or fine cornmeal
1 ounce bittersweet chocolate, chopped
Garnishes: hot sauce, Shredded cheddar cheese, chopped red onion, sour cream, cilantro, warm corn tortillas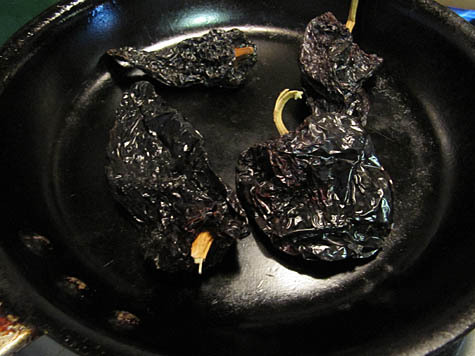 Heat a large skillet. Add the dried chiles (I actually stemmed/seeded after toasting) and toast over moderately low heat, turning, until lightly charred, about 4 minutes. Transfer the chiles to a heatproof bowl. Cover with the boiling water and let stand until softened, about 20 minutes.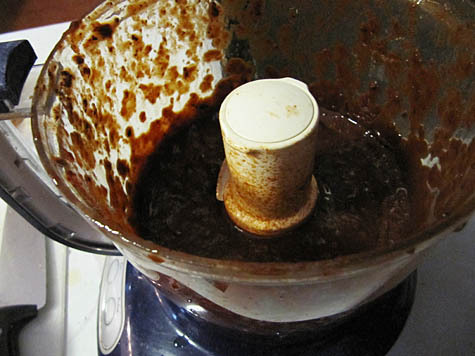 Drain the chiles and transfer to a blender or food processor. Add the chipotles and coffee and puree until smooth.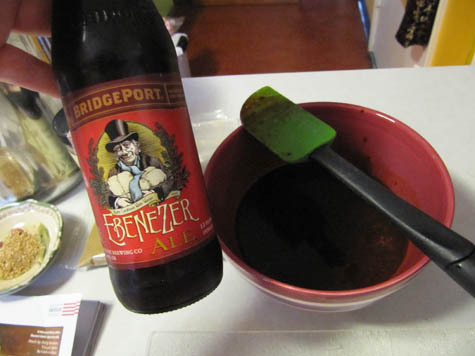 Heat the oil in a large pot. Season the meat with salt and pepper and add the pot. Cook over moderately high heat until browned all over, about 8 minutes. If you are using 3 pounds of meat, you'll have to brown in batches.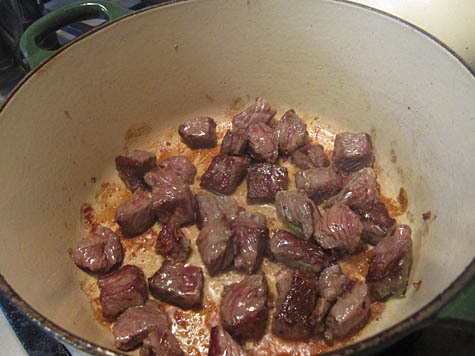 Add the onion and garlic to the pot and cook over moderately high heat until softened, about 3 minutes. Add the coriander, cumin, cinnamon and cloves and cook until fragrant.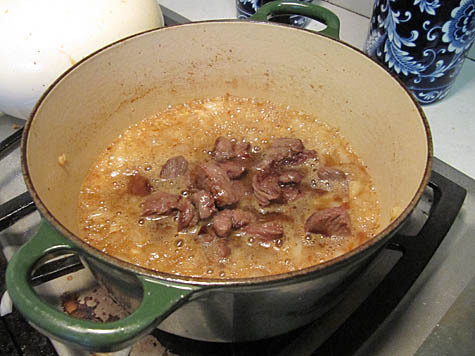 Deglaze the pan with the beer. Then, add the chile mixture and the chicken stock and bring to a simmer, stirring. Cover partially and simmer over low heat until the meat is very tender and the sauce is slightly reduced, about 2 hours.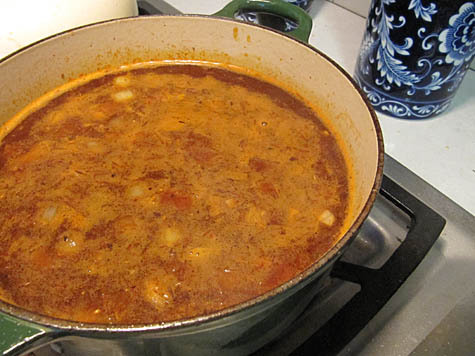 Ladle 2 cups of the sauce into a heatproof bowl and whisk in the masa harina.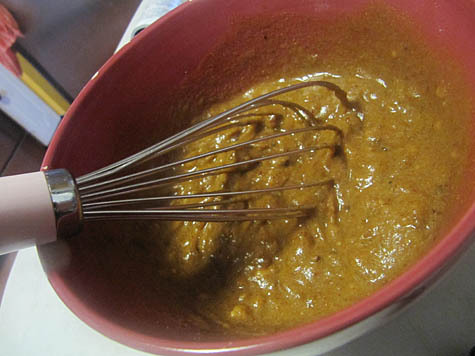 Whisk the mixture into the pot and then add the beans. Simmer until the sauce thickens, 15 minutes. Stir in the chocolate.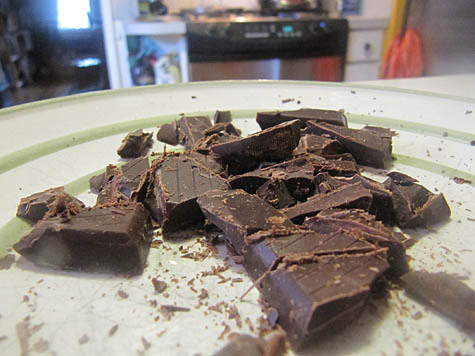 Season the chili with salt. Serve with the garnishes. Even better the next day!