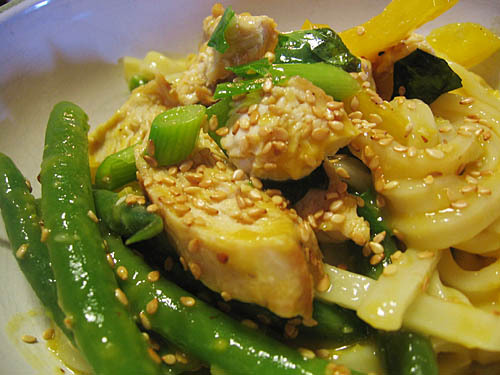 Well, it looks like this is the second salad post in a row. I will fix that by posting about ice cream next!
This recipe made a great cold lunch. You could serve it hot or warm, but I think it works just as well as a cold salad. The nice part there is you could roast all the veggies the night before (or in the AM), when it is cooler, toss it all together (minus the dressing), and then serve it later in the day, with the cool mango-sesame dressing. I actually made the salad at night, divided it out into bowls, packed the dressing up on the side, and both jwa and I had it for lunch at work the next day.
The original recipe just had snap peas, but I substituted green beans and added a bunch of other vegetables (and decreased the grilled chicken to one breast, instead of two). I also chose to use frozen mango pieces, instead of the original recipe's prepared, jarred mango chutney.
You can really add whatever vegetables you like here — as few or as many that you'd like. I kind of just used this as an excuse to clean out my produce bin. An excess of summer zucchini would probably work well here too!
Asian Chicken Noodle Salad with Roasted Vegetables
Recipe adapted from Bon Appétit Magazine — makes 2-4 servings, depending on how hungry you are
12 ounces green beans, trimmed
1 medium carrot, peeled and cut into thin 2.5-inch long pieces
1 small zucchini, cut into thin 2.5-inch long pieces
1/2 a white onion, halved and sliced into 1/2 rings
1 yellow bell pepper, cut into strips
10 cherry tomatoes, halved if large
1 8- to 9-ounce package fresh Japanese-style noodles (such as udon)
1 tbsp Asian sesame oil
1 grilled chicken breast, cut horizontally in half, then crosswise into thin strips
6 green onions, thinly sliced
1/4 cup thai basil
Toasted sesame seeds
Dressing:
1/2 cup olive oil
1 cup frozen mango slices (or chunks), defrosted — of course fresh will work too!
6 tbsp unseasoned rice vinegar
3 large garlic cloves, peeled
6 3/4 tsp soy sauce
1 1/2 tbsp Asian sesame oil
1 1/2 tsp Dijon mustard
1 1/2 tsp (or to taste) dried crushed red pepper
Make Dressing:
Combine all ingredients in blender. Cover tightly; blend until dressing is smooth. Season to taste with salt and pepper. Cover and chill until ready to use. Leftover dressing can be kept refrigerated for about a week.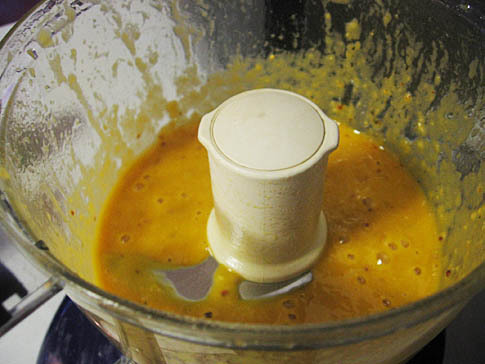 Salad:
Preheat oven to 425 degrees F. Arrange all vegetables to a baking sheet. It'll look like a lot but vegetables always cook down. Sprinkle with a little olive oil, salt & pepper. Roast for about 15 minutes. remove from oven and let cool.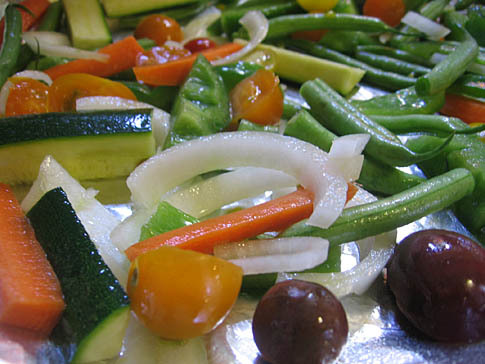 Meanwhile, add noodles to boiling water. Cook until tender but firm, 3 minutes (or as directed on package). Transfer to large bowl. Toss noodles with sesame oil. Add roasted vegetables, chicken, green onions and basil; toss with enough dressing to coat.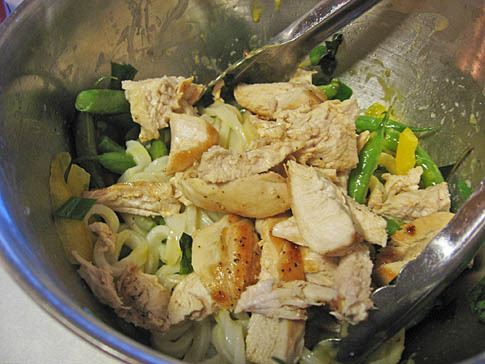 Arrange salad in bowls and top with toasted sesame seeds.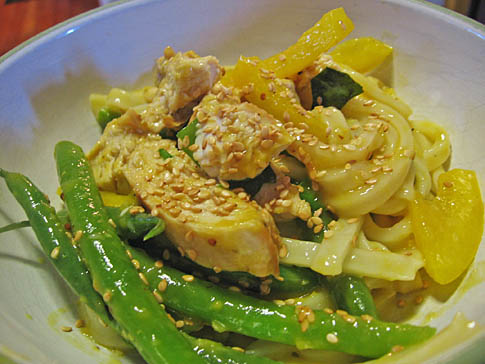 Extra dressing works great with almost anything. A dip for vegetables, sauce for more grilled chicken, spring rolls…a spoon.