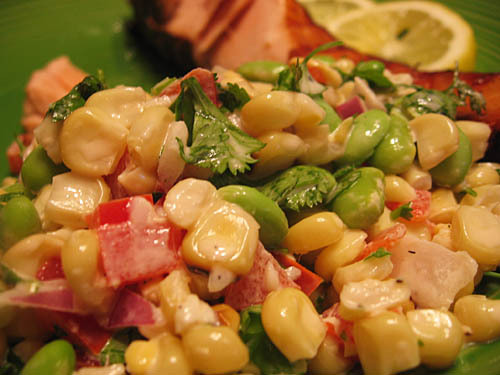 The other day, I checked the freezer and discovered a bag of frozen, shelled edamame. Then, I searched online for something interesting to do with it. I found something that was both interesting and delicious, for this is a very tasty and refreshing salad. The ginger works well, as does the garlic I added to the original recipe, which sadly, had none. So sad. Everything needs garlic.
Anyway, we had this salad on the side with some Japanese grilled fish (salmon). That recipe is here and was also quite good. Together, the pair made a great, light Summer dinner.
Oh! And big discovery — I pulled the husks and silks away from the cobs, rubbed the corn with olive oil and grilled it on my grill pan! About 15 minutes total time and it was done and ready to use in the recipe. That's a nice alternative to going outside to grill for just a couple of ears of corn (especially here, as it was just in a salad and not to be eaten on the cob). I was quite proud of myself for coming up with this method of cooking corn inside, because I certainly didn't want to turn on the oven or boil it.
Roasted Corn and Edamame Salad
Recipe adapted from one published in Self Magazine
2 ears fresh corn, unhusked, or 1 1/4 cups cooked corn kernels
1/2 cup shelled edamame (frozen is fine, just cook according to package)
1/4 cup chopped red onion
1/4 cup small-diced red bell pepper
1 tbsp finely chopped fresh cilantro
1 tbsp light mayonnaise
1 tbsp lemon juice
1 1/2 tsp finely chopped or grated ginger
1 clove garlic, minced
1/8 tsp salt
1/8 tsp freshly ground black pepper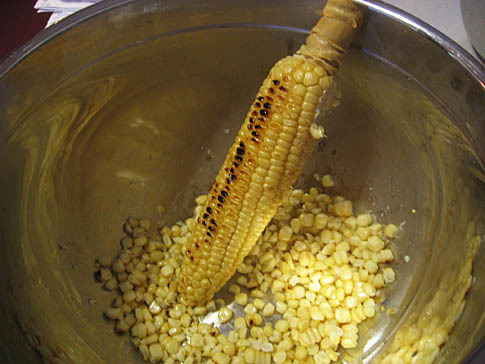 Soak fresh corn in cold water about 30 minutes. Heat grill on high. Grill corn in husk, 10 to 15 minutes, turning once. Let cool. Remove husks. Cut corn from cob into a bowl; combine with remaining ingredients.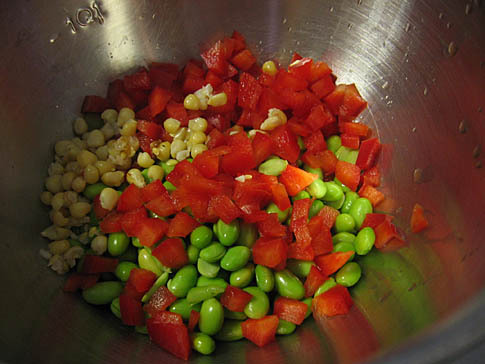 Cover and chill in refrigerator until ready to serve. Give it a stir and you're good to go!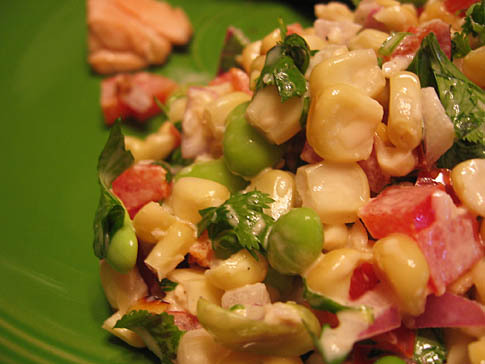 Coming up sometime in the future: something Greek, from the new $5.99 clearance Greek cookbook I scored at Borders, Miso-glazed fish, and a tasty halibut recipe!