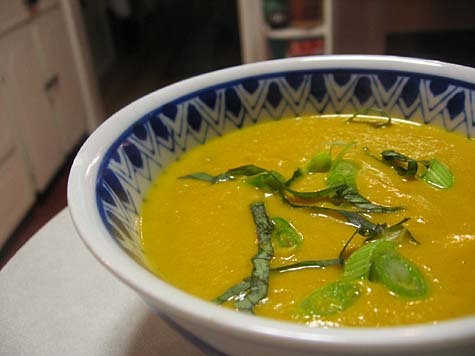 This was a recent experiment that ended up as a tasty dinner and then lunch the next day. I used a basic carrot soup recipe with ginger and lemon to start but then added a lot of other things to it (curry powder, cashews, coconut cream). It made a very interesting, satisfying soup.
My inspiration for adding all of those extra ingredients were a really wonderful bowl of soup I had a couple of years ago at The Cricket Cafe on Belmont and a recent lazy approach to dinner in the form of Pacific Foods Cashew Carrot Ginger soup.
I think you could easily substitute coconut milk for the cream (it won't end up as creamy) but you'll save some fat for a dessert or something. I went ahead and froze my leftover coconut cream in three batches for other recipes. That's what I do when I open a can of coconut milk and don't use it all. I'm assuming it will work with the cream as well. No one comment and tell me it won't work. Do not crush my dreams!
Also, I just want to add that I got the Ad Hoc at Home cookbook for my birthday and I am so excited to cook something from it!
Curried Carrot Soup with Coconut & Cashews
Adapted from a recipe in Bon Appétit
1 tbsp olive oil
1 tbsp butter
1 white onion, chopped
1 tbsp peeled fresh ginger, grated
Optional: 1 tsp fresh turmeric, grated
1 tsp curry powder
4 cloves minced garlic
3 cups medium carrots, peeled, chopped
1 tomato, seeded, chopped
zest of 1/2 lemon
1/4 cup toasted cashews
3 cups chicken stock or canned low-salt broth
1/3 cup coconut cream
small squeeze of lemon juice
Optional Garnishes: chopped green onion, thai basil leaves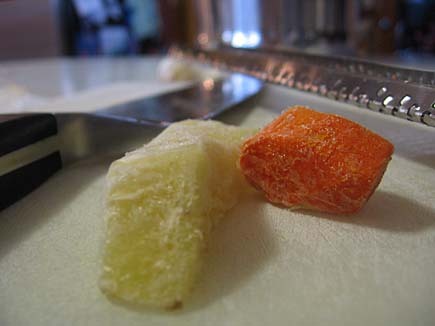 Frozen pieces of ginger and turmeric, about to be microplaned
Melt butter and heat oil in a heavy large pot over medium-high heat. Add onion; sauté 4-5 minutes. Add ginger (and fresh turmeric, if you've got it), garlic and curry powder; sauté 2 more minutes.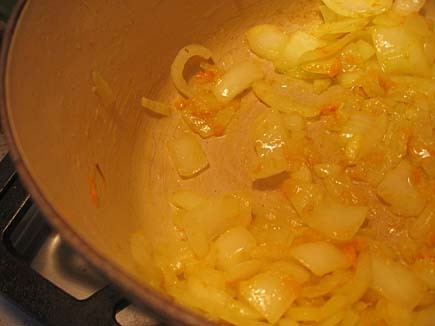 Oh, last month I came across fresh turmeric at Pasta Works. I know, neat! I used what I needed then and then peeled some and cut it into about 1-inch pieces, wrapped it up and froze it like I would peeled, fresh ginger. That's what I used here. If you have access to fresh turmeric, great. If not, just skip it. Or if you wanted to, you could add maybe a 1/4 tsp dried. But I wouldn't worry about it.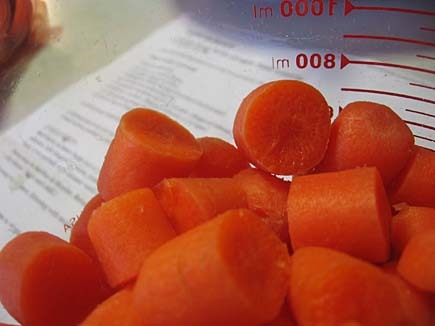 Next, add the chopped carrots, tomato and lemon zest; sauté 1 minute.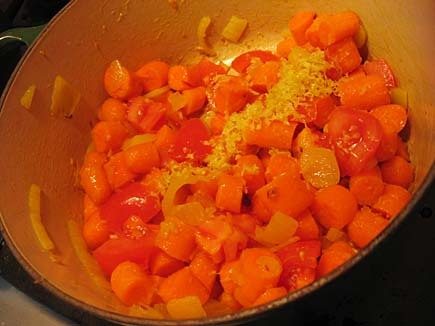 Add 3 cups stock and bring to boil. Reduce heat, cover partially and simmer until carrots are very tender, about 20 minutes.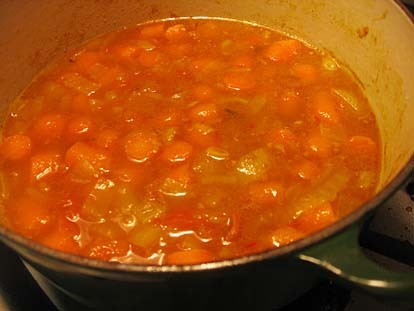 Stir in coconut cream and cashews. Cool slightly.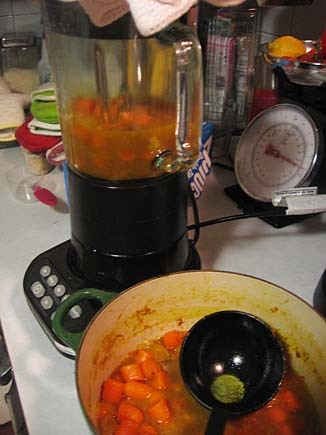 Puree soup in batches in blender. Return soup to pot. Squeeze in a little lemon juice. Season with salt and pepper.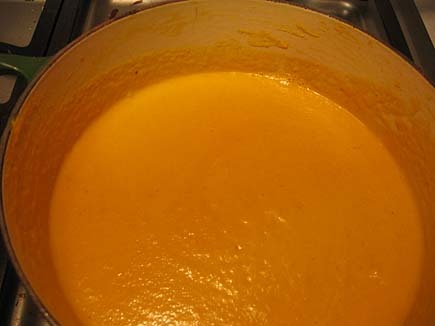 Bring soup back to a simmer, thinning with more stock, if needed. Ladle into bowls. Garnish with green onions and Thai basil if you have any.
***
Oh, I just added a bunch of images to Flickr, including: Brunch at Country Cat, our last dinner at Carlyle, Lincoln City and assorted food stuff.