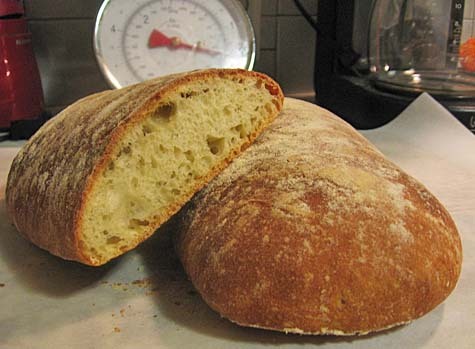 Oh, look, it's more bread! And not just any bread but some tasty, crunchy, chewy ciabatta.
This is very similar to the French loaf recipe, but there's no sugar and you shape the dough into two, flat, rectangular loaves. There aren't a lot of pictures here — mainly because I think I was just lazy. This, like the French round, is from the treasure trove of King Arthur Flour online recipes — specifically the yeast breads > French & Italian.
Rustic Italian Ciabatta
Adapted from the King Arthur Flour Website
1 1/2 cups cool water (12 ounces)
3 1/2 cups Bread Flour (or King Arthur European-Style Artisan Bread Flour (14 3/4 ounces)
2 tsp dry active yeast (the original recipe said instant yeast — is that something different? I used dry active)
1 1/2 tsp salt
Stir the water, 2 cups of the flour, and 1 teaspoon of the yeast together, cover and let rest at room temperature for several hours, or overnight. Here's what I did — we were going out of town for the weekend, so I mixed the starter up and stored it in the refrigerator for about 2.5 days.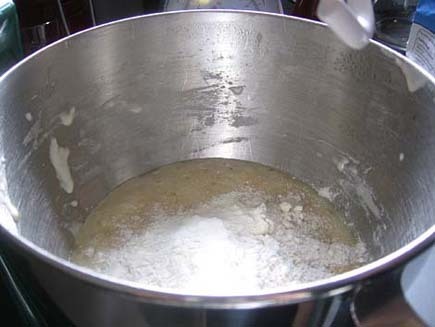 Add the remaining flour, yeast, and salt, mixing vigorously until the dough begins to hold together. This is a very sticky dough; add more flour only if it's "soupy."
Place the dough in a lightly floured bowl. Let it rise for 1 hour, then gently deflate it. Let it rise another hour, then turn it out onto a liberally floured work surface or silicone rolling mat, and sprinkle lots of flour on top.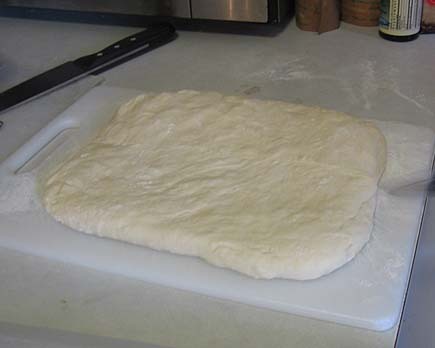 Flatten the dough to an 8 x 10 inch rectangle, about 3/4-inch thick, and cut it into two pieces, each about 4 x 10 inches.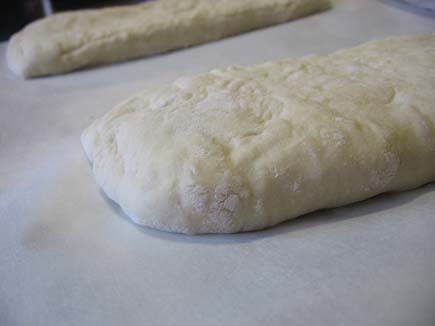 Transfer the loaves onto a piece of parchment, leaving about 6 inches between them. Cover with a proof cover or heavily oiled plastic wrap, and let rise till they're very puffy, about 2 hours.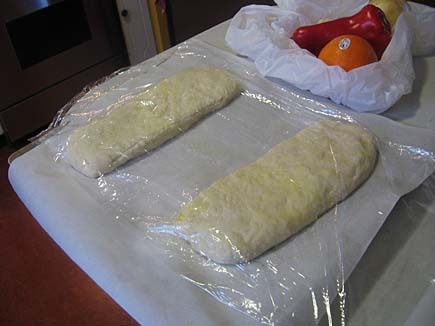 While the dough is rising, place a baking stone in the oven and set the temperature to 500 degrees F. Allow the oven to heat for 30 minutes. Spritz the dough with water, then transfer the bread to the stone, parchment and all, and lower the oven temperature to 425 degrees F.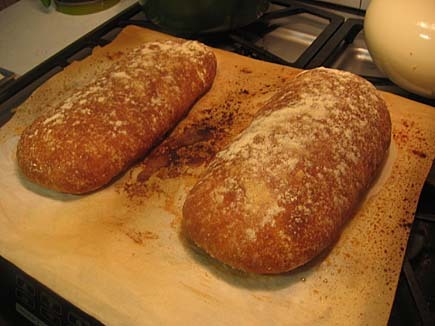 Bake the ciabatta until it's golden brown, approximately 22 to 25 minutes. Turn the oven off, crack the door open about 2 inches, and allow ciabatta to cool completely in the turned-off oven. Yeah, good luck with that…we lasted about an hour before the bread was taken out and snacked on.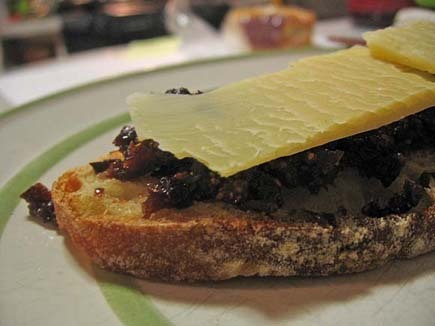 Note: If you don't have a baking stone, transfer parchment and ciabatta to a cookie sheet, and bake on the middle rack of your oven.