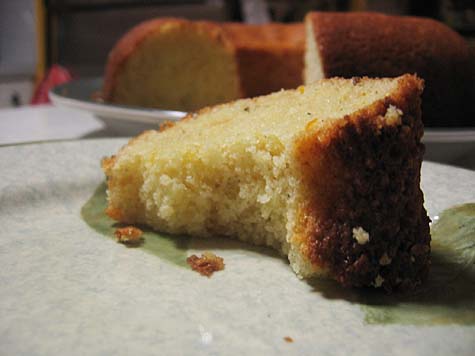 Oh my god, this was so good. I think this is the best cake i've ever made. I think this will be my signature cake, you know, if I ever need a signature cake.
I wasn't even sure this was going to turn out as I basically combined two recipes, substituted some ingredients and just hoped for the best. It's a little spicy, very vanilla-y, with a little hit of citrus.
This cake uses cheese! Intriguing! But, instead of all ricotta cheese, I used one cup of mascarpone and 1/2 cup of ricotta — but you could use all ricotta (what the original recipe with the cheese called for if you wanted to). I just had the marscapone on hand and I wanted to use it.
The cake has a light texture and a wonderful flavor. It doesn't even need a glaze or powdered sugar!
Cardamom, Vanilla & Orange Pound Cake
A combination of two recipes — an orange ricotta pound cake by Giada De Laurentiis and a vanilla cardamom pound cake in Gourmet magazine
1 1/2 cups cake flour
2 1/2 teaspoons baking powder
1 tsp kosher salt
1/2 tsp cardamom seeds, freshly ground (or just use ground cardamom)
3/4 cup (1 1/2 sticks) butter, room temperature (plus more for the pan)
1 cup (8 oz) mascarpone cheese
1/2 cup part-skim ricotta cheese
1 1/2 cups sugar
3 large eggs
1 vanilla bean, split, seeds scraped out
1 tsp vanilla extract
zest of 1 orange
2 tbsp milk (fat-free is fine)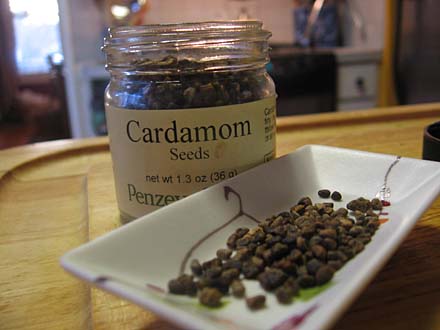 Cardamom seeds — I ground these in a spice grinder. You can also just use pre-ground cardamom
Preheat the oven to 350 degrees F. Grease a bundt pan or a 9 by 5 by 3-inch loaf pan with a little butter. Actually, here I used the Pam for baking (butter + flour in a can) because I kind of love it…I'm not sure why. Anyway, in a medium bowl combine the flour, ground cardamom, baking powder, and salt. Stir to combine.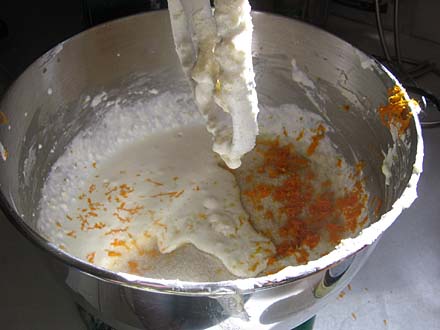 I accidentally added the orange zest after creaming but before the eggs…no biggie…it still worked!
Using an electric mixer, cream together the butter, mascarpone, ricotta, and sugar until light and fluffy, about 3 minutes. With the machine running, add the eggs 1 at a time.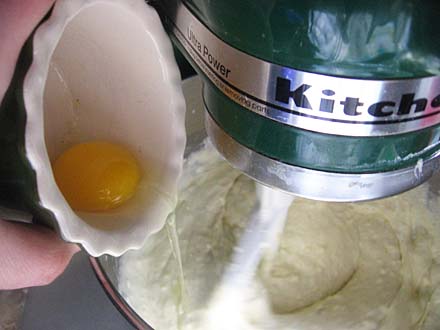 Add the vanilla (seeds & extract), orange zest, and milk until combined.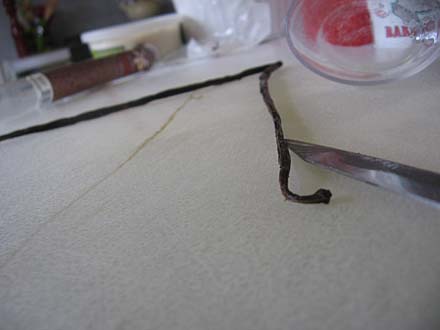 Add the dry ingredients, a small amount at a time, until just incorporated.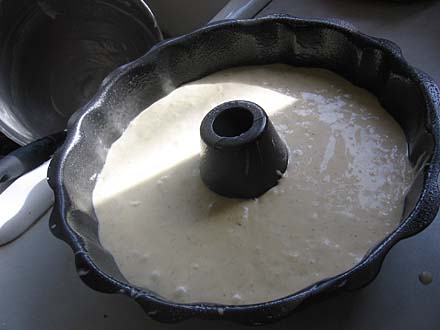 Pour the mixture into the prepared pan and bake until a toothpick comes out clean and the cake is beginning to pull away from the sides of the pan, about 45 to 50 minutes.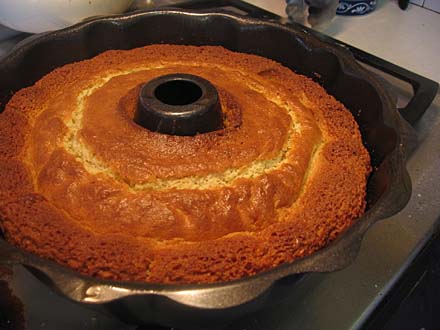 Let the cake cool in the pan for 10 minutes then transfer to a wire rack to cool completely.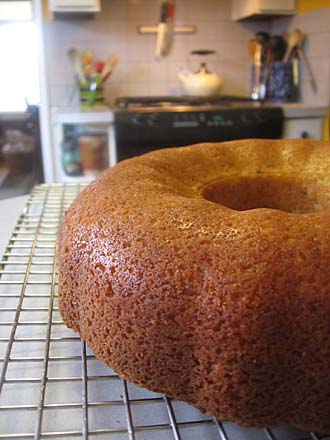 You might not make it to "completely"…just do the best that you can. It is pretty good warm!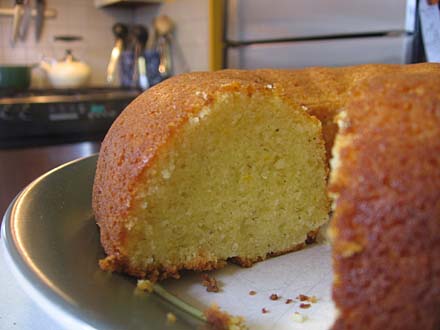 Mmmmmmm…cake….
***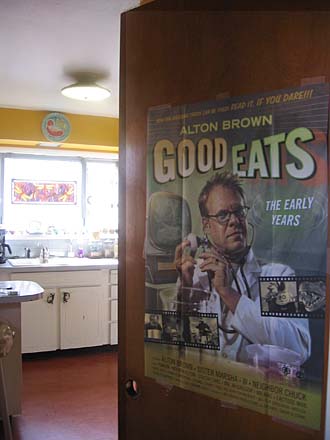 I finally got my Alton Brown poster up on the back of the basement door. It looks good and guards over the kitchen like a benevolent, science-y mascot!