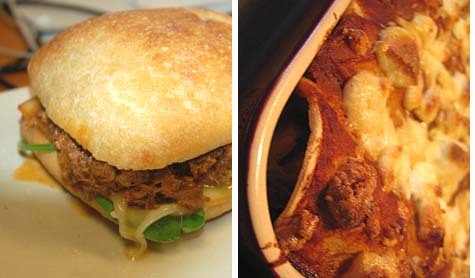 The main recipe here is originally from the Portland restaurant Meat Cheese Bread. It was in our local paper, in the weekly food section. I saw it, made Homer Simpson type sounds as I thought about how good it must be, and promptly decided to give it a try.
That said, I tweaked it a bit. Not so much for taste or anything, more due to what ingredients I had and the level of time on a Wednesday that I had to devote to this. Mainly, I crock-potted it while working, so that when I came home, the house would smell so good that I would almost fall over after stepping through the doorway.
One Saturday or Sunday, I will try this in the oven but it did work pretty well for me to turn it on low in the AM before leaving for work (7:00 AM) and return around 5:00 PM to a crock pot full of fragrant, porky goodness.
That said, this isn't a complete 'pop it in the crock pot and forget it' kind of thing. Well, okay, actually it is, but you need to do stuff before you get everything in the crock pot. Stuff like: sear the pork and briefly saute the onions and peppers. Then you pop it all in the crock pot and set it to low.
I've got both conventional oven and crock pot directions below. Pick your heat source and give it a try!
Cuban Pulled Pork in Orange Mojo
Adapted from a Recipe from Meat Cheese Bread, via Oregonian Food Day, September 22, 2009
2 pounds pork shoulder
Vegetable oil
1 orange (original recipe said to use one and a quarter oranges)
1 small onion (sweet, yellow or white), quartered
1 red bell pepper, stems and seeds removed, cut into 1-inch pieces
1 tbsp firmly packed brown sugar
1 tbsp kosher salt
1 1/2 tsp freshly ground black pepper
1 cup freshly squeezed orange juice
1 1/2 cups chicken broth
1 medium tomato
2 tbsp freshly squeezed lime juice
6 garlic cloves
3/4 tsp ground cumin
3/4 tsp ground coriander
1/4 cup white wine
8 6-inch hoagie rolls (or ciabatta rolls, which is what I used)
Preheat oven to 375 degrees, unless you are doing this in a crock pot.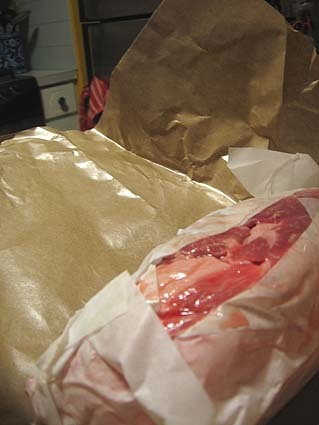 Remove excess fat from the pork shoulder and cut crosswise into 2-inch thick pieces. When I was doing this, I read it wrong and cut it into 2-inch cubes. So, I'm here to tell you that if you accidentally do that, it will still work. Anyway, heat a large Dutch oven over medium-high heat, and coat bottom of pan lightly with vegetable oil. Sear the pork until browned on all sides.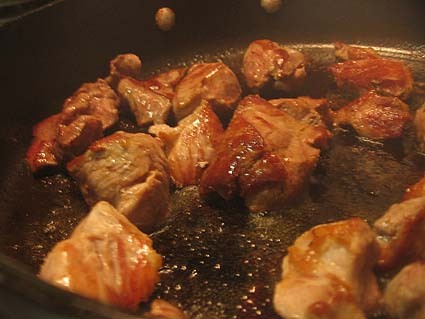 While searing the pork, use a vegetable peeler to remove zest from the oranges. Reserve the zest and cut pith from the orange, exposing the orange pulp. I quartered my orange, although the original recipe said to leave it whole.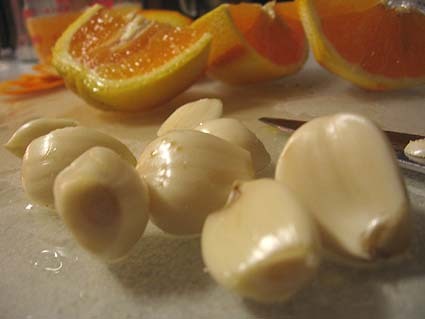 Oven: After pork has seared, add the orange quarters and orange zest, onion, red pepper, brown sugar, salt and pepper, orange juice, chicken broth, tomato, lime juice, garlic, cumin, coriander and white wine to the roasting pan. Stir well and cook uncovered at 375 degrees for 2 1/2 to 3 hours. Check the braise occasionally to make sure it does not get too dark. If meat starts to darken, turn pieces over and push below liquid level. Remove from oven when pork pierces easily with a fork.
Crockpot: After pork has seared, remove it with tongs and add to the crock pot. Turn it on low. Return to the hot pan and add the onions, garlic and bell pepper. Saute for 3-5 minutes over medium until they start to get a little color. Add to the crock pot. You will notice all manner of tasty things on the bottom of the pan. Deglaze!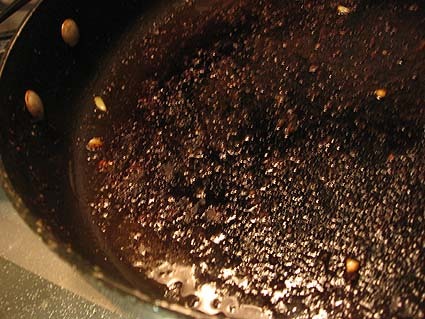 Add the wine and orange juice to the pan and use a wooden spoon to get up any brown bits.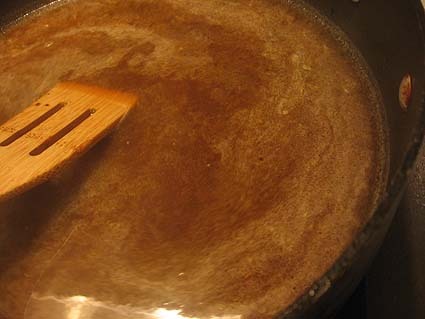 Add all the pan contents to your crock pot. Next, add the orange zest, brown sugar, salt and pepper, chicken broth, tomato, lime juice, garlic, cumin, and coriander to the crock pot.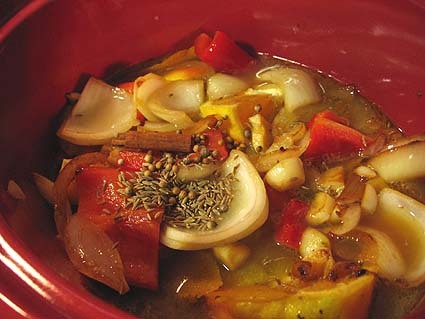 Put a lid on it and leave it alone for about 8-9 hours.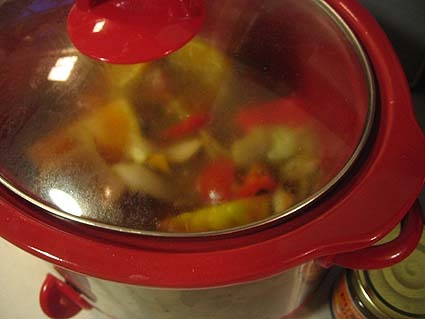 Oven & Crockpot, after cooking time: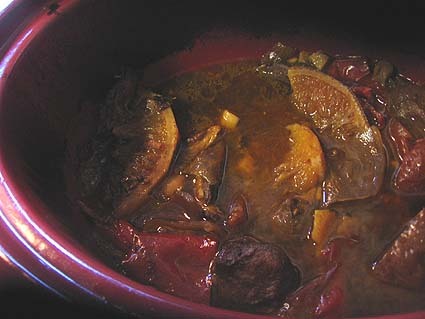 Using tongs, carefully remove pork from the braise liquid and put on a carving board, allowing meat to rest for 10 minutes. Using two forks, pull apart the meat, removing any excess fat you come across. Place in a large bowl.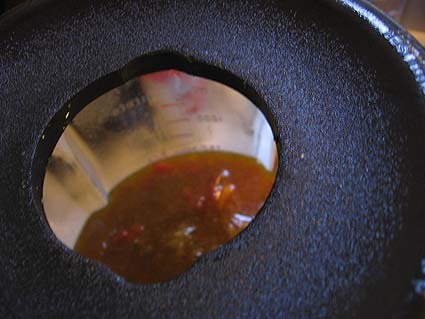 Purée the braising liquid (original recipe said "including the solids", I opted to not use the whole orange pieces. After tasting the liquid, it seemed orangey enough to me), in a blender or food processor and adjust the flavor to taste.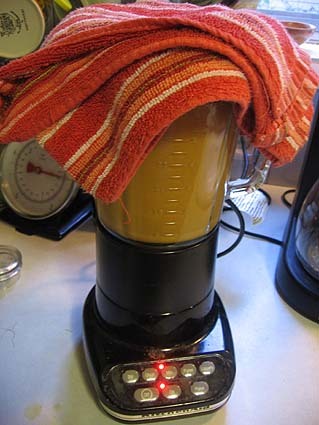 When blending hot liquids, leave the lid insert off and cover the rimmed lid with a towel!
Add enough puréed braising liquid to moisten the meat well.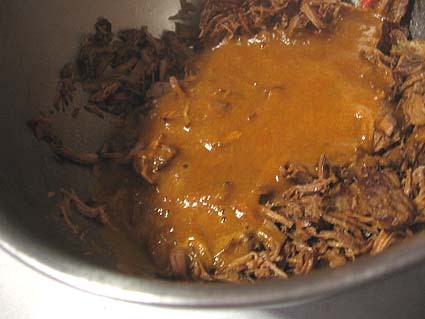 To assemble sandwiches, cut hoagie roll in half horizontally. Using tongs or a slotted spoon to allow some of the juice to drain, top bottom piece with roughly 1 cup of the pulled pork mixture. Repeat with remaining rolls. I added spinach leaves, tomato and sliced, smoked fontina cheese.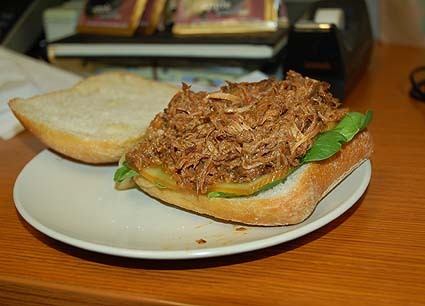 Leftovers
If you are not making 8 sandwiches, you will have leftovers. Here's what I did — pork enchiladas!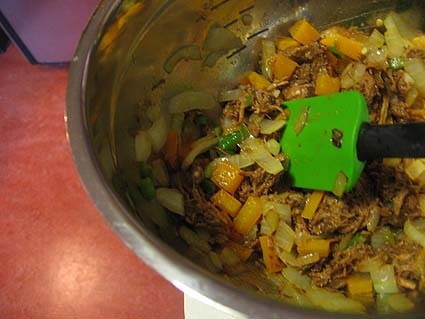 I added some onion, yellow bell pepper, a diced jalapeno and some diced yam and sweet potatoes (all sauteed up for a few minutes in a pan with some olive oil), to the pulled pork and about 1 – 2 tsp of chili powder to the Mojo sauce.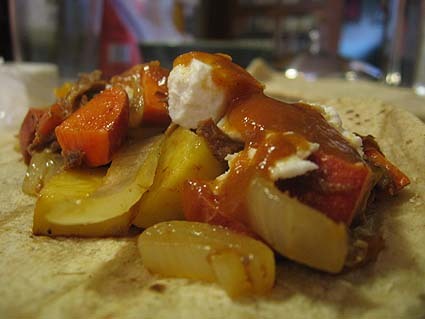 I used the pork as a filling (added a little Queso fresco in there as well, along with about a teaspoon of sauce). The I wrapped the filling up in corn tortillas and covered with the sauce.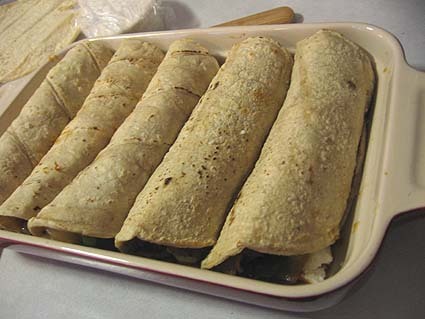 A little more cheese (okay, a medium-sized amount) on top and about 40 minutes in the oven on 375 degrees F.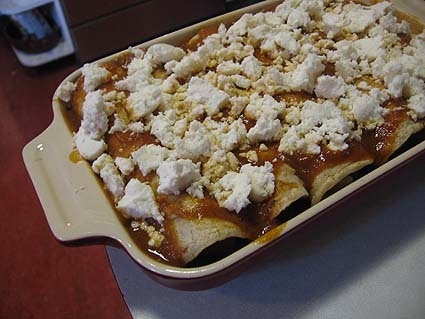 Delicious with some diced avocado and some sour cream!