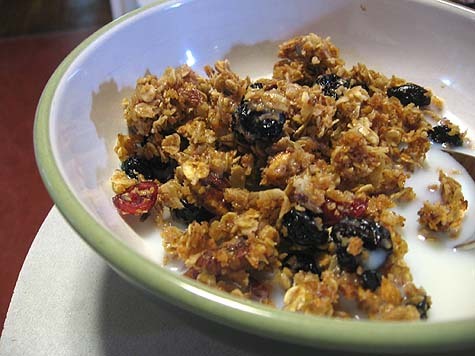 So here's a Barefoot Contessa recipe I came across about a month or so ago, when I found the Lentil and Sausage Soup recipe. I am always looking for a new idea for granola makin', so I decided to give it a shot. I did read through the reviews on the Food Network site and a lot of people said the bars (for these were originally Granola Bars) would not stay together and made good granola. There you go — granola.
Since I didn't necessarily want these to stay in bar form (I wanted the crumbles!), I omitted the butter. A little healthier too. However, there is a lot of honey in this recipe, but it's not like you are going to sit and eat all of this in one sitting. Unless you are jwa, and then who knows? It could happen…
I added dried lavender because why not? And also, I like the combination of lavender and honey.
Fruit & Nut Granola with Lavendar
Adapted from a recipe by Ina Garten
2 cups old-fashioned oatmeal
1 cup assorted nuts — I use chopped whole almonds and pecans
1/2 cup pepitas (pumpkin seeds)
1 cup shredded coconut, loosely packed
1/2 cup toasted wheat germ
2/3 cup honey
2 tbsp light brown sugar, lightly packed
1 1/2 tsp pure vanilla extract
1/4 tsp kosher salt
1 tsp dried lavender
1 cup assorted dried fruit (I use cherries, blueberries & cranberries)
Preheat the oven to 350 degrees F. Butter or spray an 15 by 10-inch baking dish (or somewhere around that size — like a pyrex lasagna pan) and line it with parchment paper.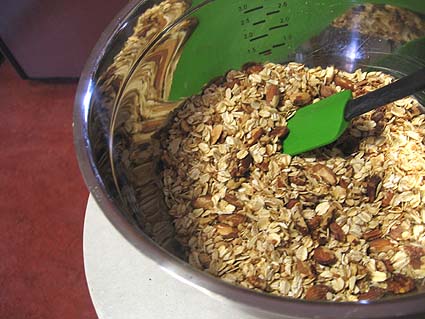 Toss the oatmeal, nuts, pepitas, and coconut together in a bowl and then pour out onto a sheet pan and bake for 10 minutes, stirring occasionally, until lightly browned. Watch these…they could get darker than you want. Check after about 8 minutes to make sure nothing is burning.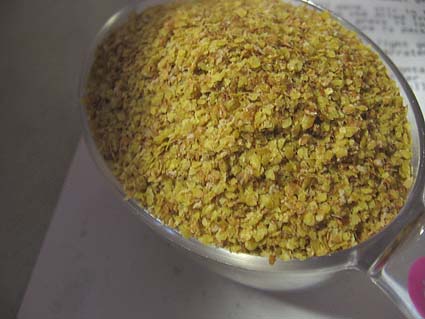 Transfer the mixture to a large mixing bowl and stir in the wheat germ. Reduce the oven temperature to 300 degrees F.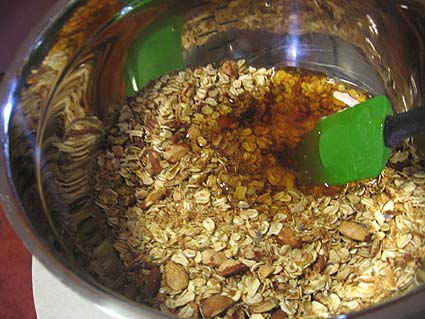 Add the honey, brown sugar, vanilla, lavender and salt to the bowl with the warm oats and wheat germ mixture. Add the dried fruit and stir well.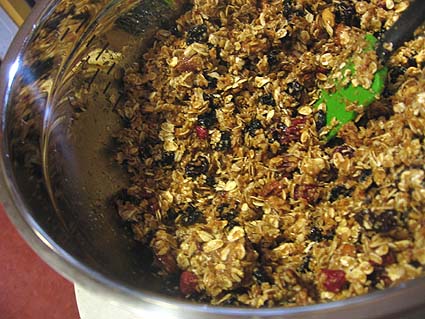 Pour Spread the mixture out into the prepared pan. Wet your fingers, if needed and lightly press the mixture evenly into the pan.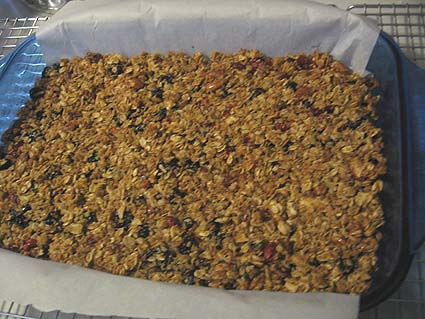 Bake for 25 to 30 minutes, until light golden brown.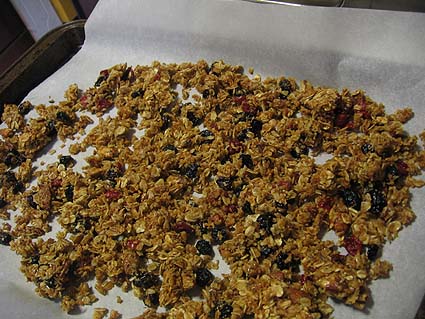 Cool for about 30 minutes and then break apart into nuggets of granola.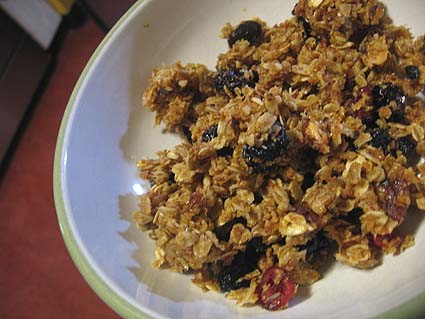 Store in an airtight container until you eat it all — maybe 4-7 days.