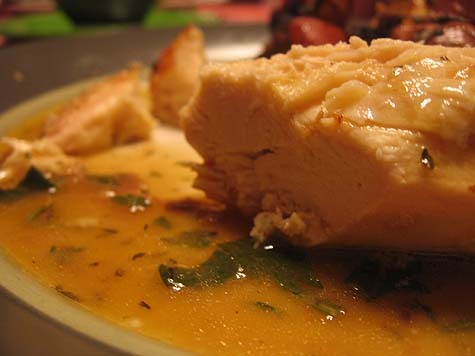 The idea for this meal came from here — a recipe from Bon Appétit magazine in which a turkey is slathered (under & out!) with the butter mix of the title. It has been decided — this will also be our Thanksgiving turkey this year. So, of course we had to try (well, of course we did!) the butter mix on a chicken to make sure it was good.
The verdict: yes, it's good. If you can't wait for Thanksgiving, do yourself a favor and make a half recipe and apply it to a chicken.
Pancetta Sage Roast Chicken
1 3.5 – 4.5 whole chicken
olive oil
1 sprig rosemary + a few sage leaves
1/2 a lemon
Assorted root vegetables (we used potatoes, carrots, sweet potatoes and about 30 minutes before the chicken was done, I threw in some garlic cloves and a handful of walnuts)
Optional: your favorite brine recipe (mine is 1 gallon water + 1 cup kosher salt, with a few garlic cloves, a sprig of rosemary and a few peppercorns thrown in) if not bringing, salt & pepper
Pancetta, Parmesan, Sage Butter
double this if you are using on a turkey!
3 garlic cloves, peeled
2 ounces thinly sliced pancetta (Italian bacon), chopped
2 tbsp finely grated Parmesan cheese
2 tbsp unsalted butter, room temperature
1 tbsp olive oil
1 small minced shallot
1/2 tbsp chopped fresh rosemary
1/2 tbspn chopped fresh sage
1 tsp freshly ground black pepper
If you are brining, do that for about 4-6 hours.
Make Pancetta Butter: With machine running, drop garlic down feed tube of processor and chop. Add pancetta.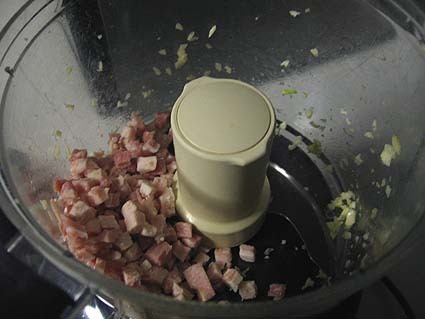 Pulse to chop finely. Add all remaining ingredients. Pulse blending to coarse paste. Transfer to small bowl. DO AHEAD: Can be made 2 days ahead. Cover and chill. Bring to room temperature before using.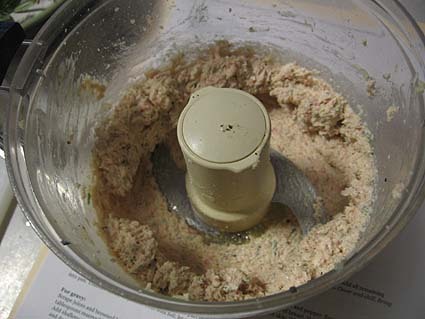 Roast the Chicken: Preheat oven to 375 degrees.
If you brined, rinse the chicken, pat it dry and hoist it up on an oiled v-rack.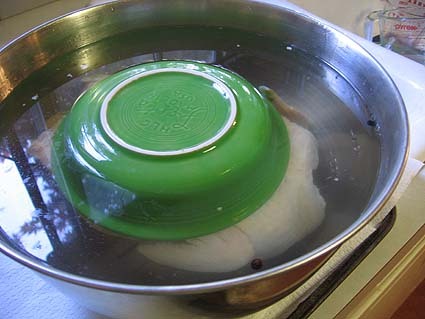 I used an upside-down bowl to keep my chicken under the brine while in the refrigerator.
If you did not brine, salt & pepper your chicken liberally. Scatter your root vegetables around the bottom of the pan.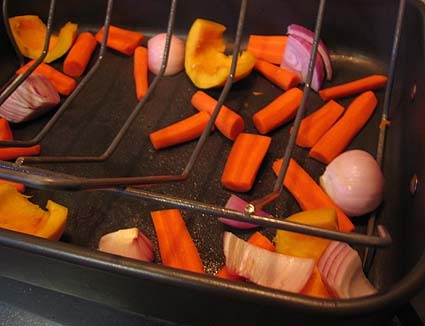 Spread with a little pancetta-sage butter inside the chicken cavity. Then, starting at neck end, slide hand between skin and meat of breast, thighs, and upper drumsticks to loosen skin. Spread remaining butter over thighs, drumsticks, and breast meat under skin. Fill main cavity with herb sprigs and the lemon half. Drizzle with a little olive oil.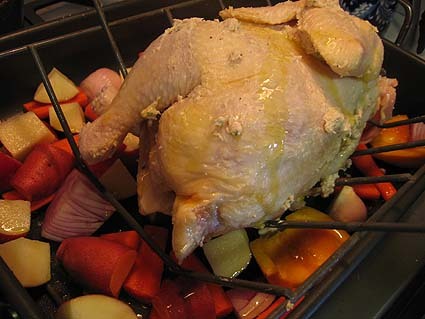 Turn chicken on its side and roast for 15 minutes. Turn chicken on other side and roast for 15 more minutes. Turn oven up to 425 degrees F and turn chicken breast-side up and drizzle with some olive oil. Add garlic cloves and walnuts to the vegetable area of the roasting pan. Continue to roast in this position until golden and temperature of the breast meat is 160 – 165 degrees, about 20 – 30 more minutes. This will depend on the size of your chicken.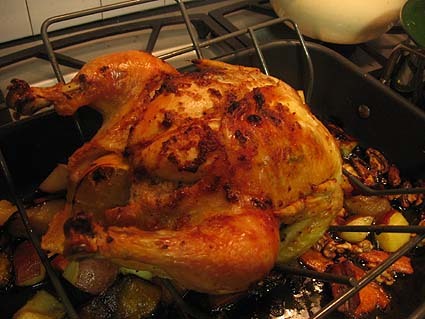 I made a quick gravy by sauteing half an onion in 2 tablespoons of butter (over low heat) until brown and caramelized. Then I added 2 tablespoons of flour, cooked for a minute or two and added 1/2 cup of white wine and 3/4 cup chicken broth. I brought it to a boil and then turned off the heta and let it hang out until the chicken was done.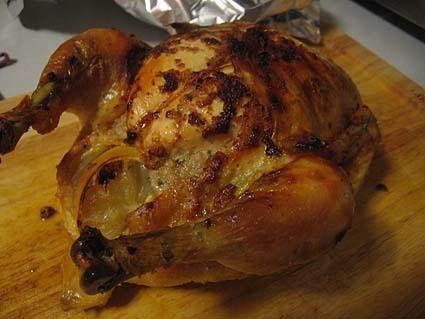 Remove chicken to a cutting board and tent with foil. Let rest 15-20 minutes. Transfer veggies, garlic and walnuts to a bowl and cover with foil to keep warm. If you've got gravy going, rewarm it and add some chopped herbs to it (I used rosemary, parsley, sage & thyme) and any non-oily pan drippings you can find. Before you carve the chicken, add any accumulated juices from the resting chicken, to the gravy. taste and add salt and pepper as needed.
Eat the Chicken: Do you really need instructions for this part?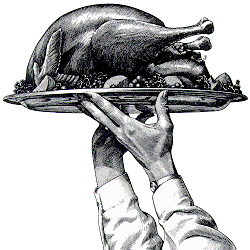 Thanksgiving! Okay, so while we're on the subject of Thanksgiving — I think I have this year's menu! It's an Italian theme.
Appetizers & Snacks:
Rosemary cashews
Marinated mozzarella balls/olives/cherry tomatoes on skewers
Pumpkin seed pesto & veggies
Meal:
Pancetta-Sage Turkey with herb-wine gravy
Artichoke, Sausage, and Parmesan Cheese dressing
Roasted root veggies (shallots, fennel, carrots, red potatoes, and parsnips)
Delicata squash polenta w/ rosemary & goat cheese
Pan-Roasted Baby Brussels Sprouts with Buttered Pecans
Cranberry & fig sauce w/ port
Dessert:
Pumpkin Tart with Anise-Seed Crust, whipped cream