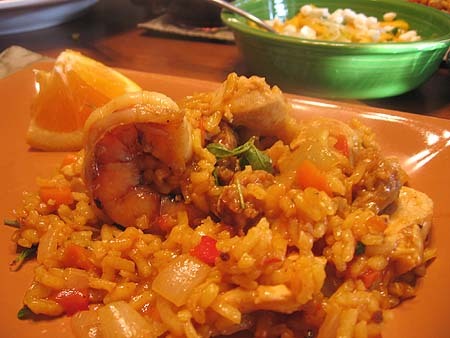 So, this was an experiment of meaty, epic proportions — and it was pretty good too! I was a little concerned about the shrimp being overcooked, but it wasn't at all. Good job, paella recipe from the cookbook I forgot I had!
I changed a few things — I added garlic, red bell pepper, fennel and oranges. I used sweet Italian sausage instead of chorizo, mainly because I had sweet Italian sausage in the freezer and I didn't have any chorizo. If you do this, you may want to add a few red pepper flakes for a bit of spice. Also, since the sausage I used was uncooked, I had to cook it longer in the beginning. You know, because it was raw.
On the side: a salad of sliced mangos, sweet onion and cilantro with a dressing of olive oil (3 tbsp), honey (2 tbsp) and lemon (2 tbsp). Add a few grinds of pepper and some crumbled feta cheese too! Also, crusty bread and goat cheese on the side.
Paella, Italian Style
Adapted from a recipe from the cookbook, At Home with Michael Chiarello, this is a half recipe and will feed 4-5 people. For the original recipe, double amounts below to feed 8-10
2 boneless skinless chicken breasts, about 2 pounds total
Finely ground sea salt
Freshly ground black pepper
3 tbsp extra-virgin olive oil
2 sweet italian sausage links, casings removed (you can also use Spanish chorizo, cut crosswise into 1/8-inch slices)
1/2 pound large shrimp, peeled and de-veined
1 3/4 tsp Spanish smoked paprika, divided
1 tbsp whole fresh oregano leaves (plus more for garnish)
1 small yellow onion, finely chopped yellow onion
1 medium carrot, finely chopped carrot
1 red bell pepper, diced
1 small fennel bulb, cored and diced
3 cloves garlic, minced
1 1/2 cups arborio rice
3 cups chicken stock
3 medium tomatoes, chopped
1/2 tsp saffron
Pepperoncini and quartered oranges, for serving
Cut all the chicken into 1 1/2-inch pieces. Season with a little salt and pepper.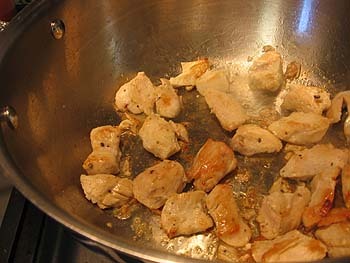 Heat the oil in a large ovenproof pot over high heat. When the oil is almost smoking, add the chicken. Cook until well browned on 2 sides, turning once, 6 to 7 minutes total. If using cooked (cooked) chorizo, add it to the pan with the chicken and cook for about 30 seconds. Remove and cover with foil. If using raw sausage, remove the chicken from the pan and cover with foil.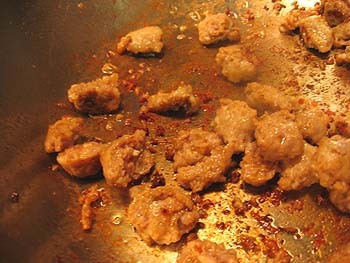 Then, add the sausage to the pan and cook about 5-6 minutes. Add to the bowl with the chicken when done. Cover with foil. Next, season the shrimp with salt and pepper. Add the shrimp to the pan, stir once then cook for 2 to 3 minutes total. Remove from the pan and add to the bowl with the other meat. Stir in 3/4 teaspoon of smoked paprika and the oregano. You guessed it, cover it back up with foil to keep warm.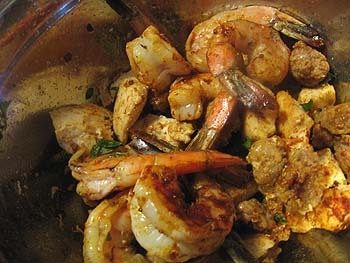 Return the pan to high heat. Add onions, carrots, bell pepper, fennel and garlic. Pour in any accumulated juices from the chicken, sausage & shrimp bowl. Reduce the heat to medium-low. Cook until the vegetables are soft, but not brown, about 10 minutes, stirring occasionally.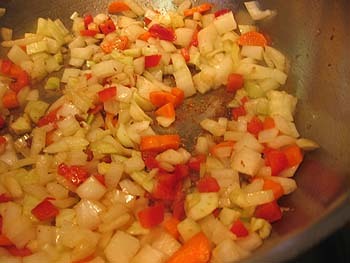 Preheat the oven to 350 degrees F. Raise the heat to high under the veggies. Add 1/2 teaspoon salt, 1/4 teaspoon pepper, and remaining 1 teaspoon of paprika. Cook for 2 minutes, stirring occasionally.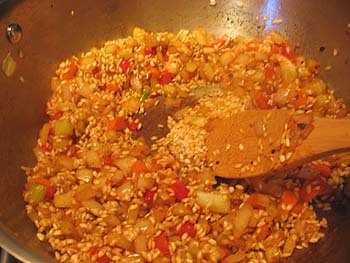 Add the rice. Stir to evenly coat the grains with oil. Cook for 1 minute. Add the stock and bring it up to a simmer.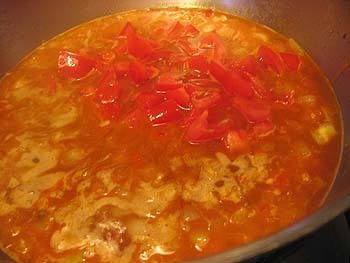 Add the tomatoes and stir to incorporate. Sprinkle in the saffron.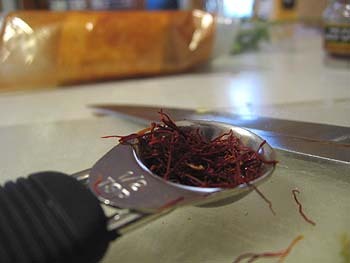 Taste and adjust the seasonings, if needed. Cook until the liquid comes back to a simmer. Cover and put the pan in the oven. Cook for 15 minutes. Remove the pan from the oven.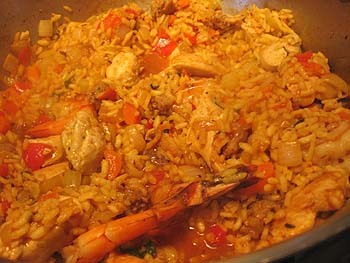 Return the chicken, sausage, and shrimp to the pan. Cover the pan again and put it back in the oven to cook for an additional 10 to 15 minutes until everything is warm.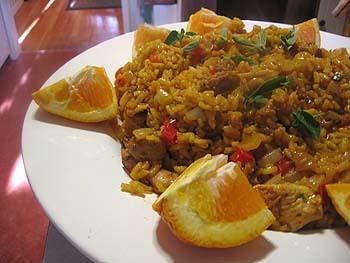 Serve the paella surrounded with the orange wedges for squeezing. Sprinkle the top with additional oregano and a drizzle of olive oil. Also, serve with a bowl of pepperoncini on the side. I don't really like pepperoncini, but jwa does.