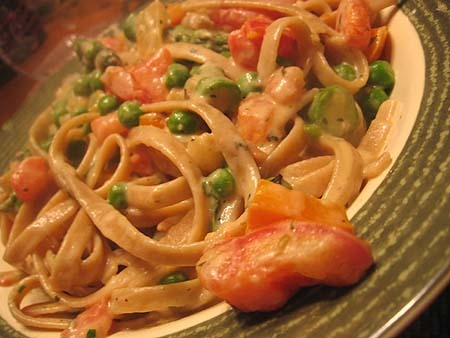 I love asparagus season. And speaking of, this is a great recipe for the end of April/beginning of May. The goat cheese makes an amazingly tasty sauce, no cream needed. Instead of fresh, chopped tomato, you can also use sundried tomatoes, just rinse them first if they are packed in oil or rehydrate if they are dried.
Linguine Primavera with Goat Cheese and Mint
Recipe adapted from Whole Foods Market
2 tbsp olive oil
1 orange, yellow or red bell pepper, cored and diced
1 small yellow onion, diced
2 cloves garlic, minced
12 ounces thin asparagus, cut into 1-inch pieces
12 ounces whole wheat or spinach linguine
3/4 cup fresh or frozen shelled peas
4-5 ounces herb-and-garlic flavored goat cheese, crumbled
1/3 cup finely grated Parmigiano-Reggiano
2 tomatoes, diced
1/2 cup chopped mint leaves, divided
Heat oil in a large skillet and saute onion and bell pepper until soft. Add garlic and asparagus and cook about 5 more minutes. Turn off heat.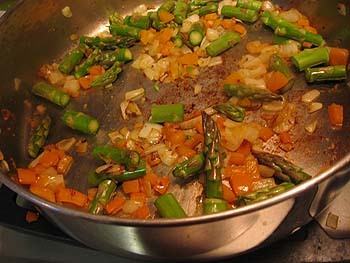 Bring a pot of lightly salted water to a boil. While water is heating, place peas in a colander in the sink. Cook pasta to desired tenderness; before draining, reserve one cup of cooking water, set aside.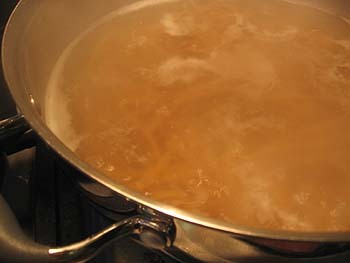 Pour remaining cooking water and pasta over peas in the colander–the hot water will gently cook the peas while the pasta drains; do not rinse. Return pasta and peas to the skillet with the asparagus, onion, bell pepper and garlic.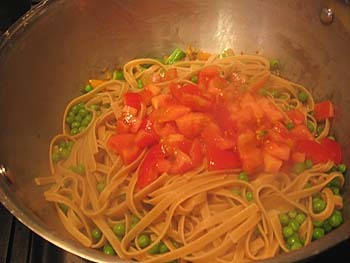 Turn heat to low and stir in goat cheese, Parmigiano-Reggiano, tomatoes and half the chopped mint. Add reserved cooking water, a few tablespoons at a time, stirring until you have a creamy sauce.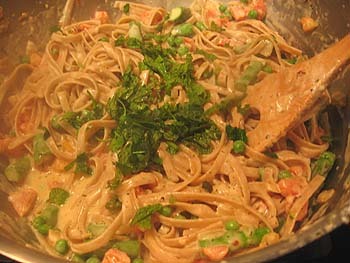 Taste and salt and pepper as needed. Sprinkle with remaining mint and serve immediately.