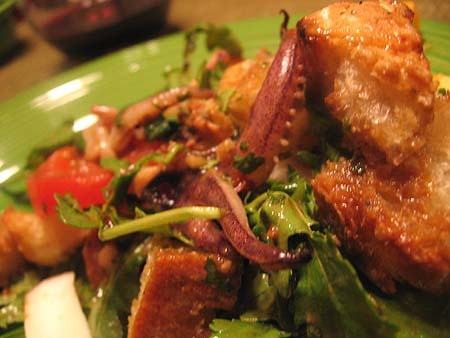 So, squid. Yeah but wait, come back, this was really, really good! Seriously! And at about $4.50/pound (cleaned even at Whole Foods), this is a great entry in the Cheap Fish Project. As a person who loves deep-fried calamari (I have a standard calamari clause while dining out — if it's on the menu, we're splitting it to start, no discussion), I was very intrigued to try squid (aka: calamari) in other preparations.
This was very easy and the vinaigrette is fabulous! I found this interesting wine-soaked manchego cheese at the store while buying my squid, which is why that is on the side here. Plus, I have no problem mixing fish and cheese, so there.
I think we'll be having this a lot this Spring and Summer. I am even making grilled calamari tacos next Friday! Squid: the other seafood that's really good and surprisingly inexpensive, especially as you can buy it already cleaned. Hooray!
There are a lot of pictures — squid is very photogenic.
Squid Bread Salad with Smoked Chile Vinaigrette
Recipe adapted from Bobby Flay*, I halved this recipe for two, as written, it should work for 4
1-pound medium-sized squid, tentacles included, cleaned
Extra-virgin olive oil
Salt and freshly ground pepper
1 clove garlic, minced
1 loaf day-old Italian bread, cut into 1-inch thick slices
2 tomatoes, sliced
1/4 cup chopped fresh cilantro leaves
1/4 cup fresh mint leaves, torn
2 cups arugula leaves
1 orange, cut into wedges
Optional: A few slices of Manchego cheese
For Smoked Chile
1/3 cup red wine vinegar (I actually used balsamic as I had no red)
1 tbsp Dijon mustard
1 tbsp (or so) pureed chipotle peppers in adobo sauce
1 tbsp honey
2 cloves garlic, finely chopped
Salt and freshly ground pepper
3/4 cup olive oil or canola oil
2 tablespoons finely chopped fresh mint leaves
Make the Vinaigrette first. In a food processor or blender, combine the vinegar, mustard, chipotle puree, honey, and garlic. Slowly incorporate the oil until emulsified. Stir in the mint and season with salt and pepper. Let sit at room temperature for at least 15 minutes before using.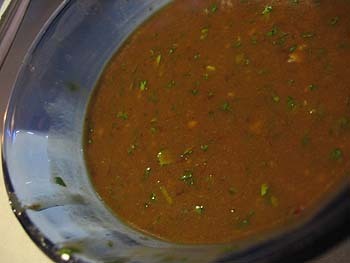 Okay, the squid. Heat up a grill pan (you can also do this outside on the grill). Place the squid on a large platter or board, drizzle with a few tablespoons of oil, and season with salt and pepper.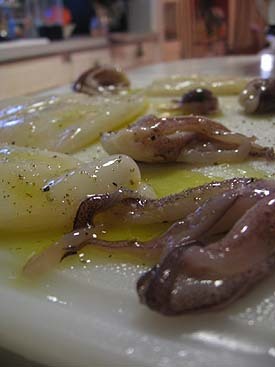 Grill the squid bodies and tentacles for about 2 minutes per side.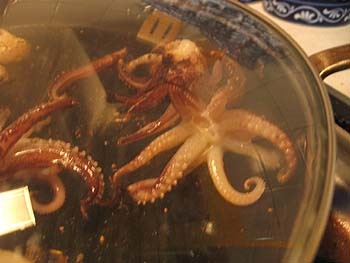 Remove from the grill, let rest 5 minutes, then cut the bodies crosswise into 1/2-inch thick rings. You can either keep the tentacles whole or halve them — I halved mine. Toss the warm squid with the minced garlic. Set aside.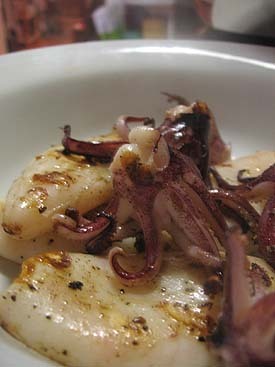 Brush the bread lightly with oil on both sides and season with salt and pepper. Grill for approximately 2-3 minutes per side on a gril pan or 1 minute per side outdoors, until lightly charred. Remove and cut each slice into 1/2-inch dice.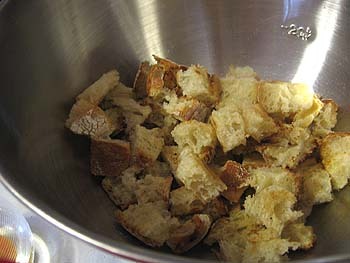 Toss the bread cubes, arugula and cilantro.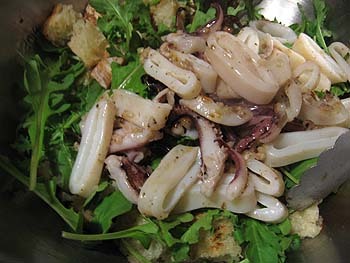 Add the squid and with some (or all) of the vinaigrette in a large bowl. Toss.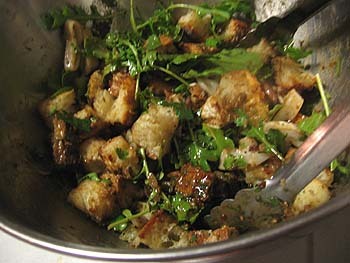 Let stand for 10 minutes. Lay your tomatoes slices down on the platter. Top with the squid and bread salad and surround with the orange slices.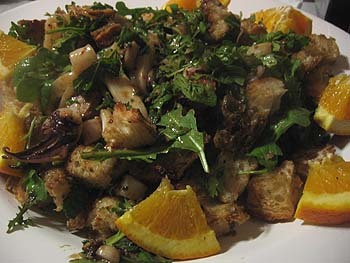 Garnish with torn mint and drizzle with additional olive oil, if desired.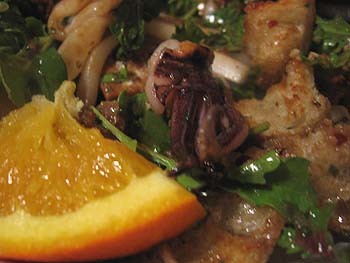 Serve with the cheese if that's how you roll.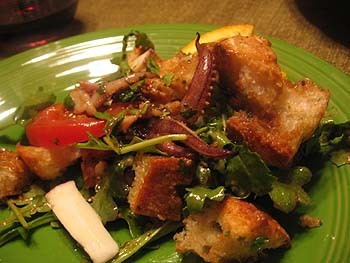 * Standard, amended Bobby Flay disclaimer applies.