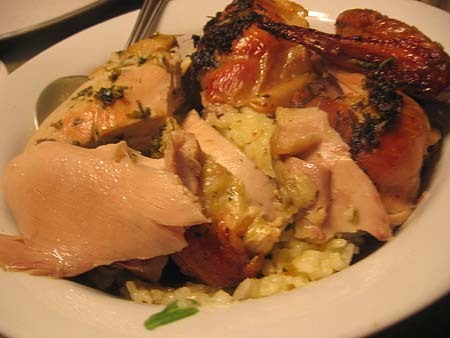 I found this recipe both delicious and frustrating. The flavor was very good and the meat eventually turned out great, but I made a recipe error early on and from there, nothing seemed to work as it was supposed to. Mainly, my cooking time was off. I believe this was because I forgot to take the chicken out of the fridge for about an hour before I started roasting it.
It ended up okay, because I just turned the oven up a bit (allowing the skin to get more golden and crunchy too) and gave it a bit more cooking time. This is also a recipe, where, if you have a different cooking time/oven temperature combination that you use regularly, you could just use these marinade/ingredients with your regular method of chicken roasting. I may do that next time myself.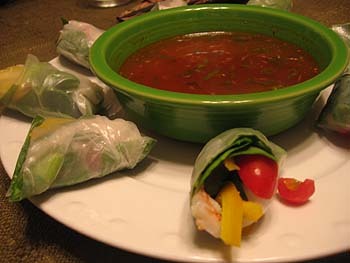 Salad rolls! — recipe here.
We had this with some coconut rice and some salad rolls. Was super good!
Lemongrass Roasted Chicken
Adapted from a recipe by Mai Pham in The Pleasures of the Vietnamese Table
4 tbsp minced lemongrass (I used 4 stalks)
2 tbsp minced shallots (2 shallots)
2 tbsp minced garlic (4 garlic cloves)
2 tbsp soy sauce
2 tbsp sugar
2 tbsp fish sauce
1 tbsp roasted chili paste
1 tsp kosher salt
1 whole chicken (about 3-4 lbs)
2 tbsp minced cilantro
3 tbsp Vegetable Oil
1/2 cup soy-lime dipping sauce
If you are going to marinate the chicken overnight, mince all your lemongrass except 2 stalks (using the bottom of the stalks). Leave this for the roasting. Otherwise, remove half of the lemongrass and set aside in a small bowl. Combine the remaining lemongrass, shallot, garlic, soy sauce, sugar, fish sauce, chili paste and salt in a large bowl.
Add the chicken and turn to coat, tucking some marinade underneath the skin. Pour any excess marinade into the bird cavity. Cover the chicken with plastic wrap, then marinate in the refrigerator for at least 4 hours, preferably overnight.
Bring the chicken to room temperature before baking. Okay, so I forgot that last bit. I think that's why my chicken took longer too cook. Plus, I believe my chicken was closer to 4 pounds. Also, I found that all my marinade B-U-R-N-T on the bottom of the pan. I recommend adding about a cup of chicken broth or stock to the pan before you stick it in the oven.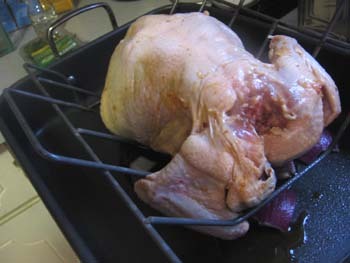 Preheat the oven to 350 degrees F. Put the chicken, breast side down, on a rack in a roasting pan. Brush the back with a little of the vegetable oil. Bake for 40 minutes.
Here's where I discovered my roasting issues: Turn the bird over and roast until the chicken is cooked and nicely browned, about 20 to 30 minutes more. My chicken was at like 120 degrees after 20 minutes and no where near brown.
Again, probably because my bird was not room temp to start with and it was a bit bigger than 3 pounds. So, here's what I did — I turned the oven up to 400 degrees F after the 20 minutes at 350, breast-side up. After this tweak, I'd say my chicken took about 20 more minutes to finish roasting. I also added the described-below lemongrass and cilantro paste to the bird at this time, when I turned the oven up.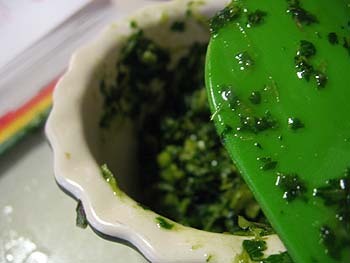 The original recipe said, about 10 minutes before the chicken is done, combine the remaining 2 tablespoons lemongrass with the cilantro and oil. Brush the mixture on the bird, then continue to roast until it is done and the juices run clear. Here, my oven was hotter and the lemongrass-cilantro was on the bird for probably about 20 minutes. It got nice and brown.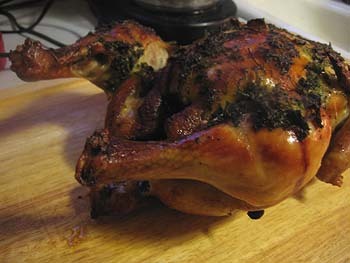 This is how I will do the bird in this recipe next time:
350 degrees F for 40 minutes, breast-side down. Then, flip bird and turn oven up to 400 degrees F. Give it about 15 minutes, then slather on paste. Then another 20 or so minutes to get that all brown. If your chicken is room temperature and/or closer to 3 pounds, this will take less time. Remember, a meat thermometer is your friend here, so monitor the temperature and adjust the cooking time as needed.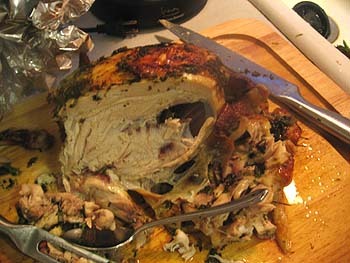 After it comes out of the oven and the breast meat is at least 160 degrees F and the dark meat is at least 170 degrees F, let the chicken rest 10 minutes before carving. Serve with Soy-Lime Dipping Sauce, any pan juices and rice.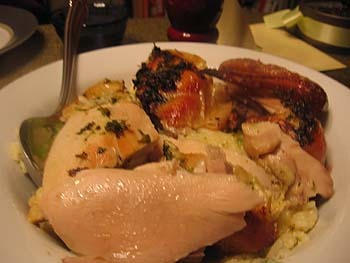 Soy-Lime Dipping Sauce (No pictures, but it was great!)
2 cloves garlic, minced
1-2 fresh Thai bird chilies, diced finely (or an appropriate amount of chili paste, which is what I used)
2 1/2 tbsp sugar
1/3 cup soy sauce
juice of 1 lime,
with pulp
2-4 tbsp hot water
Combine all ingredients. Stir until well blended. This sauce will keep up to 3 weeks if stored in the refrigerator in a tight-lidded jar.