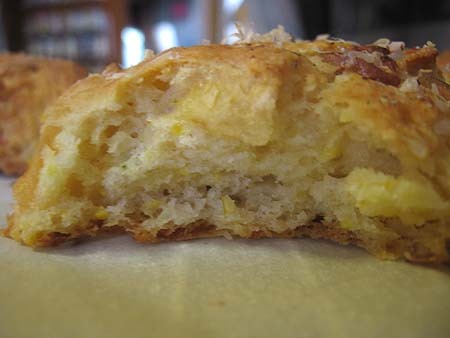 First off, I love cheese so I knew I would love these scones (and I did). Dorie Greenspan knows how to bake, that's for sure.
But, I kind of messed up and had less cheddar than I thought I did. A travesty! I rummaged around the fridge and came up with some Robusto cheese (kind of a cross between gouda and parmesan). I used about half cheddar and half robusto.
Was that it? Well, no. I couldn't find any dried apple pieces at the store by me and so it was between dried mango pieces an apple chips. Yeah, apple chips — the kind that come in a bag like potato chips. What the hell, full steam ahead, I used those for the apple (although, I am intrigued by the thought of mango).
My substitutions aside, these were great. I can only imagine how good they are with the correct ingredients! The one other thing I did differently, is I brushed a little milk on the top of each and on half, I grated extra robusto. On the other half, I sprinkled a little raw sugar (I love sparkly scone tops). The verdict: I liked them with both sugar and cheese! So did jwa. They are all gone. The end.
I got 9 scones. Expect anywhere from 8-12 scones depending on how big you cut them.
Cheddar Apple Scones
From Baking From My Home to Yours, by Dorie Greenspan
1 large egg
1/2 cup cold buttermilk
1/4 cup cold apple cider or unsweetened apple juice
1 3/4 cups all-purpose flour
1/3 cup yellow cornmeal, preferably stone-ground
2 tablespoons sugar
1 tablespoon baking powder
1/4 teaspoon baking soda
1/4 teaspoon salt
1 stick (8 tablespoons) cold unsalted butter, cut into small pieces
3/4 cup grated cheddar cheese
1/2 cup finely diced dried apples
Optional: 1 tbsp milk, a little extra grated cheese and/or a little raw sugar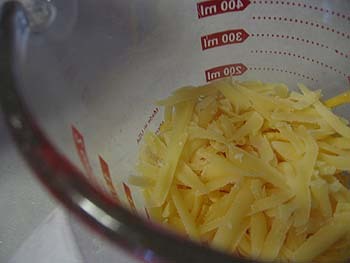 So sad, only about a 1/3 cup of cheddar…
Preheat your oven to 400 degrees F and line a baking sheet with parchment paper. Next, stir the egg, buttermilk and apple cider together.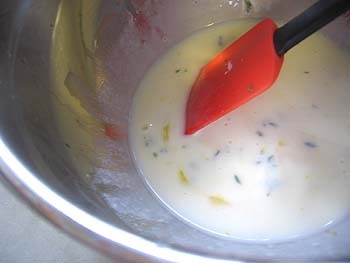 Whisk the flour, cornmeal, sugar, baking powder, baking soda and salt together in a large bowl. Drop in the butter and, using your fingers, toss to coat the pieces of butter with flour.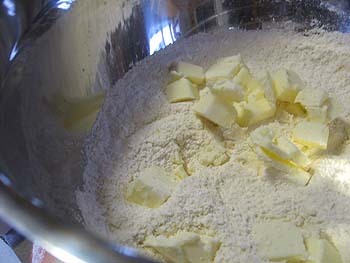 Quickly, working with your fingertips or a pastry blender, cut and rub the butter into the dry ingredients until the mixture is pebbly. You'll have pea-size pieces, pieces the size of oatmeal flakes and pieces the size of everything in between – and that's just right.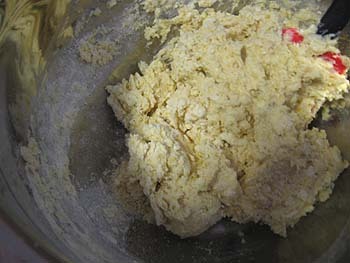 Pour the liquid ingredients over the dry ingredients and stir with a fork just until the dough, which will be very wet and sticky, comes together. If there are still some dry ingredients in the bottom of the bowl, stir them in, but try not to overdo the mixing. Stir in the grated cheese and dried apple.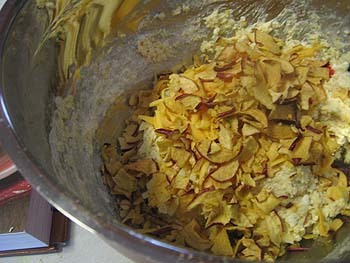 Still in the bowl, gently knead the dough by hand, or turn it with a rubber spatula 8 to 10 times. Then, because the dough is very sticky, the easiest thing to do is to turn it out onto a lightly floured work surface, pat it into a rectangle about 1/2 inch thick and, using a dough scraper or a chef's knife, cut it into 12 roughly equal pieces. You can just spoon out 12 equal mounds onto the baking sheet.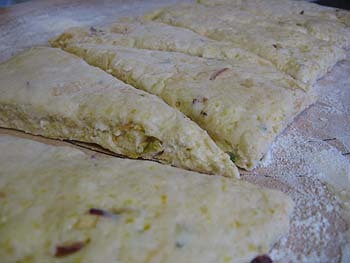 Place the scones on the baking sheet. (At this point, the scones can be frozen on the backing sheet, then wrapped airtight. Don't defrost before baking – just add about 2 minutes to the baking time.) If you are adhering stuff to the top, brush each scone with a little of the milk and add the cheese and/or sugar.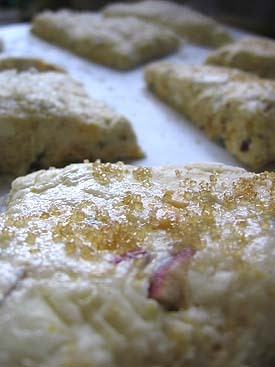 Bake the scones for 20 to 22 minutes, or until their tops are golden and yoru kitchen smells delicious.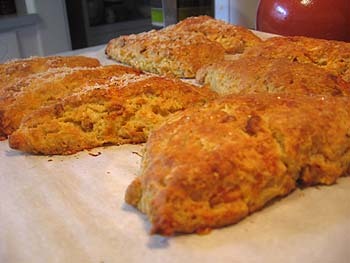 Transfer them to a rack and cool for 10 minutes before serving, or wait for the scones to cool to room temperature.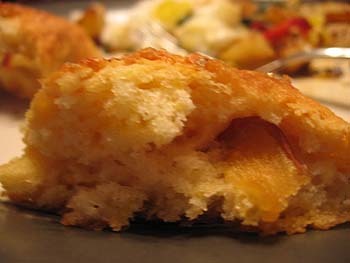 We had these with a Sunday breakfast that also included some potato, red bell pepper and zucchini hash with poached eggs.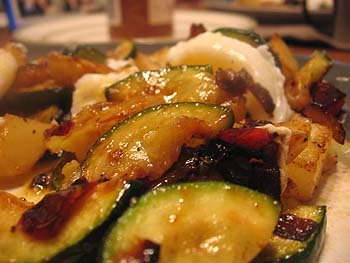 I kind of just made that up or I'd list the recipe. Add the diced potatoes, garlic and onions to a pan with olive oil, then after a few minutes add the bell pepper and zucchini. Salt and pepper. When it's all looking kinda golden and good, it's done. Poach eggs. East scones. Mmm!!