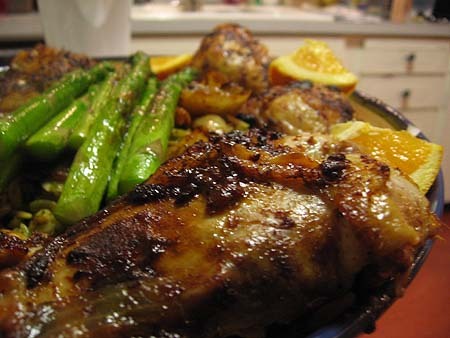 I look for any excuse to use my smoked paprika. I love smoked paprika. Get yourself some and you will never be sorry. Here's a good resource for your smoked paprika needs.
We had this chicken with a bunch of pan roasted asparagus (olive oil + heat + salt + pepper = tasty) on the side and also some orzo that I cooked in spinach-y chicken broth (add broth and handfuls of spinach to a food processor, and *whir* *whir* to combine. It's green!), with some tomatoes and Parmesan cheese. A great weekend meal. And, since there are only two of us, we got about three meals out of this. Always a good thing.
The original recipe called for 500 degrees F at 30 minutes, however, I doubted my oven's cleanliness to handle that high of a temperature. I decreased it to 475 and added on a few minutes. Worked fine and my kitchen remained smoke free!
Paprika Roast Chicken with Sweet Onions
Adapted from Gourmet Magazine
1 tbsp extra-virgin olive oil
1 1/2 tbsp paprika (Use smoked paprika if you have it, you won't be sorry!)
1/2 tsp cinnamon
1/4 tsp cayenne
1 whole chicken (about 3 1/2 pounds), cut into serving pieces
1 sweet onion, cut into 1/2-inch wedges
Garnish: Orange wedges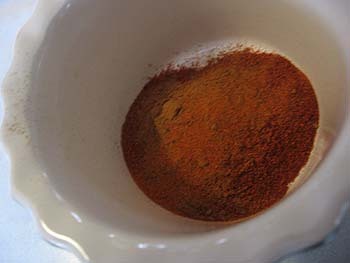 Preheat oven to 475 degrees F with rack in upper third.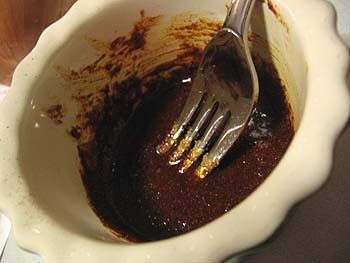 Mix oil with spices, 1 1/2 teaspoons salt, and 1 teaspoon pepper in a large bowl, then add chicken and onion, tossing to coat. Arrange chicken, skin side up, and onion in a 3-quart shallow baking dish.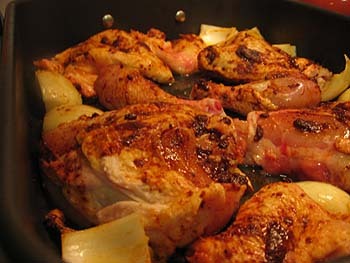 Bake until chicken is just cooked through and skin is golden, about 40 minutes. Use a thermometer to know for sure, and start checking for doneness after 30 minutes. You may be taking different pieces out at slightly different times. White meat should be around 160 and dark meat 170 when you take them out of the oven. Skim any fat from pan juices in dish.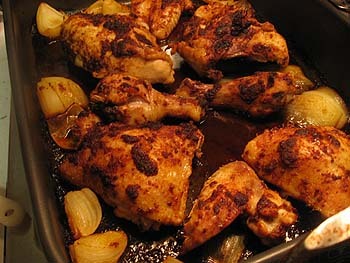 While the chicken was resting for about 10 minutes (covered with fol ha! foil), I added some wine and chicken broth to the pan juices to make an quick jus. Very tasty!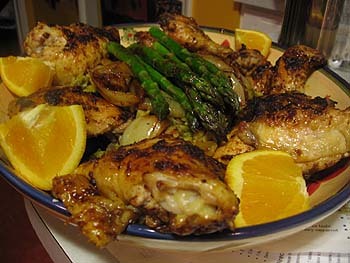 Arrange everything on a platter (whatever sides you are having with the chicken too) and it'll look lovely.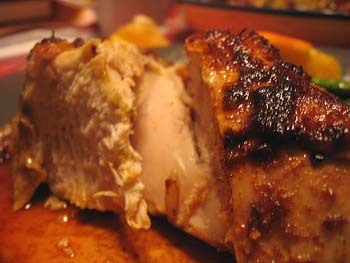 Serve with the orange wedges. Nom-nom-nom-nom.