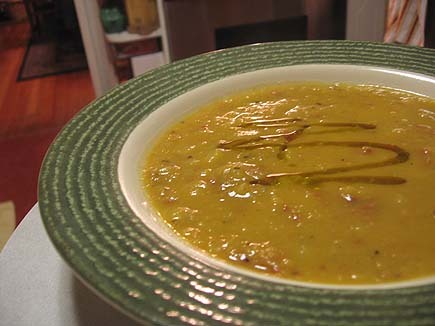 Usually, I cook on Friday, Saturday and Sunday nights, but lately, Thursday nights have become have a glass of wine and make soup night. Last week it was Mushroom and Barley, last night, Potato Soup with Fried Almonds & Garlic. This wonderful recipe is from one of my new favorite cookbooks, The New Spanish Table by Anya von Bremzen and I have to say, this soup is really, really good. So go make some!
The stock I used was from the chicken bones leftover from the most recent meal of Spanish Lemon Chicken with Honey and Saffron, which I can't recommend enough. Make the chicken, save all the bones afterward, make stock and then make this soup. I had made the stock about a month ago and then stored it in the freezer. Defrosted it about a day and a half before I made the soup.
I added a little orange juice just to…well, because I had an orange and I like the combination of orange, almonds and garlic. Also I added just a pinch of dried thyme to the original recipe.
Spanish Potato Soup with Fried Almonds
Adapted from The New Spanish Table
2 tbsp extra-virgin olive oil
1/2 cup whole marcona almonds (you can also use normal, blanched, whole almonds)
6 large garlic cloves
3 oz diced Serrano ham
1 1/2 pounds Yukon Gold potatoes, diced into medium-sized pieces (If the potato peel pieces in the soup will bother you, feel free to peel the potatoes but you really don't have to…)
1/4 tsp dried thyme
4 1/2 cups chicken broth
1 pinch saffron
Salt and pepper
2 tbsp fresh orange juice
2 teaspoons sherry vinegar (or more to taste)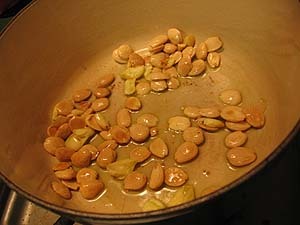 Heat the olive oil in a 3-quart saucepan over medium heat. Add the almonds and garlic and cook until golden, 5 minutes. Spoon out the almonds and garlic; reserve. Add the ham to the pan and cook for 1 minute.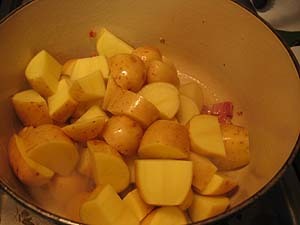 Add the potatoes and cook for another minute. Pour in the chicken broth and bring to a boil, skimming off any foam that rises to the surface. Add the thyme and reduce the heat and simmer.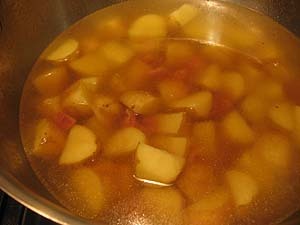 In a food processor, grind the almonds and garlic. Add all but 2 tablespoons to the soup.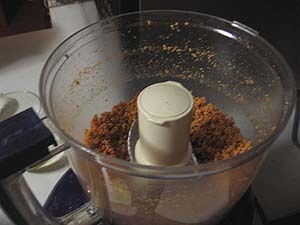 Steep the saffron in a few tablespoons of the soup broth for 2 minutes; then add to the soup.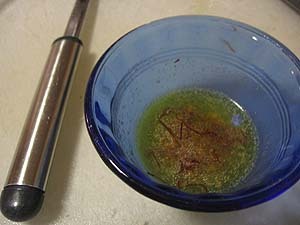 Season with salt and pepper and cook until the potatoes are very soft, about 35 minutes.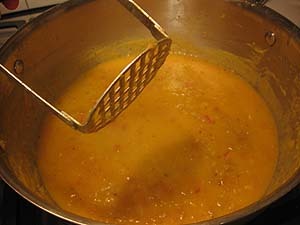 Go in with a potato masher or wooden spoon and crush some of the potatoes to thicken the soup. Add the vinegar and orange juice to the reserved garlic mixture and stir it into the soup. Cook for a minute. Taste and adjust seasoning.