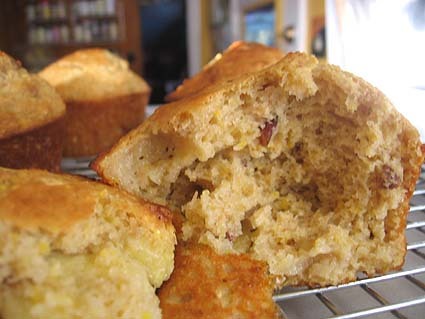 Oh, where has the time gone? So bad with posting this month, sorry. This is a great muffin recipe from the book, Baking: From My Home to Yours by Dorie Greenspan. This has pretty much become my go to baking resource.
I love the maple syrup in these muffins, with the crunchiness of the cornmeal and oats. i used brown sugar instead of white and added banana to the original recipe. I also swapped out 1/2 cup of butter for applesauce. Instead of bananas, you could always used dried fruit like raisins or figs.
Banana Pecan Great Grains Muffins
Adapted from a recipe by Dorie Greenspan
1 cup AP flour
1/3 cup whole wheat flour
1/3 cup cornmeal
1/3 cup old-fashioned oats
2 tsp baking powder
1/4 tsp baking soda
1/4 tsp salt
1/4 cup brown sugar
1 cup buttermilk
1/2 cup apple sauce
1/3 cup maple syrup
2 large eggs
1/2 cup pecans
1 ripe banana, mashed or sliced, depending on ripeness
Preheat the oven to 400 degrees F and spray a jumbo 6 count or 12 count muffin tin with non-stick spray.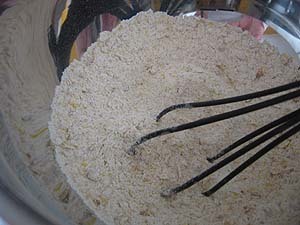 Combine the flours, cornmeal, oats, baking powder, baking soda, brown sugar, and salt in a large bowl. Stir to combine.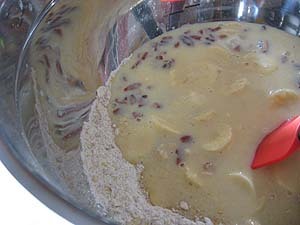 In another bowl combine the buttermilk, syrup, sugar, eggs, and apple sauce. Whisk to combine. Add the pecans to the dry mixture and the banana to the wet. Mix the wet mixture into the dry mixture making sure to only stir enough to combine.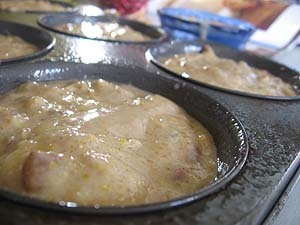 Divide the batter evenly among the muffin cups. If you have a little batter leftover, spray coat a ramekin and use that to bake up the last muffin.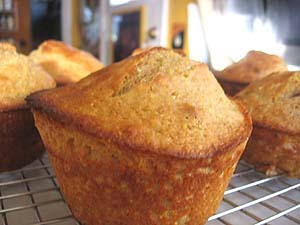 Bake in the pre-heated oven for 18 to 20 minutes or until the tops are golden and a thin knife inserted into a muffin comes out clean. Turn out onto a wire rack and let cool for a few minutes before eating.