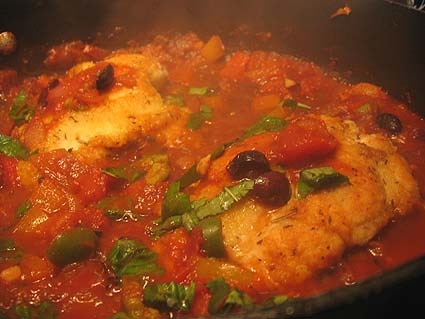 This is an awesome, flavorful, pretty quick-to-make dinner. It works really well with defrosted, chicken breasts.
I've started buying the big bag of frozen chicken breasts at Trader Joe's lately because they seem so much cheaper than the package of fresh breasts. I don't use them for all my chicken needs but they are great to use here. I just put a couple of breasts in the fridge to defrost the day before I made this dinner.
I made a full sauce version (what's listed below) with only two breasts. We have some leftover sauce but I'm sure I will find a use for it! Right now I'm thinking it'll be a lunch this week with some grilled tuna and fennel. Mmmmm! (Another great use of frozen fish there).
Chicken Provençal w/ Olives & Tomatoes
Adapted from The CIA — Culinary Institute of America
4 (6- to 8-ounce) skinless boneless chicken breasts, tenders reserved for another use
1/4 cup all-purpose flour
1/2 tsp dried rosemary
1/2 tsp dried thyme
1/2 tsp dried lavender
2 tbsp olive oil
1/2 cup onion, diced (I used the rest of a red onion I had in the fridge)
1 red bell pepper, cored and diced
2 garlic cloves, minced
1 flat anchovy fillet, mashed to a paste or 1 tsp anchovy paste from a tube
1/2 cup dry white wine
3/4 cup chicken stock or reduced-sodium chicken broth
1 strip of orange zest
1 16 oz can diced tomatoes (or whole tomatoes, I actually used a small can, not the big double-wide can, of San Marzano whole tomatoes)
12 pitted olives, chopped roughly (I used a combination of 3 oil cured black, 5 kalamata and 4 green Castelvetrano olives — hooray for the olive bar!)
1 tbsp finely shredded basil
Mix flour and dried herbs together and put on a plate. Pat chicken dry and sprinkle with some salt and pepper, then dredge in flour, shaking off excess.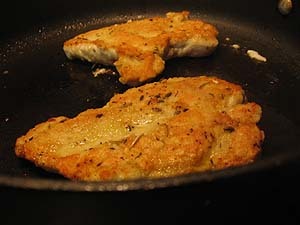 Heat oil in a 12-inch heavy skillet over medium-high heat until it shimmers, then cook chicken, turning once, until golden and just cooked through, 8 to 10 minutes total. Transfer to a platter and keep warm, covered. Cooking time will depend on the thickness of your chicken. Check the temp with a meat thermometer to be sure (165 degrees F).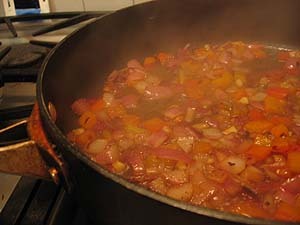 Add the onion, bell pepper and garlic to the skillet and cook over medium heat, stirring, until soft, about 5-6 minutes.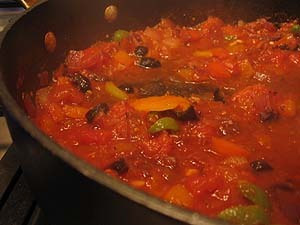 Add the anchovy paste and cook about 30 seconds. Add wine and bring to a boil, scraping up brown bits. Stir in tomatoes, stock, and olives and simmer, uncovered, stirring occasionally, until mixture has thickened a bit, 6 to 8 minutes.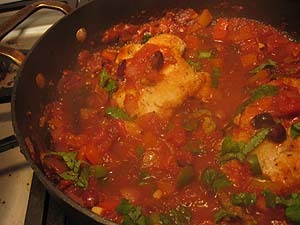 Add the chicken and any accumulated juices back into the sauce pan and simmer until just heated through, about a minute or two. Serve sprinkled with basil and serve.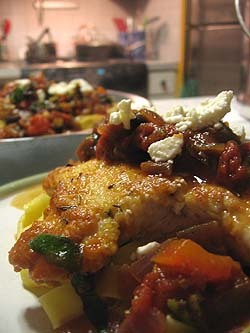 This goes great over some egg noodles. Garnish with feta if you have any because that's really good!