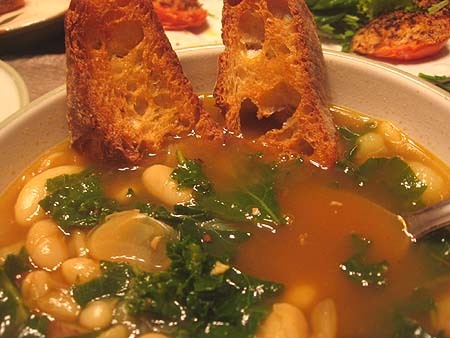 I have been craving soups lately. This was one I made a couple of weeks ago when, to my delight, I realized I had almost all the ingredients required, minus the kale. S'okay. I walked to the store and got kale!
The original recipe (from the defunct, "Cooking Live" on Food Network) called for dried beans and 3 chorizo sausages. I used canned beans and a 2:1 ratio of turkey sausage to pork chorizo. My turkey sausage was raw, so I cooked that in link form and then sliced up (to avoid the casing shrinkage). My chorizo was cooked already, so I just chopped and browned that. Then, I started the soup in all the sausage drippings. Oh yeah, I added a couple of potatoes too.
The paprika, saffron and sherry vinegar totally rock this soup (and the spices give it a very pretty color!)
White Bean, Kale and Chorizo Soup
Recipe adapted from Sara Moulton
2 cans white beans, drained and rinsed
6 1/2 cups chicken stock
1 bay leaf
Kosher salt
Pinch saffron threads
2 tbsp extra-virgin olive oil
3 Spanish chorizo sausages, about 3/4 pound, cut into 1/2-inch dice (or a mix of chorizo and turkey sausage — this is what I did, 2 turkey sausages and 1 chorizo sausage, this worked really well)
1 large onion, finely chopped (I used red)
4 garlic cloves, minced
1 large red or yellow bell pepper, finely diced
1 tbsp sweet paprika
2 medium, red potatoes, diced into bite-sized pieces
1 bunch kale, about 3/4 pound, tough stems removed, washed well, and coarsely chopped
Freshly ground black pepper
Sherry vinegar, to taste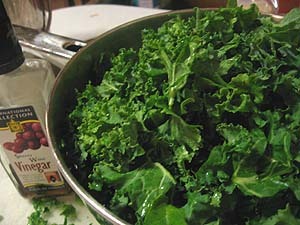 Heat the oil in a large skillet over medium-high heat. Add the sausage and cook, stirring often, until lightly browned, about 5 minutes. Use a slotted spoon to transfer to a plate.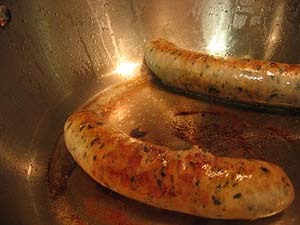 Add the onion; reduce the heat to medium and cook, stirring often, until softened, about 5 minutes. Add the garlic and cook 1 minute longer. Stir in the red pepper and the paprika. Cook for 2 minutes longer.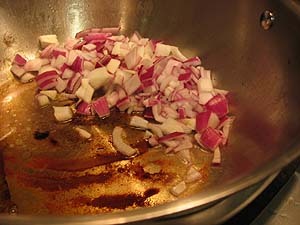 Add 6 cups of stock and the beans. Stir in the saffron with the soaking liquid, the sausage, and the potatoes.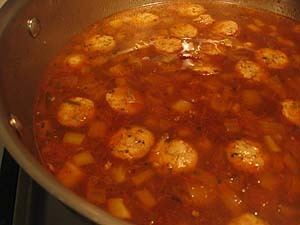 Bring back to a simmer and cook for about 15-20 minutes. Add the kale and cook until that is wilted, about 5 minutes longer.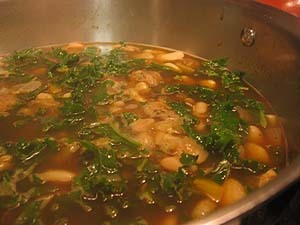 Season with salt and pepper, stir in the vinegar, and serve hot in bowls.