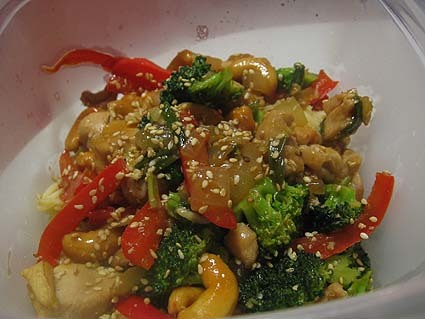 Ah, if there's one thing that's bad about the holidays it's going back to work after a 5-DAY weekend. Oh, that's harsh. Okay, and so is doing all the dishes. That's kind of bad too. But I made coffee press after dinner on Thanksgiving and jwa and I had no problem staying up that night and doing like 4 loads of dishes. I wonder why…
We had a very nice Thanksgiving and except for my super-dense, didn't-seem-to-rise-too-much rolls, everything seemed to turn out pretty well. Kinda sucks I forgot to take any pictures of the food or the people.
::clever segue:: But anyway, this here is something that I like to make for lunches occasionally. It works really well to go right from the pan to a lunch container and then the next day, when you get hungry, you remember you have something good for lunch and it makes you all happy!
Chicken and Cashew Stir-Fry
Recipe adapted from Gourmet magazine
1 bunch scallions, white and green parts chopped
1 pound skinless boneless chicken thighs
1/2 tsp salt
1/4 tsp black pepper
3 tablespoons vegetable oil
1 red bell pepper, chopped
1 bunch broccoli florets. chopped
3 garlic cloves, finely chopped
1 1/2 tbsp finely chopped peeled fresh ginger
1/4 tsp dried hot red-pepper flakes
3/4 cup reduced-sodium chicken broth
1 1/2 tbsp soy sauce
1 1/2 tsp cornstarch
1 tsp sugar
1/2 cup salted roasted whole cashews
Garnish: Sesame Seeds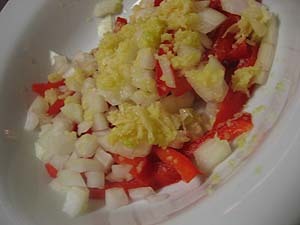 Pat any excess moisture off chicken, then cut into 3/4-inch pieces and toss with salt and pepper. Heat a wok or 12-inch heavy skillet over moderately high heat until a drop of water evaporates immediately.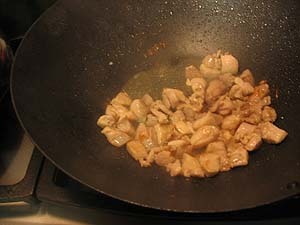 Add oil, swirling to coat, then stir-fry chicken until golden in places and just cooked through, 4 to 5 minutes.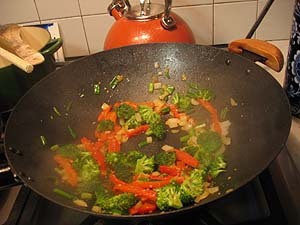 Transfer to a plate with a slotted spoon. Add bell pepper, garlic, broccoli, ginger, red-pepper flakes, and scallions to wok and stir-fry until peppers and broccoli are just tender, 5 to 6 minutes.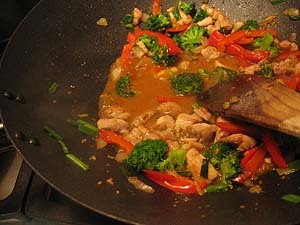 Stir together broth, soy sauce, cornstarch, and sugar, then stir into vegetables in wok. Reduce heat and simmer, stirring occasionally, until thickened, 1 to 2 minutes.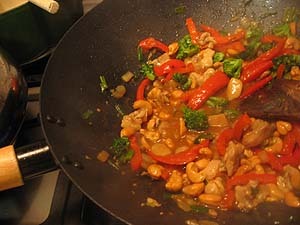 Stir in cashews and chicken, along with any juices accumulated on plate. Serve over rice. Garnish with sesame seeds and eat immediately or pack up for lunch the next day. Or both.