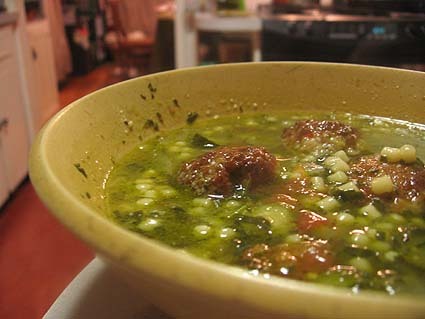 This was a quick and tasty soup fashioned together out of Thanksgiving leftovers. Since we had hens for our holiday dinner, there was no turkey meat but I did have a TON of homemade hen stock. The rest will be used in some bean and bacon soup later in the week.
If you do have turkey or other poultry leftovers in the freezer, you could always opt to omit the meatballs and use pieces of the leftover turkey.
This turned out really, really good. It's kind of like an Italian Wedding Soup. My stock had a lot of flavor as I made it with many garlic cloves, veggies and rosemary sprigs. If you use store-bought, you may want to season the soup up a bit more with your favorite dried or fresh herbs at the end.
Spinach & Chicken Meatball Soup or Thanksgiving Wedding Soup
1/2 lb uncooked chicken sausage (you can also use pork sausage)
1 egg
3 herb rolls, processed to make breadcrumbs (this will give you about 1 cup of breadcrumbs — you can also use regular bread to make the crumbs, but if you do, add 1/2 teaspoon of each, chopped: fresh rosemary, fresh sage, and fresh oregano or marjoram)
2 tbsp olive oil, divided
1 white onion, diced
2 medium zucchinis, diced (can also be 1 medium carrot diced or other vegetable of your choice)
3 cloves garlic, minced
7 cups turkey, chicken or hen stock
3/4 cup acini di pepe (or other small, round pasta)
2 cups fresh spinach
2 tomatoes, diced
salt & pepper to taste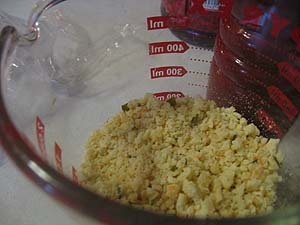 Add sausage and egg to a bowl, combine and then add enough breadcrumbs to create a wet but moldable mix. Form meatballs (I got about 12 golf ball sized ones.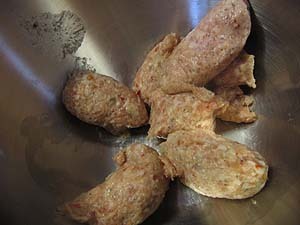 Preheat a skillet and add 1 tablespoon of the oil. Brown meatballs on all sides and then remove from the skillet. Set meatballs aside.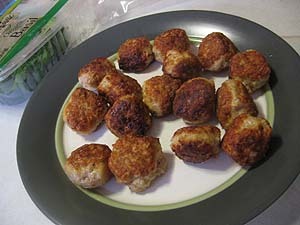 Add the remaining tablespoon of the oil to a hot soup pot and saute the onion, zucchini and garlic until soft, about 5-6 minutes.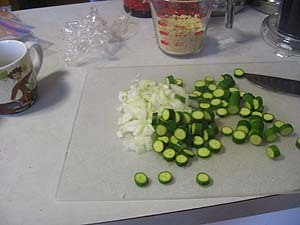 Add 6 1/2 cups of the stock and bring to a boil. Then reduce to a simmer. Add the remaining 1/2 cup of stock to a food processor with the spinach and pulse until spinach is finely chopped and add to soup pot. You can also just roughly chop the spinach and add it like that.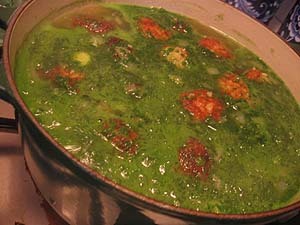 Next, add the meatballs to the soup and allow to simmer for about 5 minutes. Then stir the uncooked pasta in and simmer until soft, about 10 more minutes. Finally, add the diced tomato. Season with salt and pepper to taste.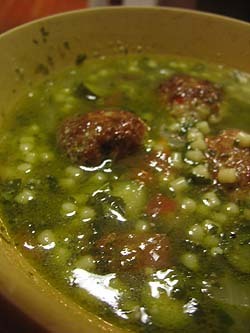 We had a really nice, sleepy dinner at Sub Rosa last night. We really like going there for a weeknight dinner sometimes, and judging by the way the tables filled up, we are not a alone! 🙂
***
Also, here are some pics jwa and I took recently at Pittock Mansion when his parents were in town for Thanksgiving.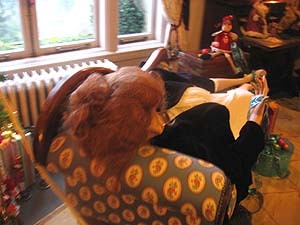 Crazy, slightly creepy Christmas mannequin sleeping on a couch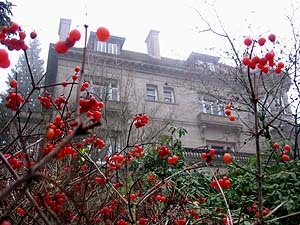 Outside, in the fog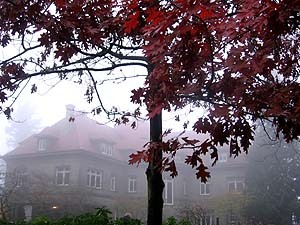 More fog and red leaves