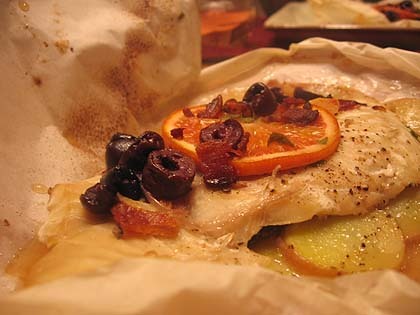 This is pretty quick, easy and healthy. Just what we all (in the US) need in the days leading up to Thanksgiving. Originally in Gourmet magazine but I changed some stuff — mainly added the Parmesan and swapped blood orange for lemon.
Okay, that is all. Reserving culinary strength for Wednesday and Thursday!
Cod with Olives, Blood Orange and Potatoes
Adapted from Gourmet Magazine
2 small fingerling potatoes, thinly sliced
2 tbsp extra-virgin olive oil, divided
1 tsp fresh chopped, oregano, divided
1 tbsp grated Parmesan cheese
Sea salt
Pepper
2 (6-8 ounce) pieces skinless black cod, rock cod, Pacific cod, or haddock fillet (about 1 inch thick), any bones removed
2-4 slices of blood orange
4 garlic cloves, thinly sliced
1/4 cup Kalamata-style black olives, pitted and chopped
2 tbsp flat-leaf parsley leaves
2 large pieces of parchment paper, folded in half and cut into valentine heart shapes
Preheat oven to 400 degrees F with a baking sheet on bottom rack. Open the parchment on a flat working surface.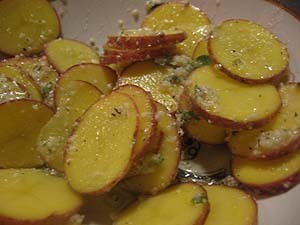 Toss the potatoes with 1 tablespoon oil, 1/2 teaspoon oregano, the parmesan cheese, and a sprinkle of sea salt and pepper.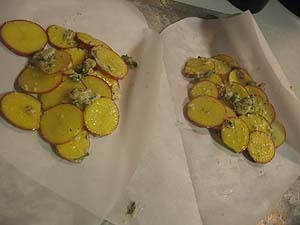 Divide potatoes among parchment hearts, arranging them to one side of the center, slightly overlapping, then top with a piece of fish.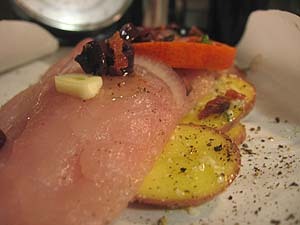 Sprinkle each fillet with a little sea salt, then top each with one to two orange slices, a few garlic slices and olive slivers, parsley leaves, a sprinkle of oregano, and a drizzle of olive oil.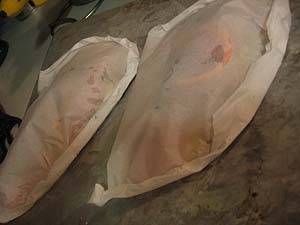 Fold the parchment over the fish and then, starting at one end and working your way around to the other end, carefully fold the cut edges twice (or three times if you prefer a crimped edge) to form a sealed packet.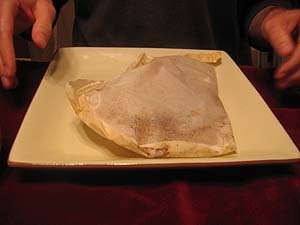 Put packages on hot baking sheet and bake until fish is just cooked through, 18 to 22 minutes.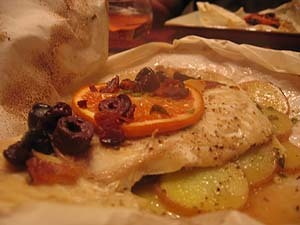 Serve packets on plates and open at the table. Watch out for steam!