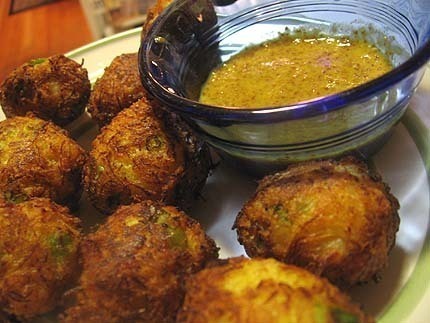 The other night, we had Jamie Oliver's Cabbage and Bread soup for dinner, as I saw it on Food Network last Spring and I've been waiting for Fall and colder weather ever since to make it. Now, I know what you are thinking — Bread and Cabbage Soup. Really? But, oh my god, if you had seen the episode you would understand.
I did make that and it is the next post but I thought I'd start with this — Crab Hush Puppies. I made this as sort of a starter for the soup, just because I happened to see the recipe and was intrigued. Here are a few caveats though —
1. I know the inclusion of "just add water" Cornbread Mix gives it that, uh, somewhat Semi-Homemade kind of feel. This will be doubled when you realize the only "just add water" Cornbread mix you can find is by Marie Callendars (not that there's anything wrong with that…) Just fight it and move on.
2. Crabmeat is damn expensive! We had a 25% off coupon for the Belmont Zupan's, which is another reason we tried this recipe with fresh crabmeat. But, honestly, you're already using Cornbread mix — if you can't get crab on sale or anything, you can try using the imitation crab. I made a half recipe, so I only needed a quarter of a pound of crab. If I had been getting more, I probably would have tried the imitation crab. Another option, which I use for hot crab & artichoke dip, is canned crabmeat. Really, just like the dip, crabmeat is not the star here — the flavor is mixed with the cornbread and curry. Just drain the crab super, super, super well if you use canned.
Okay. That is all. Here's the recipe.
Crab Hush Puppies
Recipe adapted from Bon Appétit magazine
This is the full recipe (20-24 puppies), halving will give you 10-12 puppies
1/2 tsp curry powder
1 cup just-add-water cornbread mix
1/4 cup bottled clam juice (or chicken broth, which is what I used, for a half recipe, this is 2 tablespoons, hardly worth buying a whole jar of clam juice, imho)
1/2 pound fresh lump crabmeat, diced
5 finely chopped green onions
Peanut or vegetable oil (for frying)
Dipping sauce:
2 parts Dijon Mustard
1 part honey
sprinkle or two of curry powder
Stir mustard, honey, and a little curry powder in small bowl for dipping sauce. Taste. Adjust as needed.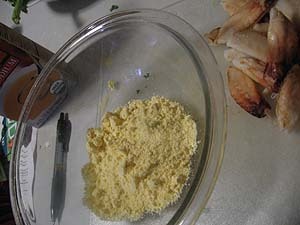 Stir cornbread mix, clam juice or chicken stock, and 1/2 teaspoon curry powder in medium bowl. Mix in crabmeat and the chopped onions.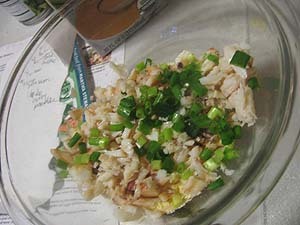 I did all this, formed the hush puppies, and stored them in the fridge for about 2 hours. So, definitely make-aheadable.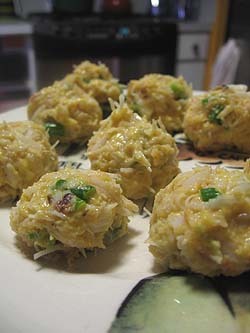 Pour enough oil into medium saucepan to reach depth of 1 1/2 inches (almost a whole bottle of oil, depending on your pan size). Attach deep-fry thermometer to side of pan and heat oil over medium heat to 320 degrees F to 330 degrees F.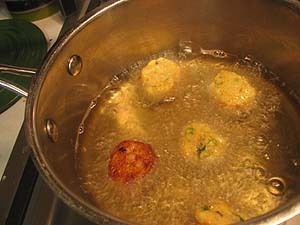 Working in batches, drop batter into oil by heaping teaspoonfuls. Fry until golden and cooked through, 1 to 1 1/2 minutes. Transfer to paper towels to drain.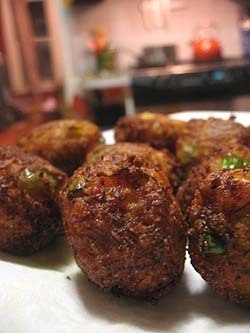 Serve with dipping sauce. Both jwa and I thought these were really tasty!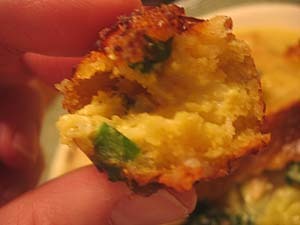 Okay, next post is that amazing soup. Stay tuned…