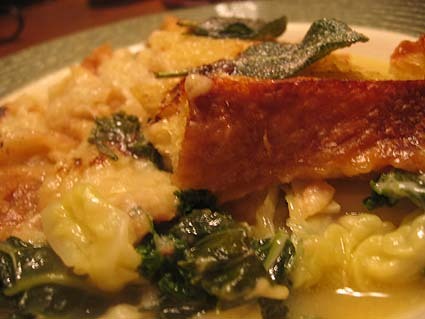 Okay, here it is — the soup that will take over the world! I saw this last Spring on the teevee and have wanted to make it ever since. But, there was the pesky wedding and then Summer and now, finally COOL weather!
This Jamie Oliver recipe is really, really good. The cheese is kind of approximate below. I didn't really measure, I just added a bunch of cheese to each layer and went from there. I also used smoked fontina in this which was delicious!
It's kind of like a big, bubbly bread and cheese lasagna with broth. It's best the day of, but leftovers the next day were still quite tasty! I fiddled with the original a bit. As written below, you'll get 4-6 servings. I decided to halve the recipe, as there are only two of us and I wasn't sure how many days leftovers would keep.
Bread & Cabbage Soup w/ Fried Sage Leaves
Adapted from a recipe by Jamie Oliver, in the awesome book, Jamie at Home
1 1/2 – 2 quarts good-quality chicken or vegetable stock
1/2 Savoy cabbage, stalks removed, outer leaves separated, washed and roughly chopped
2 big handfuls of kale, stalks removed, leaves washed and roughly chopped
About 10-12 slices stale sourdough bread (Figure out how many slices you will need per layer to fit your pot, then multiply that by the number of layers you will have — I had 3 layers of bread, so I used 12 or so small slices of bread)
2 cloves garlic, unpeeled, cut in 1/2
Olive oil
6 slices pancetta or bacon
1 tsp anchovy paste (or you can use real anchovies like Jamie)
3 sprigs fresh rosemary, leaves removed from 2 of the sprigs and chopped
1 cup fontina cheese, grated (I actually had some smoked fontina from the deli, it was in slices, so I just used it that way)
3 big handfuls grated Parmesan, plus a little for serving
Kosher salt and freshly ground black pepper
1 tbsp butter
Small bunch fresh sage, leaves picked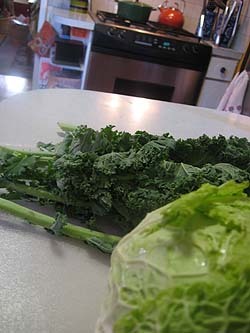 Preheat oven to 350 degrees F. Bring the stock to the boil in a large pot and add the cabbage and kale. Cook for a few minutes until softened (you may have to do this in 2 batches). Remove the greens to a large bowl, leaving the stock in the pot.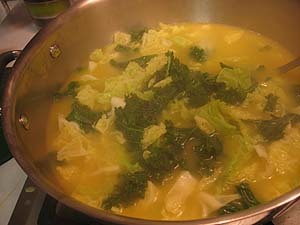 Toast all but the number needed for your top layer of bread slices on a hot griddle pan or in a toaster, then rub them on 1 side with the garlic halves, and set aside. Chop the garlic pieces and hold onto them.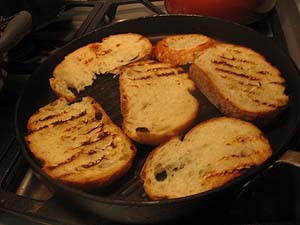 Next, heat a large ovenproof casserole-type pan on the stove top, pour in a couple of glugs of olive oil and add your pancetta and anchovy paste.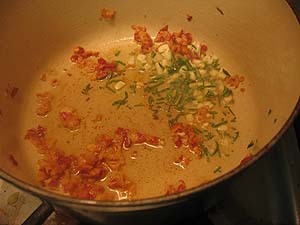 When the pancetta is golden brown and sizzling, add the rosemary, chopped garlic and cooked cabbage and toss to coat the greens in all the lovely flavors. Put the mixture and all the juices back into the large bowl.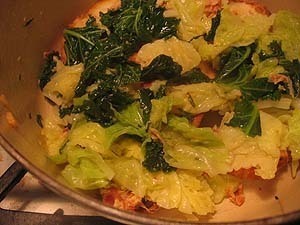 Place a layer of the toasted bread slices in the casserole-type pan. Spread over 1/2 of the cabbage leaves, sprinkle over a 1/3 of the grated fontina and Parmesan and add a drizzle of olive oil.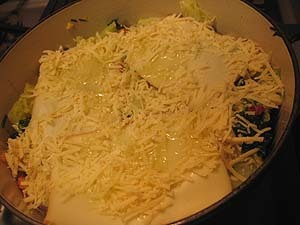 Repeat this for one more layer. Next, pour in all the juices remaining in the bowl and end with a layer of untoasted bread on top. Push down on the layers with your hands.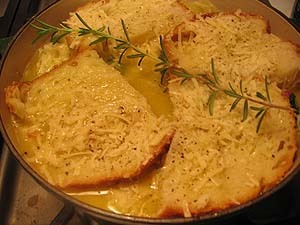 Pour the stock gently over the top until it just comes up to the top layer. Push down again and sprinkle over the remaining fontina and Parmesan. Add a good pinch of salt and pepper and drizzle over some good-quality olive oil. Pop the last rosemary sprig on top. You know, just for fun. Bake in the preheated oven for around 15 minutes. Then, turn the heat up to 375 degrees F and bake for 15 more minutes, or until crispy and golden on top. I upped the heat to get maximum crispiness on the top!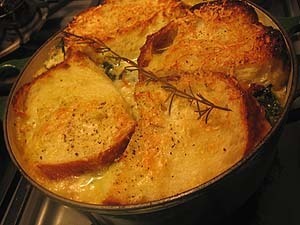 When the soup is ready, divide it between your bowls. Melt the butter in a frying pan and quickly fry the sage leaves until they're just crisp and the butter is lightly golden.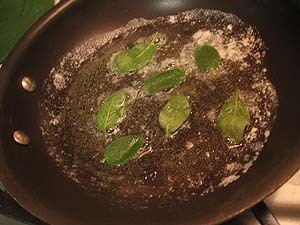 Spoon a bit of the flavored butter and sage leaves over the soup and add another grating of Parmesan.
Wow. Tasty and hearty! Very satisfying.