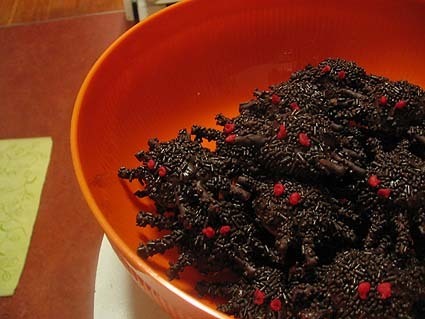 This recipe is from The Secret Life of Food by Clare Crespo. I actually saw these this recipe about two years ago but, I kid you not, the last two Halloweens I have had colds. And thus, didn't really want to bake things. This year? Germ-free, baby!
These are what I made for the Halloween Baking contest at work. Pretty much followed the recipe except I used dots of red tubed frosting for the eyes (instead of red hot candies) and I used a silicone basting brush to coat the cookies with chocolate. So much less wasteful than pouring it, imho. You will also use less chocolate to begin with. I started with a half of a bag of chips and 1 tablespoon of oil, figuring I could always melt more up if I needed more. Also, try to get a larger tub of the chocolate sprinkles. The 10 oz tub size, if you can. You will use at least 6-7 oz. Finally, I used dark chocolate instead of milk chocolate because that's just how I roll.
Oh and I broke the pretzel sticks in half to make the legs a little shorter. Just as impressive but less delicate when transporting and less tiny little stick to coat with chocolate.
To give you an idea of the time commitment, I started these at 5pm and was completely done about 7:15 pm. I started brushing the melted chocolate on the first batch (I baked them in two batches of 12) about 20 minutes after they came out of the oven. This was also the 2nd time I've made these cookies since Sunday, so that probably speeded duh, sped me up a bit.
Cute Spider Cookies to nom-nom-nom
Makes about 2 dozen cookies
2 cups all-purpose flour
1/2 tsp baking powder
1/2 tsp salt
1/8 tsp baking soda
10 tbsp unsalted butter, softened
1/2 cup light brown sugar
1/4 cup granulated sugar
1 egg
1 tsp vanilla extract
2 tbsp unsweetened cocoa powder
1 bag thin, short pretzel sticks
11.5 oz bag of dark (60% cacao) chocolate chips
2 tbsp vegetable oil
6+ oz Chocolate sprinkles
Small red candies, mini m&ms or a tube of red frosting + pastry tip
Preheat oven to 350 degrees F. In a medium mixing bowl, combine the flour, baking powder, salt, and baking soda. Set aside.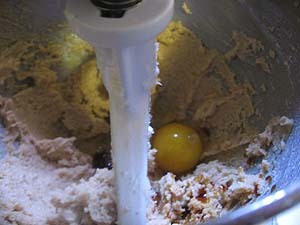 In a large mixing bowl, beat together the butter, brown sugar, and granulated sugar until light and fluffy. Add the egg and vanilla and beat until well blended.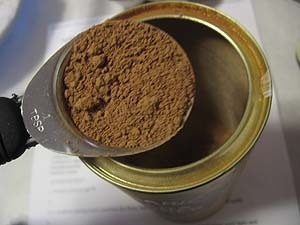 Gradually add the flour mixture and cocoa powder. Beat to form a smooth, slightly dry looking, dough.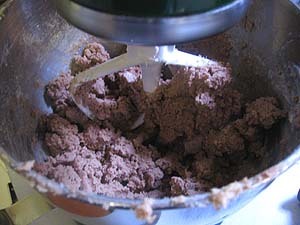 Roll a tablespoon-sized ball of dough, and place it on a baking sheet. Arrange eight pretzel sticks around the ball like spokes on a wheel. Press the tips of the pretzel sticks firmly into the dough ball. Continue with the rest of the pretzels and dough.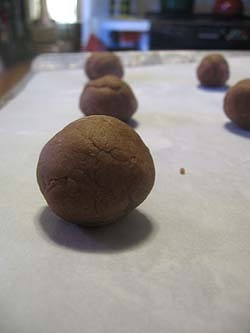 Bake until cookies start to brown around edges, about 10-12 minutes.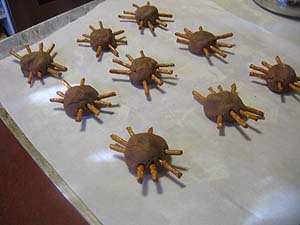 For comparison, I got 24 cookies from my dough and mine were perfect at 12 minutes. So, scale the cooking time to your cookie size.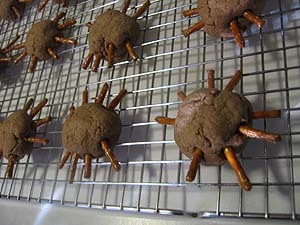 Lift the cookies from the baking sheets with a spatula, and place on wire cooling racks. Let cool completely. Place the racks on sheets of aluminum foil or waxed paper.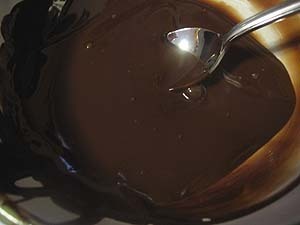 Melt the chocolate chips with vegetable oil in the microwave, 30 seconds at a time, stirring between each blast. When chocolate is almost melted completely, just stir until it's all melted. You can do this all at once or do half the bag of chips plus 1 tablespoon of oil at a time. That's what I did. And then I just melted more chocolate and oil when I needed it. And I did have melted chocolate left over. I'm sure I will think of something to do with it!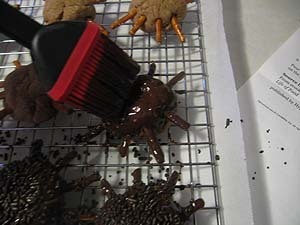 Use a pastry or basting brush to coat each spider with melted chocolate.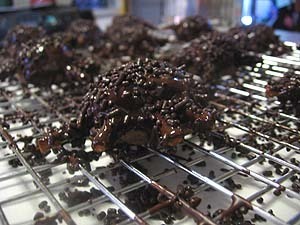 I did about 4 at a time, then sprinkled down with chocolate sprinkles. If you are pressing the eyes into the spider (red hots, m&ms), do it now, while the chocolate is still soft. If using frosting, let the chocolate firm up a bit first.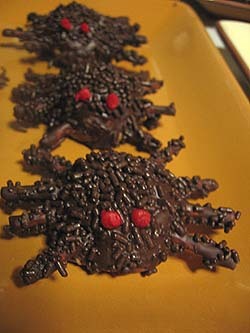 You can set the chocolate and sprinkles quicker by putting the cookies in the refrigerator for about 30 minutes. Then squirt all te frosting eyes on.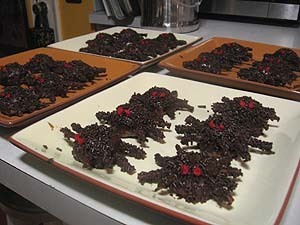 The cookies are very tasty — not just all show.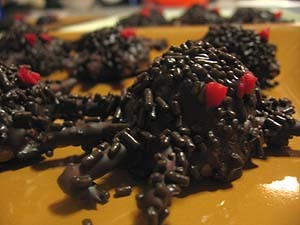 We ate all the ones I made this weekend as a test (well, jwa brought some into work too) and hopefully, these will go fast at the Halloween Party Wednesday.