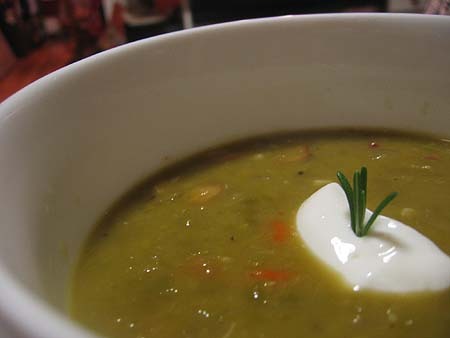 Okay, once again it's time for split pea soup. Although, today (Sunday) it was beautiful here — about 69 degrees and sunny. We had our windows and front door open! Maybe I was a little too quick with putting flannel sheets on the bed last weekend?
Anyway, here's the soup! It's from Bon Appétit. Oh, I reduced the original's 4 slices of bacon to two. Yay me.
I know that I've made split pea soup before. It's just so good I can't help myself from trying different variations…
Split Pea Soup with Rosemary & Bacon
2 bacon slices, chopped
1 small onion, chopped
1 medium leek (white and pale green parts only), sliced
1 large carrot, peeled, chopped
2 garlic cloves, minced
4 14 1/2-ounce cans 7 cups low-salt chicken broth
1 1/4 cups green split peas, rinsed
2 bay leaves
1 tsp chopped fresh rosemary
Garnish: Sour cream, crème fraîche or plain yogurt & more rosemary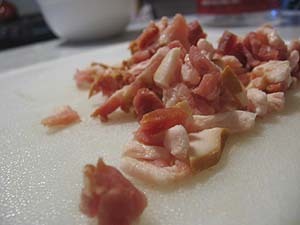 Sauté bacon in heavy large pot over medium-high heat until crisp and brown. Add onion, leek, carrot and garlic and sauté until vegetables begin to soften, about 6 minutes.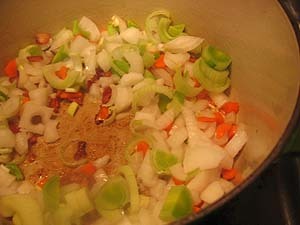 Add broth, peas, bay leaves and rosemary and bring soup to boil.
Reduce heat to medium-low, cover and simmer until peas are tender, stirring occasionally, about 1 hour. The peas will fall apart and make a creamy soup.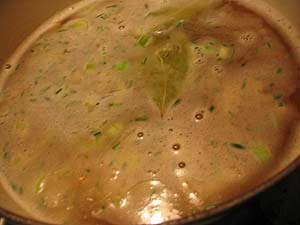 Season soup to taste with salt and pepper. Top with a dollop of sour cream or other creamy garnish and a little rosemary.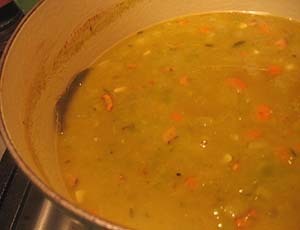 Next up: Halloween treats!