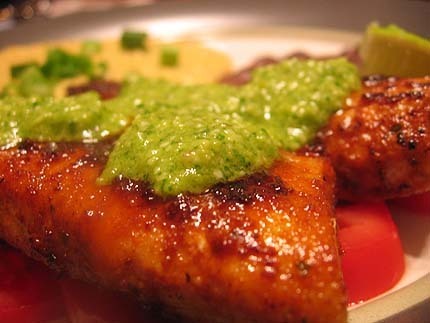 First off, can I just say that I am looking forward (I think!) to Nov 5th? I am getting sick of having to obsessively check wonkette, fivethirtyeight and google news > elections like 50 times per day.
::sigh::
Anywho, this recipe is from Food & Wine, via Bobby Flay, and it was super good. I changed some things so I'm going to say that I adapted it from Bobby Flay. We like the Mahi Mahi as you can find it at Trader Joe's, frozen, for about $6-something a pound. Woo-hoo! I've seen it both plain and marinated in a chimichurri-type marinade. This was that variety — I just wiped off the extra marinade after defrosting it.
If you have leftover pesto it is excellent with pasta, chicken or, uh, a spoon.
Rub
2 tbsp smoked Spanish paprika
1 tbsp chile powder blend
2 tsp ground cumin
2 tsp dark brown sugar
1 tsp kosher salt
1 tsp coarsely ground black pepper
Mahi Mahi
Four 1/2 pound mahi mahi fillets
2 tbsp olive oil
Cilantro Pesto
2 large yellow bell peppers — peeled, seeded and chopped
1 garlic clove, chopped
1/4 cup walnuts
1/2 cup chopped cilantro
3 tbsp freshly grated Parmesan cheese
1/4 cup extra-virgin olive oil
1/4 tsp kosher salt
1/4 tsp freshly ground pepper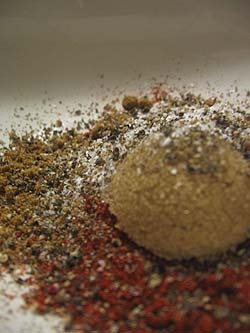 Make the pesto by placing the peppers, garlic, nuts, cilantro and Parmesan in a food processor and pulse until combined. With the machine on, add the oil and process until emulsified.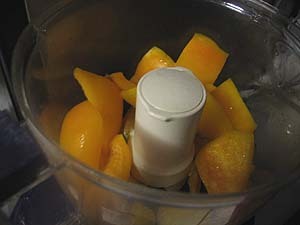 Season with the salt and pepper. Refrigerate until ready to use.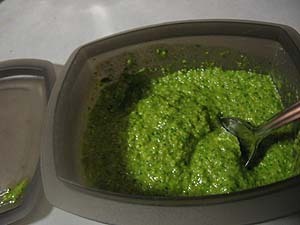 Okay, now make the rub. Basically, mix all the rub ingredients together. Done!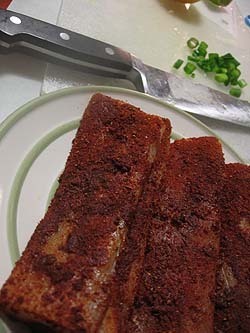 We had this with some cheddar polenta (make polenta, add a bunch of cheddar cheese to it), tomato slices and black beans. And of course the cilantro pesto.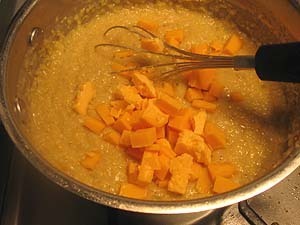 Super good and tasty.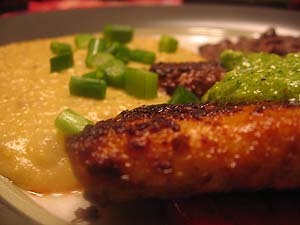 We are having a dessert baking contest thing at work next week (at the Halloween Party) and I am trying to come up with an idea. Well, I have some, but we really haven't gotten any specifics yet on the contest. So, I'm not sure if it can be any baked item or a specifically Halloween-themed thing. I have two contenders. I will decide this weekend I suppose. After making them each to taste test. Yeah.