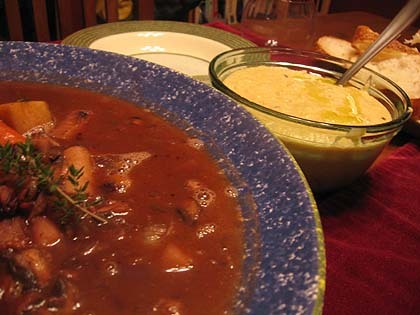 Whew! Right in under the 10/31 deadline! Confessions of an Apron Queen is hosting this month's Weekend Cookbook Challenge and the theme is Fall Vegetables. This is a great theme as far as I am concerned as I do love the Fall vegetables. This recipe is from the Williams Sonoma cookbook, Autumn. I believe I've drawn inspiration from it before for WCC.
This Coq au Vin does indeed have Fall vegetables — carrots, rutabaga, purple potatoes, and parsnips. It was also supposed to have a turnip but I was trying to hurry and get dinner ready (hungry!) and I didn't feel like prepping that one. So sad. However, I think Mr. Turnip will show up in a soup shortly.
This recipe has many parts, many bowls, lots of steps (a lot of ins and outs) but only 1 pot. It's a good Sunday night meal. Probably not a realistic Tuesday night meal.
I followed the directions from the book mostly, except that I added a diced onion and about 10 chopped cremini mushrooms. Oh and some rosemary. And more thyme. I also roasted my veggies because I like roasted veggies. And I used less chicken stock. And…Well, hell, it's kind of based on the recipe, I guess.
Coq au Vin with Autumn Vegetables
2 tbsp olive oil
8 cremini mushrooms, sliced
1 small onion, diced
2 slices bacon, cut into small dice
8-10 boneless chicken thighs
1 bottle of red wine (Cotes du Rhone, Cabernet Sauvignon, etc…)
3 cups chicken broth
1 tbsp tomato paste
3 cloves garlic minced
2 bay leaves
4 sprigs fresh thyme
1 sprig rosemary
2 parsnips peeled, and cut into 1″ lengths
2 carrots peeled, and cut into 1″ lengths
2 purple potatoes (or small red skinned potatoes) cut into small wedges
1 rutabaga peeled, and cut into smaller wedges than the other vegetables
3 tbsp all-purpose flour
2 tbsp butter
salt & pepper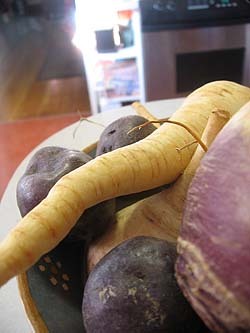 Preheat oven to 450 degrees. In a large, heavy pot over medium heat, heat 1 tablespoon of the oil. Add the onion and mushrooms and saute until soft and just starting to color — about 6-7 minutes. Remove and set aside in a large bowl. Return the pan to the heat and add the bacon and cook, stirring occasionally, until lightly golden, about 10 minutes. Using a slotted spoon, transfer to a plate.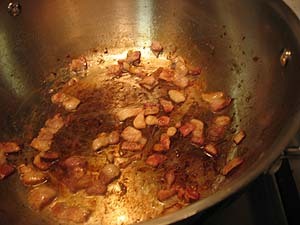 Sprinkle all sides of chicken thighs with salt and pepper. Raise the heat to medium-high and, working in batches, add the chicken pieces to the pot. Cook, turning as necessary, until lightly golden, about 10 minutes. I didn't work in batches because I was hungry, so my chicken didn't brown as well as it should have. So, work in batches people!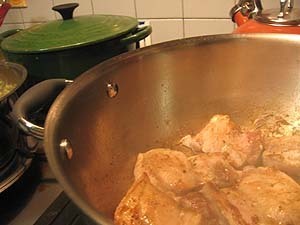 When all of the chicken is golden, return the all chicken pieces to the pot along. Raise the heat to high and add the wine, broth, tomato paste, garlic, bay leaves, and the leaves from the thyme and rosemary sprigs. Bring to a boil, reduce the heat to low, cover, and simmer 20-25 minutes.
Using tongs, transfer the chicken to a large shallow dish and keep warm.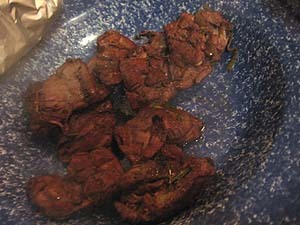 Meanwhile, right after you get the wine into the pot, toss your diced up fall veggies with the remaining tablespoon of oil. Salt and pepper and roast in the oven for about 20-25 minutes (while the chicken is braising), until almost done. You could also just skip this step and cook the veggies in the wine-broth completely. If you do this, give them about 25-30 minutes.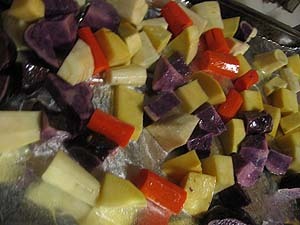 Next, add the almost cooked parsnips, carrots, rutabaga and potato to the wine. Bring to a boil, reduce the heat to medium-low, cover, and simmer until the vegetables are completely tender, about 8-10 minutes.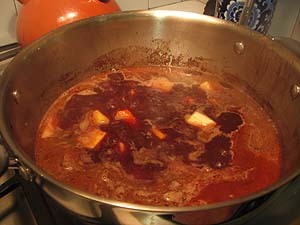 Using a slotted spoon, transfer the vegetables to the dish holding the chicken. And pour the wine sauce into the bowl holding the sauteed mushrooms and onions.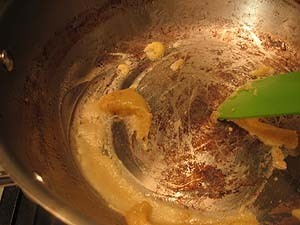 Melt the butter in your pot and add the flour. Cook for about a minute and then add the hot wine-mushrooms-onions mix back into the pot. Reduce the heat to medium and simmer, stirring occasionally, until the liquid lightly coats a spoon, 2 to 3 minutes. Mine didn't seem to thicken all that much but it was still mighty tasty!
To serve, pour the slightly thickened sauce over the bowl holding the chicken and vegetables. Garnish with thyme or rosemary sprigs. Recipe yields (at least) 6 servings. We had this with a big bowl of goat cheese polenta drizzled with a little fancy olive oil. Oh and the crusty bread. You must have crusty bread.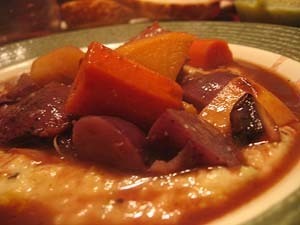 Thanks again to Confessions of an Apron Queen for hosting this month!