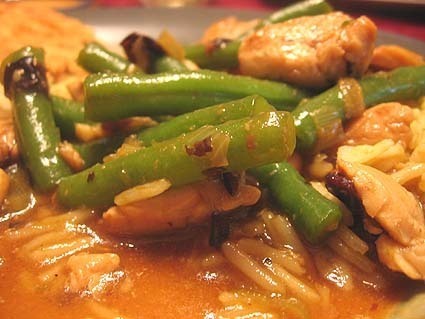 Well, hell. It's hot out again. And here I thought we were going to escape the Summer with sweet, sweet 70's and sunny weather through the end. Nope. 101 103 degrees Friday and Saturday. Ick. Now's the time for the chilled pea soup. But Saturday I will try a new gazpacho recipe — that'll be fun.
Weather aside*, here's a really tasty dish we had last weekend, way back when it was reasonable out. Originally, it was shrimp and Chinese broccoli in the Gourmet Magazine version, but I sneakily changed that to chicken and green beans. Mahahahahahaha!, says Chef Evil.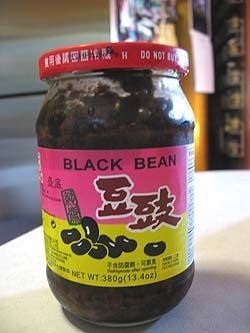 Anywhoooo, I found what I am 99% sure is fermented black beans at Uwajimaya. Please, no one tell me this is something else, because they were really good in this. Oh well, if they are some other kind of black bean product, this dish will just become Chicken and Green Beans with Mystery Jarred Black Beans from Uwajimaya. No biggie. But for now:
Chicken and Green Beans with Fermented Black Beans
3/4 cup reduced sodium chicken broth
3 tbsp Chinese rice wine (preferably Shaoxing) or medium-dry Sherry (I went the sherry route)
3 tsp light soy sauce
2 tsp cornstarch
1 tsp sugar
1/4 tsp salt
1 lb-ish Green Beans, trimmed and cut into 2-inch pieces
1 lb-ish boneless, skinless chicken breasts, sliced into thin strips
1 tablespoon peanut or vegetable oil
1 (1-inch) piece fresh ginger, peeled and cut into very thin matchsticks
2 tbsp fermented black beans, rinsed
3 garlic cloves, minced and ready for trouble
1/2 fresh jalapeno chile (including seeds), or to taste, diced finely
1 tsp toasted sesame oil
Stir together broth, rice wine or sherry, soy sauce, cornstarch, sugar, and salt in a small bowl until cornstarch is dissolved.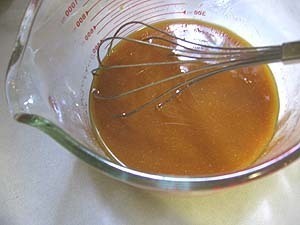 Cook green beans in a large pot of boiling, salted water, uncovered, until crisp-tender, about 3 minutes. Remove to an ice bath and then drain. Set aside.
Heat wok or large skillet over high heat until a drop of water vaporizes instantly. Pour peanut oil around side of wok, then tilt wok to swirl oil, coating side. When oil just begins to smoke, add ginger and stir-fry 5 seconds. Add black beans, garlic, and jalapeno and stir-fry 1 minute. Working quickly, add chicken, spreading in 1 layer on bottom and side of wok. Cook, undisturbed, 2 minutes, then stir-fry 2-3 minutes more. Add green beans to wok to reheat.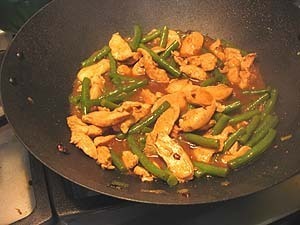 Stir in broth mixture and bring to a boil. Boil, stirring, 2 minutes. Remove from heat and drizzle with sesame oil, then stir to combine. Serve over rice.
We had this with some experimental Green Onion Pancakes. I know my dough was rolled too thick. I think I also added too much flour while kneading.
The recipe is directly from Cooking.com and you can grab it there. Here are my pictures.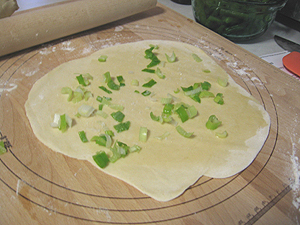 Adding green onions to dough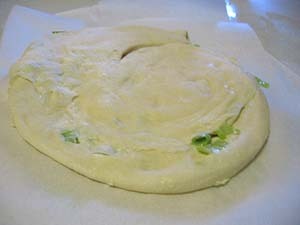 After making a spiral and rolling again — I'm pretty sure this should be thinner, but my dough was starting to tear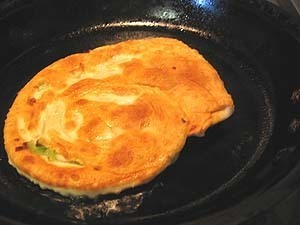 Cooking pancakes in peanut oil
Finished product was thick and a bit dense but pretty damn good dipped in a mixture of soy sauce, rice wine vinegar, ginger and chopped cilantro!
* Although, photoshop is on my mac upstairs. Which means I had to edit all the images up there. In the hot. Wah. That is why this post it up later than I had hoped. Damn you weather!!!