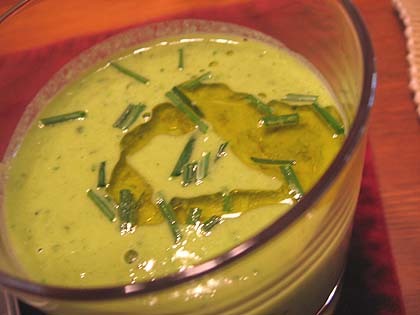 We're going back to Spain again. Can you tell I just got The New Spanish Table by Anya von Bremzen and I just can't stop leafing through it? Yes? Okay, good, as that's pretty much the case. I had planned to make this soup and wouldn't you know it, it was only about 78 degrees that day. But it was sunny! So, I guess that counts.
This would be an awesome soup on a super hot day. It was a great soup on a kind of warm day. I loved the mint, although jwa thought there might have been a bit too much. So, I guess scale your mint usage on how much you like mint. Oh and I was a little concerned about the iceburg lettuce, but it works. Let's see, what else? Oh, the color is a wonderful, bright green. And I got to use a lot of herbs from the garden. That's always a plus.
Enough with the chit-chat, let's get to the soup!
Spanish Chilled Herbed Pea Soup
from The New Spanish Table by Anya von Bremzen
1 tbsp unsalted butter
5 tbsp extra virgin olive oil (plus more for drizzling)
2 small leeks, cleaned, halved, and chopped
2 cups vegetable or chicken stock or broth
3 1/2 cups frozen baby peas, thawed
2 cups chopped iceburg lettuce
3 tbsp chopped fresh tarragon
1/2 cup chopped fresh basil
1/3 cup chopped fresh chervil or parsley
1/3 cup chopped fresh chives
1/4 cup chopped fresh mint
5 ounces mild goat cheese or cream cheese
kosher salt and freshly ground pepper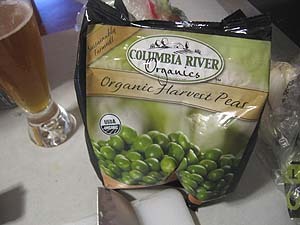 My new favorite frozen peas, from the Columbia River Valley!
Melt the butter with 1 tablespoon of the olive oil and saute the leeks over medium heat. Cook until soft and not much browned, 5 – 7 minutes. Add the chicken stock and 3 cups of water and increase the heat to high, bringing to a boil.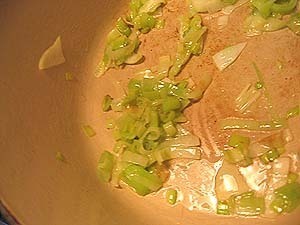 Add the peas and lettuce and reduce heat to medium low. Simmer about 3-4 minutes.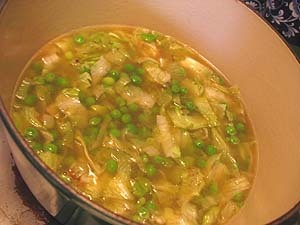 Drain the peas, setting aside the cooking liquid. Run the peas under cold water to stop cooking and the let everything (peas and cooking liquid) cool in their separate containers.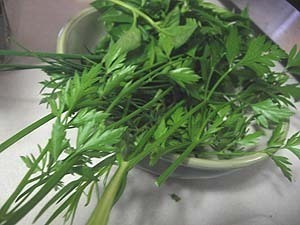 Garden herbs — parsley, basil and tarragon
Places the the peas, most of the chives (save a few out for garnish), tarragon, basil, chervil or parsley, mint, goat cheese, remaining 4 tablespoons of olive oil, and 3 cups of the reserved liquid in a large bowl and combine.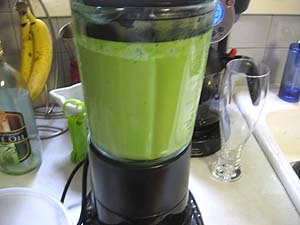 Blend in batches, pureeing until completely smooth and frothy. Transfer blended soup back into your bowl and whisk in remaining liquid. Taste and season with salt & pepper. Refrigerate until well chilled, at least 3 hours. Serve the soup in glasses garnished with the remaining chopped chives and drizzled with olive oil.
***
We went to Uwajimaya Sunday and got jwa tons of ramen (okay, 5 packages). He is happy! I also got lots of oils and other assorted jarred items. For those not in the area, it's a huge and wonderful Asian grocery store here with so many fun and tasty things — and live sea creatures: lobsters, crabs, prawns (cute!) etc… Just don't get too attached to them.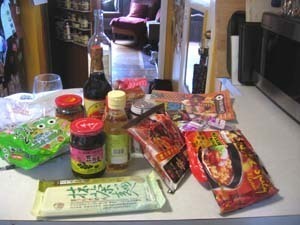 So, next recipe? Should be Chicken and Green Beans in a Black Bean Sauce as I found fermented black beans at Uwajimaya!