Well, here we are at the end of the month already. And here's what we've all been waiting for — Weekend Cookbook Challenge 30: Farmer's Markets. Thanks again to Sara for graciously allowing me to guest-host her awesome event for the month of July. I'm happy to say that there was a nice, respectable amount of entries, with all corners of the US and Canada representin'…hooray! I am always worried no one will send anything. I have issues, apparently.
Anyway, let's get right to checking out the fabulous and colorful Farmers Market bounty, shall we?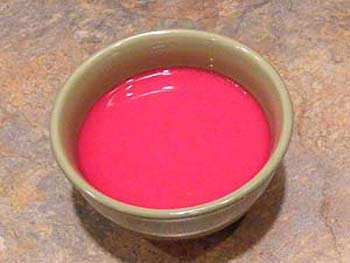 We'll start in Canada (British Columbia, woo! I miss the honeymoon) and Sara from I Like to Cook and well, Weekend Cookbook Challenge. She made a really fun colored, Spiced Pink Soup. A bright, neon pink beet soup! The recipe is from Nigella Lawson, Forever Summer and it definitely answers the question of what to make with a bunch of Farmers Market beets (besides Vegetarian Salad Nicoise, that is). Even though she felt it was a little too spici-fied, it sure looks great. Dude, I don't even like beets but now I want to make this for the color alone.
Judy, at Judy's Gross Eats in the central coast area of California made two items for WCC this month — Peach Ice Cream and Peach Pies with Toffee Streusel. The ice cream recipe is from David Lebovitz's The Perfect Scoop and the pie from Small-Batch Baking by Debby Maugans Nakos. Wow, jwa's going to be really jealous. He really wants a peach pie. I just might have to make these because they look wonderful! As does the ice cream. Mmmm..peaches.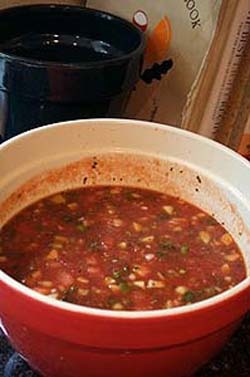 Yay! My friend Christy in Denver, CO went to the Cherry Creek Farmers Market to pick up veggies for a super tasty looking Gazpacho from the The Moosewood Cookbook by Mollie Katzen. With her $17 spent, she even managed to pick up some other, non-gazpacho veggies for making her own baby food. Hadley's pretty lucky! Actually, so is Dave…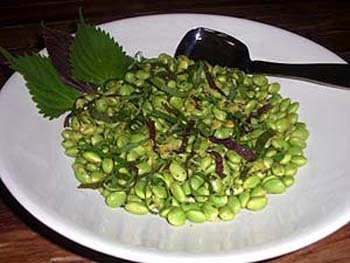 Next up, Deb at Kahakai Kitchen. She made Edamame Shiso Salad with Yuzu Vinaigrette, from The Breakaway Cook by Eric Gower. She got her shiso leaves at The KCC Farmer's Market, which she says is the largest one in Hawaii and is local foods only. Right on. I love the colors in her salad and learning about the shiso leaves she used. With a taste sort of like a cross between mint, fennel and cinnamon, they certainly sound really good.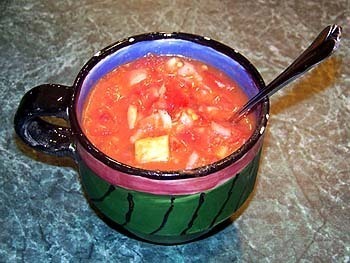 Last Month's guest host, Mike, from Mel's Diner who is way up in New Hampshire, uses the The Silver Palate Cookbook to whip up a fabulous batch of gazpacho. Seriously, in the Summer, gazpacho is the food to make and eat, Christy and Mike are totally on to something here. Oh and I'm so, so, so intrigued by the eggs in the soup. Like Mike, I have never seen that before, but he assures us this gazpacho is really good and also completely worth the four hours of chill time. Hmmm..now I must try this version too.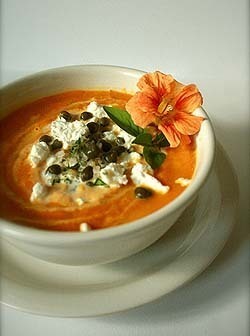 Next up? Oakley from Lemon Basil. She's in my neck of the woods in Portland. She picked up some really wonderful looking carrots at the Groundworks Organics' booth at the Portland Farmers Market. She made Sweet Carrot Soup with Basil, Goat Cheese, and Capers, adapted from Leanne Kelley's Blue Eggs and Yellow Tomatoes. Wow. I am totally making this as well! Oakley also helps teach children's cooking classes at the Portland Farmers Market. Here they make ice cream!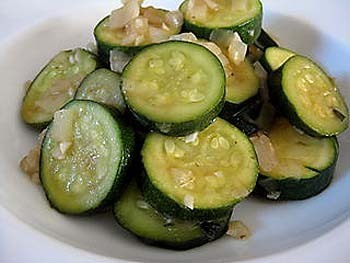 Mrs L at Pages, Puck & Pantry in San Jose, CA made Zucchini with Onion and Garlic from La Cucina Italiana, by Gabriella Rossi. Mrs L really liked the taste of the onions with the zucchini, even though she was hoping for a bit more color on her zucchini from the cooking. Well, it looks really good to me. I could totally go for a bowl right now, for I love both zucchinis and onions.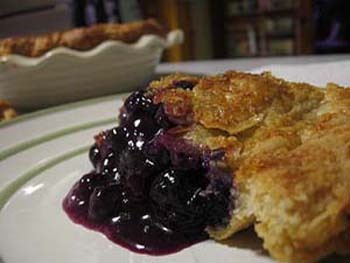 Okay, and finally, I made a blueberry pie from Dorrie Greenspan's Baking from My Home to Yours cookbook. I got the berries at the Hollywood Farmers Market here in Portland. Really good. It's all gone now — jwa ate it all. In like 2 days. Okay, I had 2 pieces. Out of um, 8 pieces. Hmmm…perhaps I've said too much.
Wow. Great posts! Thank you so much to everyone who participated. If you emailed me and you don't see your entry here, please let me know and I will remedy your missing-ness like, toute de suite.