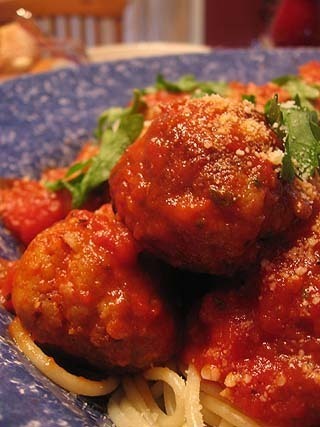 Sometimes I come across a recipe and I am so intrigued that I just have to try it. Cinnamon and Tuna. Hmm…Yes, this is one of those recipes.
But, since it involved fish, I decided to get jwa's opinion on it before making it. He's somewhat picky about fish and I didn't want to be left with 20 meatballs to eat all by my lonesome if he decided he didn't think he'd like it. Not a fish meal, but try having to eat a whole pot of veggie chili by yourself and you will learn to gauge another person's interest in a meal while it is still hypothetical. For the tuna meatballs, he was a little skeptical but then I mentioned it was a Jamie Oliver recipe and he was all, "Oh, okay then!"
That's almost exactly how I felt. It's what convinced me that it would probably be good too. All of the recipes of Jamie's I have tried have been awesome and Jamie at Home is one of the only Food Network shows I watch anymore (Sandra Lee does not count. Semi Homemade is like a sitcom). But I digress.
You might approach this tuna meatball recipe a bit tentatively but seriously, it is so good! And it's a great vehicle for frozen ahi tuna. It won't work with canned and honestly, I wouldn't waste beautiful, fresh, just begging to be pan seared and nom-nom-nomed tuna here, but frozen tuna is perfect. Perfect, I say! And economical too, making this a Cheap Fish Project post. Hooray!
Tuna Meatballs or Le Migliori Polpette di Tonno
Adapted from Jamie's Italy by Jamie Oliver
for the tomato sauce
olive oil
1 small onion, peeled and finely chopped
4 cloves of garlic, peeled and finely sliced
1 teaspoon dried oregano
2 14-oz. cans of good-quality plum tomatoes
sea salt and freshly ground black pepper
red wine vinegar
a small bunch of fresh flat-leaf parsley, leaves picked and roughly chopped
Optional: 1 tbsp honey
for the meatballs
14 oz. tuna (defrosted if frozen, I used ahi but albacore would probably work too)
olive oil
1/4 cup pinenuts
1/2 tsp ground cinnamon
sea salt and freshly ground black pepper
1 teaspoon dried oregano
a handful of fresh flat-leaf parsley, chopped
1 3/4 cups stale breadcrumbs
1/4 cup freshly grated Parmesan
2 eggs
zest and juice of 1 lemon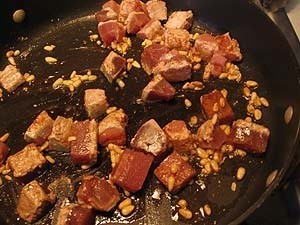 Chop the tuna up into 1-inch or so cubes. Pour a good couple of tablespoons of olive oil into a large frying pan and place on the heat. Add the tuna to the pan with the pinenuts and cinnamon. Season lightly with salt and pepper and fry for a minute or so to cook the tuna on all sides and toast the pinenuts. The fish will probably still be a bit raw in the center, that's fine.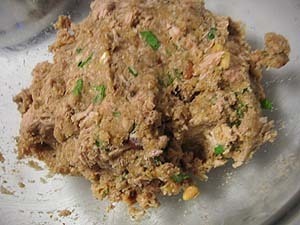 Remove from the heat and put the mixture into a bowl. Allow to cool down for 5 minutes, then add the oregano, parsley, breadcrumbs, Parmesan, eggs, lemon zest, and juice to the bowl. Using your hands, really scrunch and mix the flavors into the tuna. The consistency should be like a regular meatball mixture. Divide the mixture and squeeze it into meatballs slightly smaller than a golf ball. If you dip one of your hands in water while shaping, you'll get a nice smooth surface on the meatball. If the mixture's very sticky, add a few more breadcrumbs. Keep the meatballs around the same size and place them on an oiled tray, then put them in the fridge for an hour to let them rest.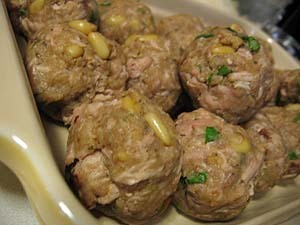 Now make your sauce. Place a large pan on the heat, add a couple of tablespoons of olive oil, the onion and garlic, and fry slowly for 5-7 minutes or so, until soft. Add the oregano, the tomatoes, salt, and pepper and bring to a boil. Simmer for 15 minutes or so, then blend until smooth. Taste – it might need a tiny swig of red wine vinegar or some extra seasoning. I opted here to add about a tablespoon of honey. Let it simmer while you finish up the meatballs.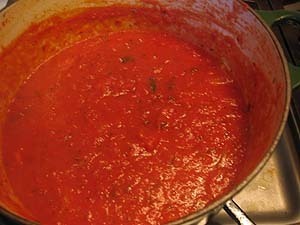 Oh and start boiling your pasta here.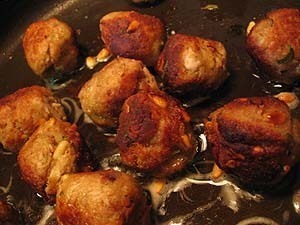 Put the pan you fried the tuna in back on the heat with a little olive oil. Add your meatballs to the pan and jiggle them about until they're golden brown all over.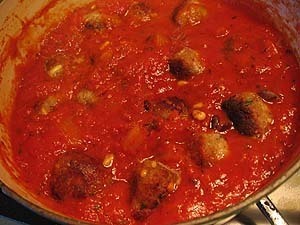 You might want to do them in batches — when they're done, add them to the tomato sauce, simmer for about 5 minutes. Plate up your pasta and ladle with meatballs and sauce. Sprinkle with chopped parsley, and drizzle with good olive oil.