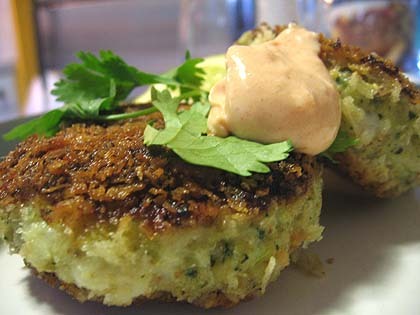 Hot! Hot! It is hot in Portland. About 99 Saturday and 95 today (Sunday). Thankfully, we are, hopefully back to the 80's and 70's (yay!) this coming week. I am not a fan of hot weather, which is one of the reasons that I wanted to move North, but we do get a handful of 90+ days each Summer. This is a nice recipe for those kind of days or any kind of day, really.
I wasn't quite sure how they would turn out but I am happy to say that both jwa and I really liked these shrimp cakes. They are also a great use for a bag of frozen shrimp (defrosted) that you may have hanging around the freezer. Also, you can use panko for all of your breadcrumbs here, but personally, I kind of like to save my panko for breading-type applications and use regular, plain breadcrumbs for filler type uses. So, I used both type of crumbs here.
When I made these, I did a half recipe and got four nicely sized cakes, which along with a Spinach & Strawberry Salad, was a good amount for two people. The recipe as written below, should yield eight shrimp cakes.
New: Printable recipe pdf!
Shrimp Cakes
Adapted from Bon Appétit magazine
16 uncooked large shrimp (about 1 pound), peeled, deveined
1 large egg
1 green onion, chopped roughly
2 tbsp fresh lemon juice
1 tbsp + 2 tbsp Dijon mustard
1 handful fresh cilantro
1/2 tsp hot pepper sauce
1/2 tsp salt
Pinch of ground black pepper
1 cup plain breadcrumbs
1 cup panko (Japanese breadcrumbs)
2 tbsp (or more) peanut oil (or canola or olive oil — I used olive oil)
Coarsely chop shrimp in processor. Add egg, green onion, lemon juice, 1 tablespoon mustard, cilantro, hot pepper sauce, salt, and pepper. Blend in using on/off turns. Add 1 cup of plain breadcrumbs and blend in using on/off turns. Form mixture into eight 4-inch-diameter cakes.
If you don't have a food processor, I don't see why you couldn't chop the shrimp by hand and then mix it in with all the other ingredients.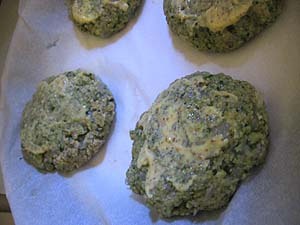 Place on a parchment lined baking sheet or plate and cover with plastic wrap. Let sit in refrigerator for at least 30 minutes and up to 2 hours.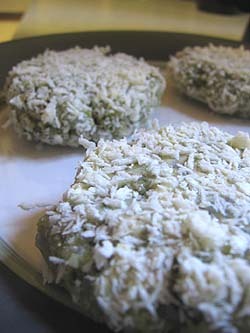 Brush half of the remaining mustard on one side of each cake and dip in panko. Brush other side with mustard and repeat with the panko so that both sides are coated.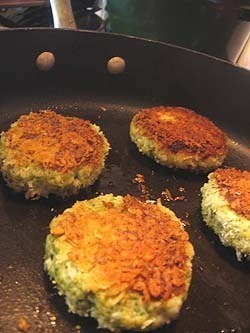 Heat 2 tablespoons of your oil of choice in a heavy large skillet over medium-high heat. Working in batches (if needed), fry cakes until cooked through and golden brown on both sides, adding more oil to skillet as needed, about 6 – 7 minutes total. Serve with Lemon and Paprika Aioli.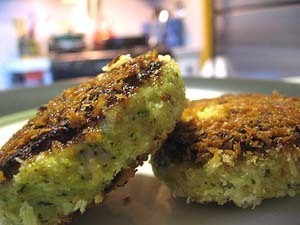 Speaking of, this is a mighty tasty sauce. Originally, it was paired up with Fish Cakes (using halibut) but I figured it would work well for the shrimp cakes too. It really did!
Spicy Lemon and Paprika Aioli
3/4 cup mayonnaise
3 tbsp fresh lemon juice
3 large garlic cloves, minced
1 tbsp tomato paste
3/4 tsp smoked Spanish paprika (or 1/2 tsp Hungarian sweet paprika and 1/8 tsp cayenne pepper)*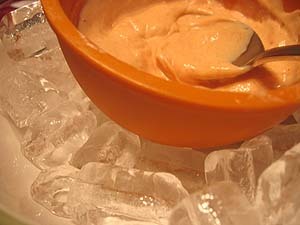 Combine all ingredients in small bowl; whisk to blend. Season aioli to taste with salt and pepper. (Can be made 1 day ahead. Cover and refrigerate.)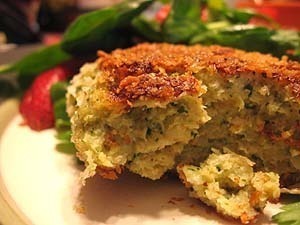 * But, really, imho, it is worth it to find yourself some Smoked Paprika because it is a little bit of awesome in a jar