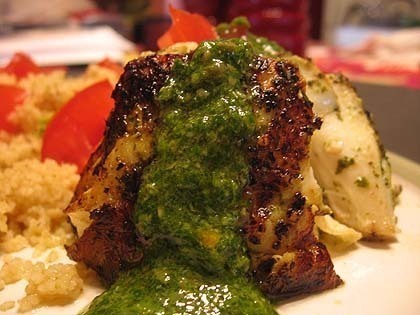 My new goal is to post at least once a week. So sad. I was trying to figure out this morning why it is I've gotten lazy. Okay, one, because I'm kind of lazy. But also, (this would be point two) after having this blog for three (!!) years, most of the stuff I make around the house is not new. They are recipes that I've made and posted about before. There. I feel better now.
This is a great Summer meal. You could eat it all room temperature if it's really hot or just have the sauce a little chilled. I used a little of my sauce as a quick marinade. I liked the way that worked as I also got grilled parsley and cilantro. Yes, cilantro. I added some of that to my chimichurri. If you don't want to do that, just use all parsley!
New: Printable recipe pdf!
Grilled Halibut with Chimichurri
Adapted from a Gourmet Magazine recipe
1/3 cup extra-virgin olive oil
1/4 cup fresh lemon juice
1 tbsp water
1 tbsp minced garlic
1 tbsp minced shallot
1/2 tsp hot red-pepper flakes
1/2 cup chopped flat-leaf parsley
1/4 cup chopped cilantro
2 (6- to 8-oz) halibut fillets
Whisk together the 1/3 cup olive oil, lemon juice, water, garlic, shallot, red-pepper flakes, and 1/2 tsp each of salt and pepper until salt has dissolved. Stir in parsley and cilantro. Let chimichurri stand 20 minutes.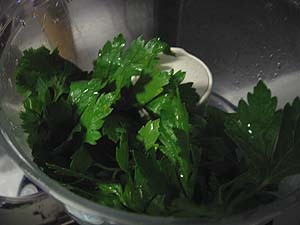 Alternately, you can also do this in a food processor. That's what I did as I wanted a finer consistency to my herbs and I was not really wanting to chop them finely.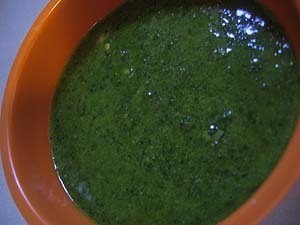 Meanwhile, prepare grill for direct-heat cooking over medium-hot charcoal (medium heat for gas). Or, set your trusty grill pan over medium high heat.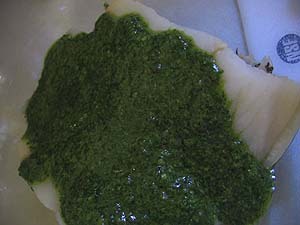 Now, I took about 1/4 of my chimichurri sauce and spread it over the halibut before cooking. I let it sit for about 10 minutes. If you don't do this, brush a little extra olive oil on the fish and give it some salt and pepper before cooking.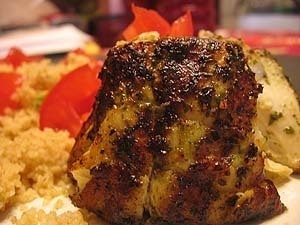 Oil grill rack, then grill fish, covered only if using a gas grill, turning once, until just cooked through, 8 to 10 minutes total. In my grill pan, I found about 5 minutes per side on medium to medium-high was good.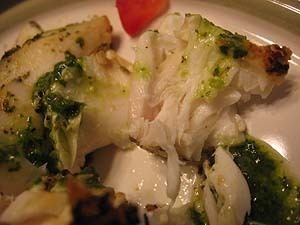 Serve fish drizzled with some of chimichurri; serve remainder on the side. Also on the side here is some whole wheat couscous and chopped cherry tomatoes.