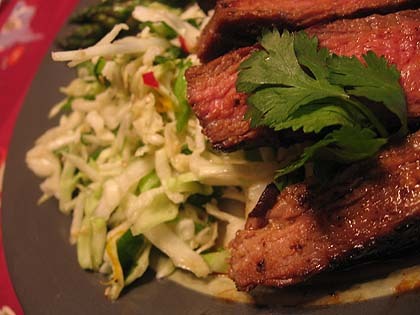 First off, this was amazingly good. I mean I expected it to be tasty but it totally and completely surpassed my expectations. Especially the slaw. And it is finally almost Summer here in Portland. Woo!
Hey — I just realized that while I halved the steak and the slaw portions below, I made a full recipe of the marinade. Hmmm, I used some of that to brush on the meat while cooking, but I probably didn't need as much marinade as I had, so I think the ratios below are just fine. And, I let the steak marinate in the fridge for about 5 hours. Reviews on epicurious.com also mentioned letting it go overnight. Good advice, I will probably do that next time.
New: Printable recipe pdf!
Grilled Asian Flank Steak with Sweet Slaw
Adapted from Bon Appétit
1/4 cup soy sauce
5 tbsp vegetable oil
5 tsp minced peeled fresh ginger, divided*
2 garlic cloves, pressed
1 1 1/2-pound flank steak
3 tbsp sugar
3 tbsp seasoned rice vinegar
1-2 red jalapeños, diced finely
1/2 tsp orange zest
2 tbsp chopped cilantro
10 ounces of shredded cabbage mix
1/2 cup chopped green onions, divided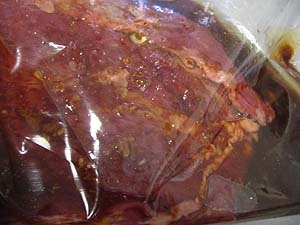 Mix soy sauce, oil, 3 teaspoons ginger, and garlic in resealable plastic bag. Add flank steak and seal bag; turn to coat. Let stand at room temperature 30 minutes, turning occasionally. Or marinate up to overnight in the refrigerator.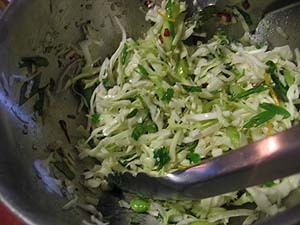 Stir sugar and vinegar in small saucepan over medium heat until sugar dissolves; remove from heat. Add jalapeños and remaining 2 teaspoons ginger. Place cabbage, cilantro, orange zest and green onions in medium bowl. Pour vinegar mixture over and toss to coat. Season with salt and pepper. Let stand while grilling steak, tossing occasionally.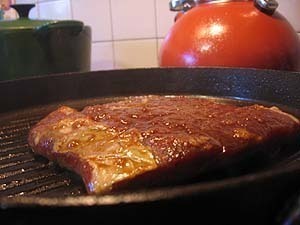 Prepare barbecue (medium heat) or a grill pan over medium-high heat. Grill steak until cooked to desired doneness, about 6 minutes per side for medium-rare. Transfer to work surface. Let rest 10 minutes.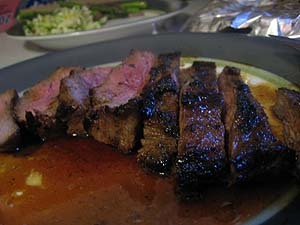 Slice steak thinly against grain and serve with the slaw. Use extra cilantro as a garnish if desired.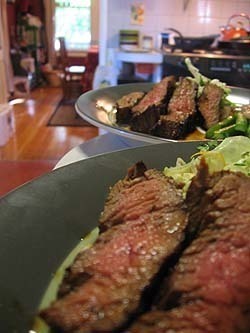 * I keep my ginger peeled and in the freezer in 1-inch pieces. This works well for me and I always have usable ginger in the house. Here I used a microplane grater to deal with the ginger quickly, which is fast becoming my favorite way to mince ginger.