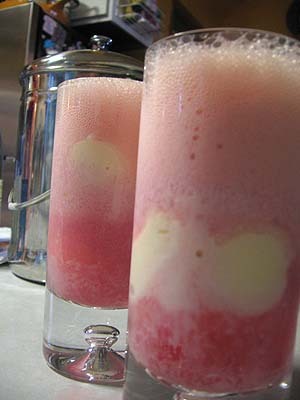 I am usually not a big soda fan but I almost always am tempted by the pretty glass bottles of Italian Blood Orange Soda, especially when it is hot outside. I think about some in a tall glass of ice (okay, sometimes with a little vodka in there too) and the next thing I know I have multiple bottles in my shopping cart.
Anyway, I've seen this type of soda at Trader Joe's and Safeway so I bet I could find it where you live. Here is a fun thing to do with it.
You could, of course, also use regular orange soda.
Italian Blood Orange Float
Blood Orange Soda (figure about 1 cup per float)
Vanilla Frozen Yogurt or Ice Cream (a pint should yield four floats)
Scoop some ice cream or frozen yogurt into a tall glass. Two generous scoops works well. Pour in soda until it comes up to the top and foams. Mmmm…tastes like a Dreamsicle!