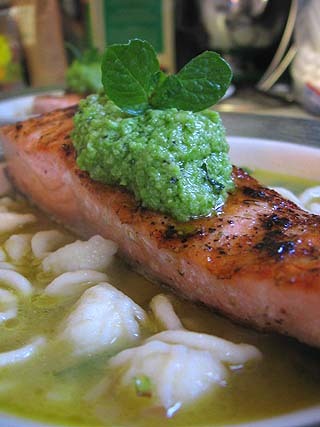 I have been lazy. No other excuse. With that out of the way — Oh, little big head. You have such big teeth but you usually have such tasty recipes. Coincidence? I dunno.
If you can score some salmon, this is what you should do with it. I picked some up on sale! at Whole Foods. It was Alaskan salmon that was frozen on the boat and only $10.99 a pound. And it was very good here. I added pasta to the recipe to make it more of a one bowl meal. Also, I like pasta.
Salmon in Lemon Brodetto with Pea Puree
Recipe adapted from Giada De Laurentiis
Lemon Brodetto:
1 tbsp olive oil
1 shallot, diced (you can also use a green onion, if you don't have a shallot)
1 lemon, juiced
1/2 lemon, zested (use the lemon you'll be juicing — so you only need one lemon total)
1 cup chicken broth
1/2 tbsp chopped fresh mint leaves
Pea Puree:
1 cup frozen peas, thawed
2 tbsp fresh mint leaves
1 clove garlic
1/4 cup extra-virgin olive oil
1/4 cup grated Parmesan
Salt and Pepper to taste
Salmon:
2 tbsp olive oil
2 (6 – 8 ounce) salmon filets
Kosher salt
Freshly ground black pepper
1/2 lb pasta of your choice (orecchiette, rigatoni and penne would all work great)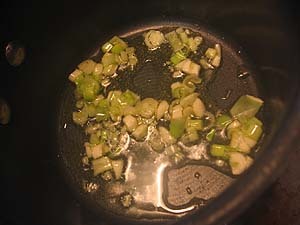 To make the Lemon Brodetto, warm the olive oil in a medium saucepan over medium heat. Add the shallots and saute until tender, about 7 minutes. Add the lemon juice, zest, and broth. Bring to a simmer, and keep warm, covered, over low heat. You can also easily make this ahead of time and just refrigerate until needed. Then rewarm.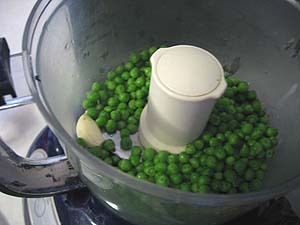 To make the Pea Puree, combine the peas, mint, garlic, salt, and pepper in a food processor and puree. With the machine running, add the olive oil in a steady drizzle. Transfer the pea puree to a small bowl and stir in the Parmesan. Set aside. You will want to warm this before you put it on top of the salmon. In the Spring, you may want to warm this before serving. Not hot, just warm. What I did was pop it in the microwave for about 20 seconds. When it's all hot and Summery out, I can see using this room temperature or slightly chilled.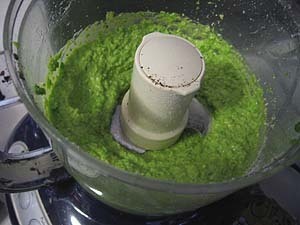 To make the Salmon, warm the olive oil in a large, heavy skillet over high heat. Season the salmon pieces with salt and pepper. Sear the salmon until a golden crust forms, about 4 to 5 minutes on the first side. This is also a good point to add your pasta to your boiling water and get that cooked.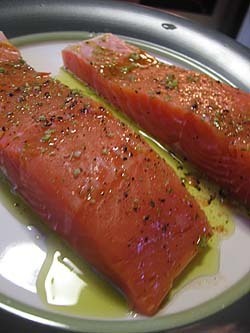 Flip the fish and continue cooking for about 4 more minutes more depending on the thickness of the fish, and how you like it cooked. Remove fish from pan and cover with foil until you are ready for it.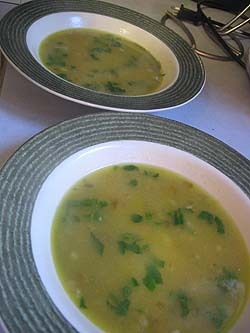 To assemble the dish, add the tablespoon chopped mint to the Lemon Brodetto and divide between 2 shallow dishes.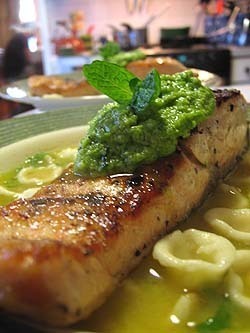 Add some pasta to each dish. Don't pile it on like a big bowl of pasta but more like the little pasta – broth bed for the salmon that it will be. Place a salmon piece in each bowl and add a generous spoonful of pea puree. A mint leaf makes a great garnish. Serve immediately.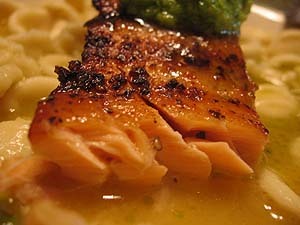 So, so good.