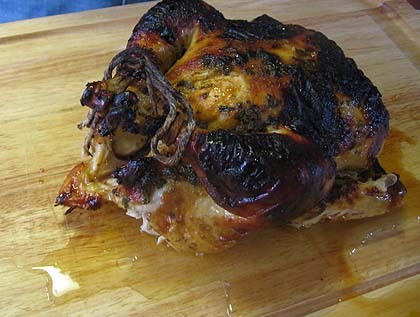 This is a reader recipe in the current issue of Everyday Food. I didn't change that much — I just opted to cook it in a slightly less hot oven (down from the original recipe's 475 degrees for 60 minutes) and I added an onion in the cavity and broth/carrot/onion half on the bottom of the pan, as I tend to burn roasting pans without some liquid down there. And once you add broth, you might as well add some veggies.
Oh and I doubled the curry paste because, dude, that is good. Extra for dipping seemed like a given. And the best part? With only two if us, there's roast chicken for lunch the next day!
Remember to check it after the first 20-30 minutes and cover it up as needed. The curry paste/honey will burn. A little is good, smoke billowing from your oven is bad. I covered after the first 25 minutes, then uncovered for the last 10 minutes of oven time. My chicken got a pretty dark but all was completely fine under the skin — moist and tasty! But, if I could back and do it again, I probably would have not uncovered it so long at the end — so, there's a lesson for you.
Thai Curried Roast Chicken
1/2 cup chopped cilantro
2 tbsp red curry paste
2 tbsp canola oil
2 tbsp honey
2 tsp roasted chili paste
2 cloves garlic, minced
1 5-6 pound chicken
1 onion, halved
2-3 carrots, chopped into 2-inch pieces
salt & pepper
1-2 cups chicken broth
limes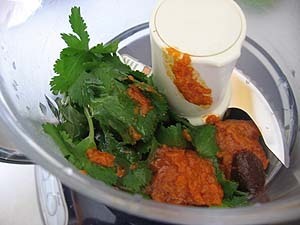 Preheat oven to 425 degrees. Add the cilantro through the garlic in a food processor and combine. Divide curry mixture in half and set one of the halves aside, to be used as a dipping sauce. You can also just mix in a bowl if you like.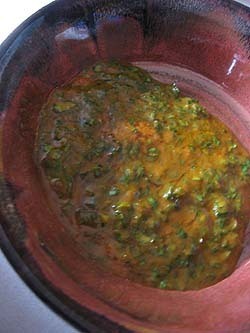 Rinse and pat dry your chicken (inside and out). Salt and pepper it generously.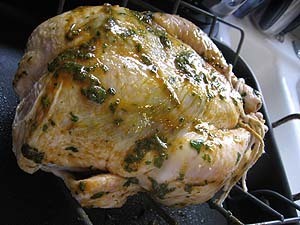 Place one onion half inside the cavity and tie the legs together. Loosen the skin over the breast meat and run some of the curry paste under there. Then, slather the rest of the paste over the chicken and put on an oiled rack set in a roasting pan. Add 1 cup of stock to the bottom of the pan to prevent burning. Add veggies if you wish.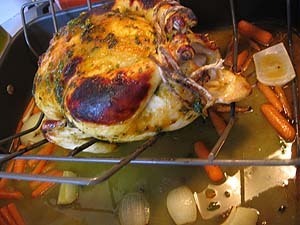 Roast for about 30 minutes, then cover with foil so the top doesn't get too dark. Roast 45 – 60 minutes more, checking a few times to see if you need to add more stock to the bottom of the pan or adjust the foil for optimal browning/non-burning.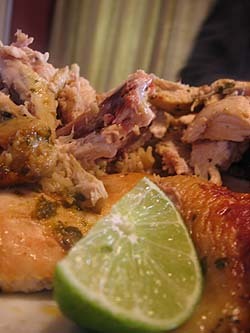 When white meat is 165 and dark meat at least 170, remove from the oven and let rest for about 10 – 15 minutes before carving.
Serve with lime wedges and coconut rice. We also had some sauteed green beans on the side which were really, really good. Also, bring out the unused half of the curry past for a dipping sauce. Mmm!