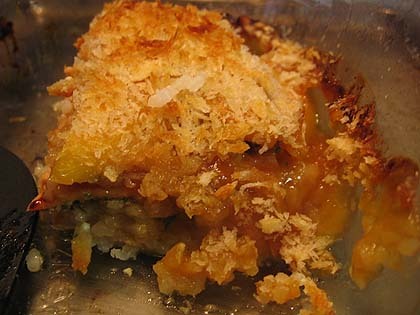 When I made this from The Big Book of Casseroles, I figured it would just be an okay workday lunch and we could use up some salmon we had in the freezer. That is why I didn't take many pictures of it. But…but…it was good!
The original recipe called for ahi tuna which, personally, didn't sound that good, but with salmon it was really tasty! I also swapped the papaya in the original for mango.
Oh and jwa liked the casserole too which is always high praise for cheap fish project dishes! Now, I probably wouldn't use fresh salmon for this but for defrosted frozen salmon it's perfect — hence the cheap fish (about $7/pound at Trader Joe's) tag.
FYI, this makes more sauce than you need for the casserole. You can either pass the unused sauce with the cooked casserole or save the extra sauce for a stir-fry or something.
Salmon, Mango and Rice Casserole
2 salmon fillets (about 1 pound total)
2 mangoes, sliced
2 cups cooked brown or white rice
2 cups orange mango juice
1 tbsp lemon juice
1/4 tsp ground ginger
1/3 cup brown sugar
3 tbsp soy sauce
1/4 tsp Worcestershire sauce
1 tsp Asian chili-garlic hot sauce
2 1/2 tbsp corn starch
1/2 cup Panko bread crumbs
Non-stick canola oil cooking spray
Make the sauce first by putting the orange mango juice through the cornstarch in a sauce pan over medium heat. Whisk until thickened, about 5 minutes. Keep warm.
Preheat oven to 425 degrees. Spread rice on the bottom of a baking dish (9 X 13 or 9 X 9) coated with canola oil spray. Arrange salmon over the rice and cover with the mango slices. Pour about half the sauce over the mango slices. Top with the panko breadcrumbs. Spray the top with a little canola oil spray.
Bake, uncovered, until the top is golden and the fish is done, 15 – 20 minutes. Let sit about 5 minutes, then cut and serve. Or pack up to bring for lunch the next day.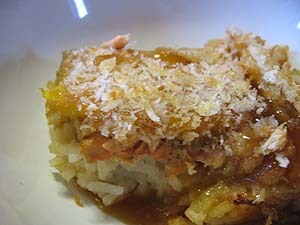 Oh and on the wedding front…there's puppets!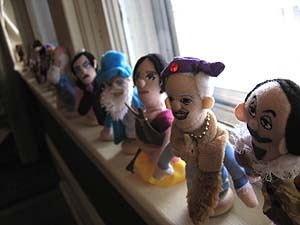 Well, finger puppets anyway…