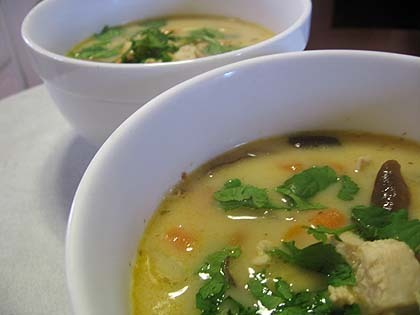 Here's a super, tasty soup recipe, especially if your weather is crappy (like ours has been). Or, if there are some sniffles and complaints of sore throats around the house. Oh and last weekend, when it was uh 80 degrees and sunny out, I took the flannel sheets off the bed. Note to self: the flannel sheets stay in the bed until June. Grr.
Ah, hey, I don't want to scare anyone that's heading this way in say, uh 2 weeks or so, but it we had hail, rain and uh, snow this weekend. But, I bet in a couple of weeks the weather will be B-E-A-U-T-I-F-U-L! Really! Sure it will!
Okay, back to the food. This recipe is from the Shoalwater Restaurant and it is really good. I found it online a couple of days ago and couldn't wait to try it. The lime and the ginger and fish sauce are just a fabulous combination. I altered the amounts a little bit to accommodate a whole can of coconut milk and I added some veggies that I needed to use up. Hooray!
Asian Chicken and Coconut Soup
Adapted from a recipe by Shoalwater restaurant
1 tbsp canola oil
1 small onion, diced
1 cup diced carrots
12 medium shitake mushrooms, sliced
1 large garlic clove, minced
3 cups Chicken Stock
1 lime, juice and finely chopped zest
4 tbsp fish sauce
1 tsp ginger, minced
1/2 tsp roasted chili paste
1 14 oz can coconut milk
1/2 lb boneless skinless chicken breasts, cut into small cubes
1 cup cooked brown rice
Garnish: Fresh cilantro, chopped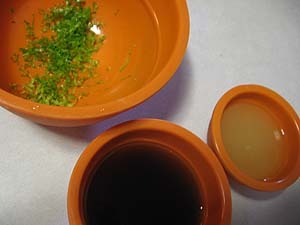 Add oil to a large soup pot and add chicken and brown briefly, 2-3 minutes. Remove and cover with foil until ready to use. To the hot pan, add the onion, garlic, carrots, chili paste and shitake mushrooms. Saute over medium heat until soft, about 6-7 minutes.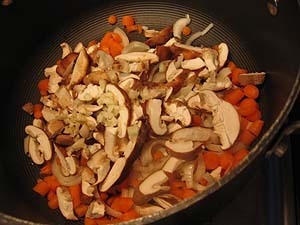 Add the stock, lime zest and juice, fish sauce, and ginger and simmer for 5 minutes or so. Add the coconut milk and chicken. Simmer for about 4-5 more minutes.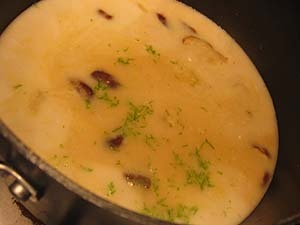 To serve, add about 1/4 cup of cooked rice to each bowl and ladle the hot soup over the rice. Garnish with cilantro.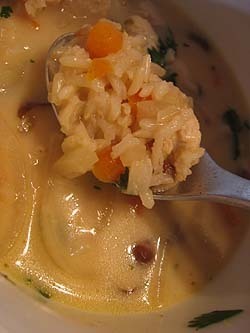 This will serve about 4-5 bowls so there will be leftovers. Excellent.