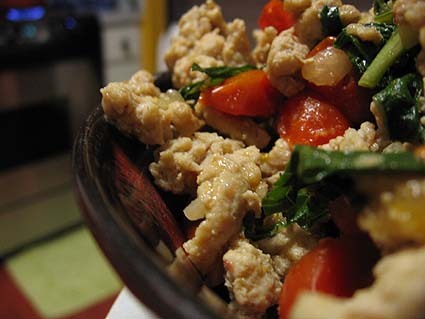 So, the other day I realize that I have a whole bunch of basil that I need to use, like yesterday. A quick survey of the fridge also shows some ground chicken and a small container of roasted chili pepper flakes from pokpok (the little container that comes with the curry-noodle-chicken soup). Hmmm, I think to myself, I know what I could do — I could go online and find a recipe for Thai Basil Chicken and make that. Do you see where this is going?
I ended up at Thai Table and basically sort of followed the recipe there…well, except for a few things. So, I am in no way claiming that my version is authentic Thai cooking, let's get that straight right now. If you want that, definitely use the Thai Table recipe!
See, I just used normal basil, way less chili pepper spiciness than called for and I added a bunch of halved cherry tomatoes that, like the basil, were crying out to be used. The result? Very tasty!
Kind of Like Thai Basil Chicken — Except Less Spicy, with Normal Basil and Some Tomatoes Thrown in for Fun
Adapted from a recipe at Thai Table
2 tbsp peanut oil
1/2 tsp Thai red chili paste (roasted if you've got it, make it spicier if that's what you're into)
1 tbsp sugar
1 1/2 cups basil leaves, loosely packed (If you can get actual holy basil, use that), if your basil leaves are really big, give them a quick chop
3/4 lb ground chicken
3 cloves garlic, minced
3 tbsp fish sauce
10 cherry tomatoes, halved
Heat the oil in a big pan and add the minced garlic and chili paste. Cook for a few minutes until you can really smell the spiciness and everything looks a little golden, about 2-3 minutes or so.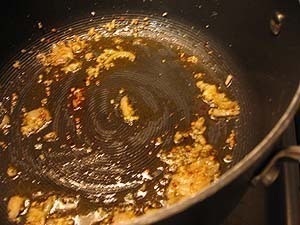 Add the ground chicken and break up with a wooden spoon. Stir while the chicken cooks. This part will take a few minutes and the chicken will produce liquid.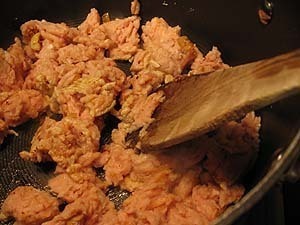 Just keep cooking and stirring until most of that is reduced. Add the sugar and stir that in, cooking for about 30 seconds. Next, add the fish sauce. Stir. Finally add all of your basil leaves and the cherry tomato halves.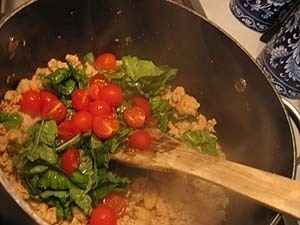 Stir until the basil wilts down a bit, a minute or so, and serve over rice.
***
Wow. Today is a bonus day. The other night I sauteed up some spinach to go with some fish and I started the same way I always do — a little olive oil, brown some garlic, red pepper flakes (just a pinch), a bunch of spinach and some salt.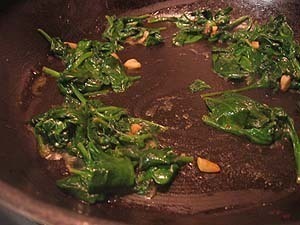 Then, I got the idea to add about a 1/2 teaspoon of Dijon mustard right as the spinach was getting wilty. Oh my god, so good! Dijon spinach with toasted garlic is the best. Seriously.
PS: It's frickin' cold in here, Mr. Bigglesworth.