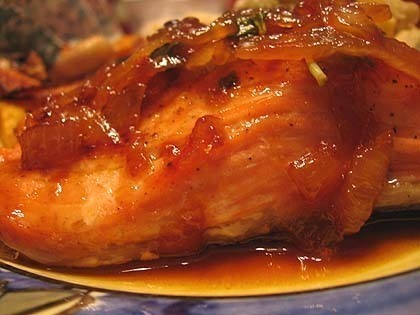 This is a recipe that we tried about a week ago and it was pretty good. That said, I am not 100% sold on Ellie Krieger yet. Like, I had to pop the broiler on for the last few minutes here to get any color on the salmon at all. It's called roast salmon but it's pretty much just baked salmon, imho. The broiler thing was a bit annoying as I had already put the salmon in a on-broiler-safe baking dish and had to switch this out for a baking sheet.
The sauce was quite good, though. Especially after I added an orange to the mix. Make sure you get ruby grapefruits or you will be sad and your mouth will pucker up.
So, while I love the idea of someone on Food Network cooking healthy and delicious food, I've not completely warmed up to her. I need to try a few more recipes before making a conclusion, I suppose.
Roasted Salmon with Shallot Grapefruit Sauce
Recipe adapted from Ellie Krieger
2 skinless salmon fillets, 7 to 8 ounces each
Salt & pepper
2 ruby red grapefruits
1 orange
2 tsp olive oil
1 tbsp minced shallot
1 tsp freshly grated ginger
2 1/2 tsp honey
Pinch cayenne pepper
2 tsp lemon juice
2 tbsp thinly sliced basil leaves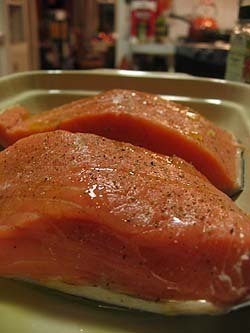 Preheat the oven to 350 degrees F. Season the salmon with salt and pepper, place on a rimmed baking sheet and roast until almost done, about 13-14 minutes. Turn on the broiler and finish cooking salmon for about 2-3 minutes, until there is a little color on the top.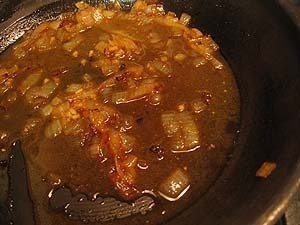 While the salmon is cooking prepare the sauce. Cut off the top and bottom of one of the grapefruits. Then standing it on end, cut down the skin to remove the pith and peel. Remove each segment of fruit from its casing and cut the segments in half. Set the segment pieces aside. Juice the other grapefruit and the orange and set the juice aside. It's okay, you can co-mingle the juices.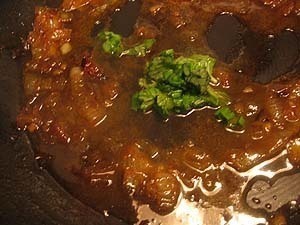 In a skillet, heat the oil over a medium heat. Add the shallot and saute until softened, about 2 minutes. Add the ginger, juices, honey, and cayenne pepper and bring to simmer. Cook until sauce is reduced by about half about, 10 minutes. Add lemon juice and season with salt, to taste. Right before serving, toss the grapefruit pieces and basil into the sauce. Put the salmon onto a serving dish. Spoon sauce over the salmon and serve.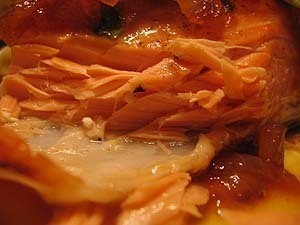 It looks quite pretty on the plate and it was tasty enough for a simple Friday night dinner. I also recently made a recipe with halibut that hopefully I'll get up by Wednesday that I liked even more, though! Oh yeah and I made a fish chowder the other week. Hmmm, this may turn into a fish-only week of posts.