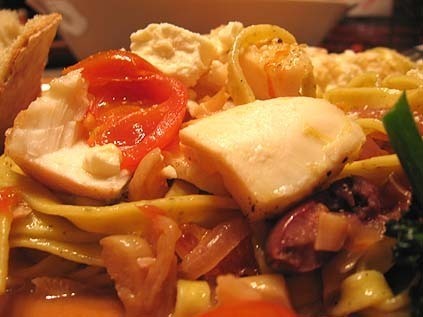 Ah, winter. Sometimes, it seems like the only good thing about the season is blood oranges! Oh, I loves me some blood oranges. In fact, I think I'm going to go on a little lunch-time errand and get a big bag of them.
This is an awesome recipe. And really, it seems pretty healthy too. It's so colorful and tasty. We had ours over some fettuccine with broccolini on the side. But really, I think it would be pretty good with some crusty bread to sop up all the tomatoey-orangey-winey liquid!
You can of course, substitute regular oranges if you can't get your hands on blood oranges. Like, if I go to the store and buy them all and there's none left for you…
Halibut Steamed with Blood Oranges, Tomatoes and Olives
Adapted from a recipe in Bon Appétit
2 blood oranges
2 tbsp olive oil
1 red onion, thinly sliced
2 garlic cloves, thinly sliced
20 cherry tomatoes, halved
3/4 cup dry white wine
1/3 cup sliced, pitted, olives (I used a mix of feta stuffed green and Kalamata olives)
2 6-8 ounce halibut fillets
1/4 cup feta cheese, crumbled
3 tbsp chopped fresh chives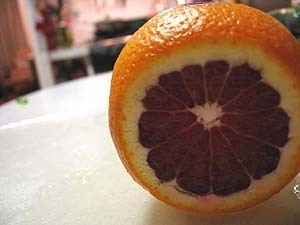 Cut off peel and white pith from oranges. Cut oranges between membranes to release segments. Collect any juice and set aside.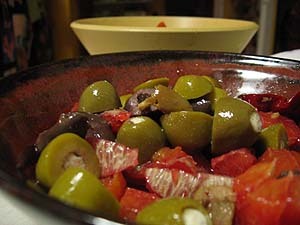 Heat oil in heavy very large skillet over medium-high heat. Add onions and garlic; sauté until tender and just beginning to brown, about 8 minutes.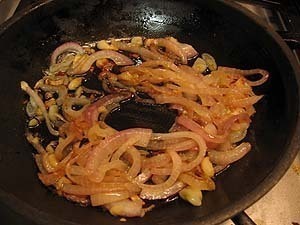 Add tomatoes and wine. Bring to boil. Reduce heat to medium-low and simmer 3 minutes. Gently stir in orange segments and olives. Season mixture to taste with salt and pepper.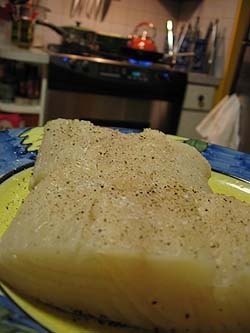 Sprinkle halibut fillets with salt and pepper. Arrange halibut in single layer atop vegetable mixture in skillet. Cover and simmer gently until halibut is just opaque in center, about 12 minutes.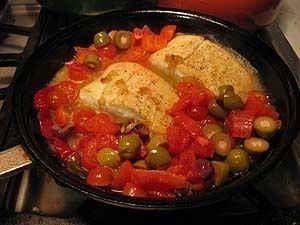 Alternately, you could lightly sear one side of the halibut first by heating a little olive oil in a second skillet and giving the fish about 2 minutes on one side and then transferring to the pan with the oranges and tomatoes to finish cooking. This is what I did. Just put it seared side up and only give it about 8-10 minutes to simmer in the sauce.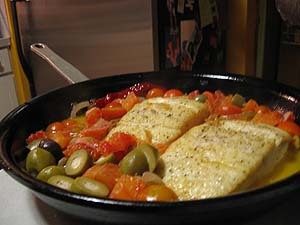 Spoon vegetable mixture onto plates. Top with halibut. Place feta cheese atop vegetable mixture and alongside halibut. Sprinkle with chives and serve.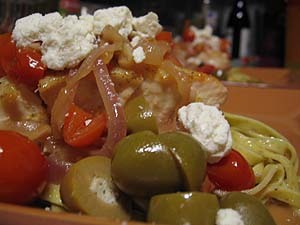 Oh, so delicious! I think this is one of my most favorite fish recipes ever.