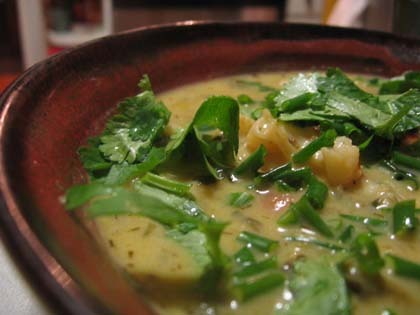 This was an experiment that turned out pretty well — fish, herbal tea and…other stuff. I am trying to come up with some new recipes for work and this is one of the first ones.
I used Stash Lemon Blossom Herbal Tea but you could also use maybe some lemon zest and Old Bay seasoning or any other seasoning mix or combination you like. I'd even try throwing some lemongrass in there perhaps. Or, just use the tea, because I know that works very well!
Lemon Blossom Seafood Chowder
2 tbsp olive oil
1 tbsp butter
3 tbsp AP flour
1 medium onion, diced
3 cloves garlic, minced
1 red bell pepper, diced
1 carrot, diced
1 leek, white part cleaned well and diced
3 Lemon Blossom Tea Bags
1 sweet potato, diced into bite sized pieces (keep potato cubes in water until ready to add to soup)
1/2 cup dry white wine (chardonnay, Pinot grigio, Pinot gris, sauvignon blanc)
2 1/2 cups vegetable stock
1 lb assorted seafood, (cut into bit-sized pieces — 1/2 lb peeled shrimp and 1/2 lb firm white fish like halibut, cod or tilipia work well…I used turbot)
1 cup half and half
salt and pepper to taste
fresh herbs for garnish
lemon wedges for garnish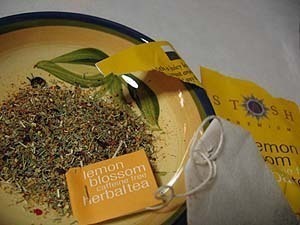 Heat the olive oil and butter in a soup pot over medium heat. Add the onion, garlic, bell pepper, carrot and leek and saute 5-6 minutes until soft.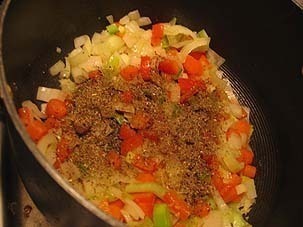 Add the contents of the three Lemon Blossom tea bags and the flour. Continue to cook for about 2 more minutes to get rid of any raw flour taste.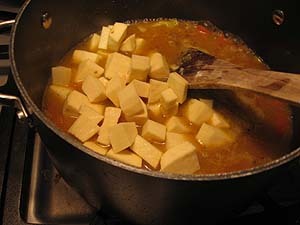 Add the wine and stock. Stir and make sure to lift any vegetables/flour up from the bottom of the pot. Stir to combine and add the potatoes. Bring to a boil and reduce heat to a simmer. Cook until potatoes are a soft but not mushy, about 15 minutes.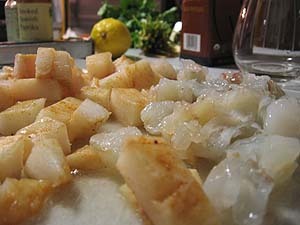 Add the seafood and cook for 5-7 more minutes until fish is cooked opaque and just cooked through. Add the half and half and stir to combine. Do not bring to a boil, as it may curdle now that you've added the dairy. Salt and pepper to taste.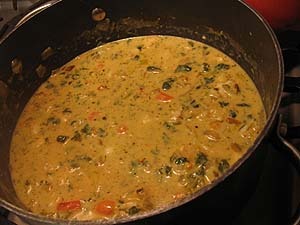 Ladle into bowls and top with fresh, chopped herbs and lemon wedges.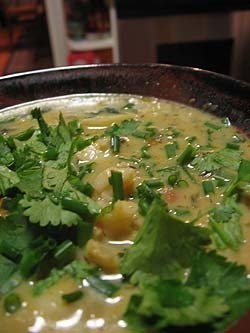 It's really very good!