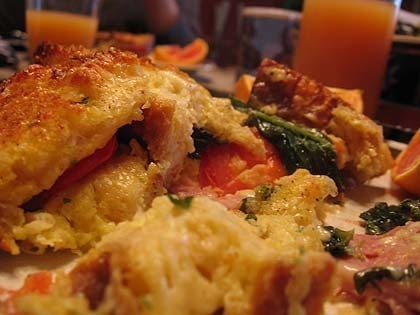 This is the second recipe that I've made out of Nigella Express and I have to admit, for a book I probably wouldn't have just gotten on my own, it's track record is pretty good.
I changed recipe a bit using 2% milk instead of full-fat milk and also adding some leftover, sauteed spinach and tomato. The original recipe was just ham and cheese, which is good, but honestly, I really need some vegetables in my brunch meals. But, that just might be me.
I used sourdough instead of multi-grain bread and dill Harvarti instead of Gruyere cheese because that's also how I roll. This will feed at least 4 people, maybe 6 if you add a fruit salad and other brunch items.
Croque Monsieur Bake
Recipe adapted from Nigella Lawson
6 slices sourdough or multi-grain bread
1/3 cup Dijon Mustard
3 thick slices dill Harvarti cheese (or 6 thin slices) alternately, use Gruyere cheese slices
3 slices ham
6 eggs
1 tsp kosher salt
1/3 cup 2% milk
4 tbsp grated Gruyere, Dill Havarti or Parmesan cheese
6 slices tomato
1/3 cup sauteed spinach
sprinkle of Worcestershire sauce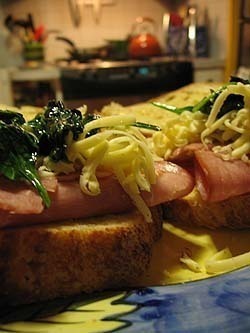 Spread the mustard on the bread slices and proceed to put together 3 sandwiches with the cheese slices, ham, spinach and tomato. Cut each sandwich in half, diagonally, so that you have 6 halves.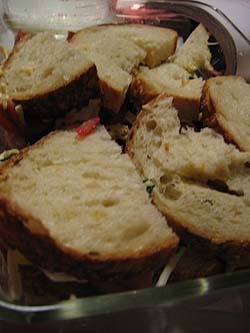 Squish the sandwiches into a baking dish that is approximately 10.5 X 8.25 inches and 2.25 inches deep. Next, beat together the eggs, salt and milk. I had about 2 tablespoons of cottage cheese in the fridge that I needed to use, so I threw that in here too. I also added the Worcestershire sauce to the egg mixture because I wasn't really paying attention to the directions. Woo!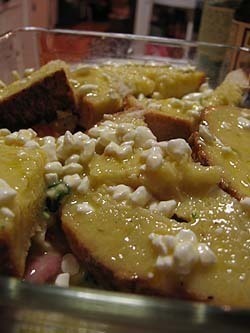 Pour the egg mixture over the sandwiches halves and cover with plastic wrap. Leave in the fridge overnight. It'll soak up a lot of the liquid. The next morning, preheat the oven to 400 degrees and sprinkle the grated cheese over the bread.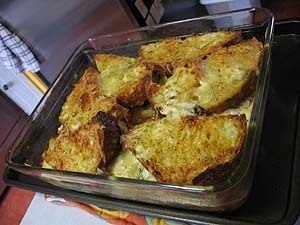 Bake in the oven for 25-30 minutes, until the top is golden. I found that after 30 minutes, mine was mostly all done but still a little runny in the middle. I found that slicing and plating a piece and then popping it in the microwave for 1 minute, completely finished cooking any remaining egg and still kept the top all crunchy. Excellent!