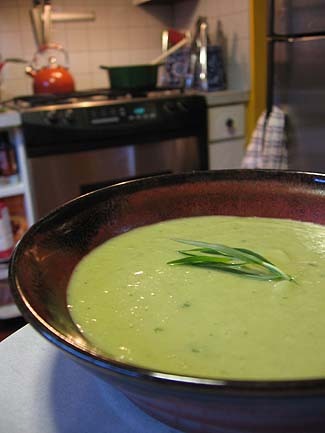 I came across the Legume Love Affair event and well, I that sounded fun as I love beans too. Around the house, we sing a song called, "Beans, the Man they Call Beans", to the tune of the Jayne's folk hero song on Firefly (Jaynestown episode). There really aren't any lyrics other than the "Beans, the man they call beans," part, but trust me, it's very amusing. Hmmm, perhaps I have said too much.
Anyway, I am a fan of the lima bean. I think it all started as a child — after being presented with a bowl of Campbell's vegetable soup, I would begin my hunt of picking out all the lima beans and eating those first. When they were gone, I was less enthused about the soup.
So really, it is my destiny to create a recipe for a soup with just lima beans.
Creamy Lima Bean & Tarragon Soup
2 1/4 cups frozen lima beans — don't bother defrosting
1 tsp dried tarragon
1 small onion, diced
2 cloves garlic, minced
2 tbsp olive oil
2 1/4 cups chicken stock to cover
1/4 cup grated parmesan cheese
1/2 cup milk
salt & pepper to taste
Optional: a few sprigs of fresh tarragon
In a soup pot, heat the oil and saute the onion and garlic until soft. Add the dried tarragon and mix to combine.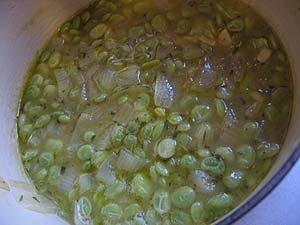 Next, add the frozen beans and the chicken stock. Bring to a boil and simmer about 20 minutes. Add the parmesan cheese and milk. Stir and remove from the heat. Let cool briefly to blend safely.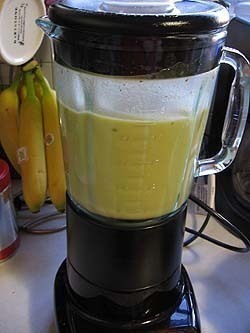 In batches, puree until smooth. Return to the pot and salt and pepper to taste and rewarm as needed.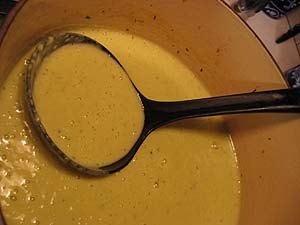 Thanks again to the well seasoned cook for hosting a fun event!