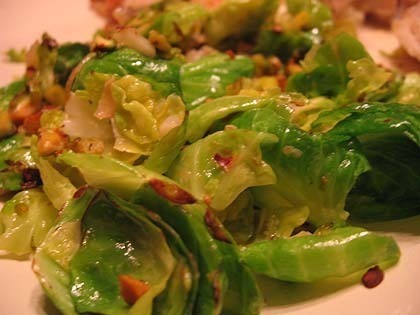 This might be my most favorite Brussels sprout recipe of all time. I made this on Friday night to go with some fish (oven roasted cod) and we decided to make more for Sunday night's dinner. Brussels sprouts haters would probably even like this! It looks like a tasty little salad on the plate. Who doesn't like a tasty little salad?
This will make enough for two people — double the recipe as needed. The only thing is that the original recipe said to discard the cores, which made me a little sad. I also found that getting the little leaves off was kind of a pain after a while. I may try this next with pulling off some of the big leaves at first and then shredding most of the sprout to use as much of each sprout as possible. The sprouts I used were on the small size — logistically-speaking, this recipe might work best with big sprouts if you want to just use the leaves.
Brussels Sprouts with Lemon & Pistachios
Adapted from Bon Appétit magazine
1 tbsp olive oil
1 tbsp minced shallot
1 clove garlic, minced
1/2 lb brussels sprouts, trimmed, leaves separated from cores
1/4 cup shelled pistachios (after shelling, I put mine in a baggie and broke them up a bit)
1 tbsp fresh lemon juice
Heat oil in large nonstick skillet over medium-high heat. Add shallot and garlic and stir 20 seconds.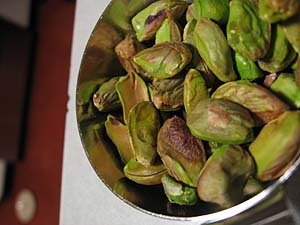 Add Brussels sprout leaves and pistachios, and sauté until leaves begin to soften but are still bright green, about 3 minutes. Drizzle lemon juice over.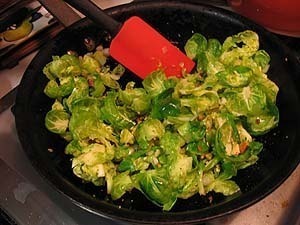 Season to taste with salt and pepper. Transfer to bowl and serve.
***
Saturday morning, I was trying to decide what to make myself for breakfast (jwa was going on a jog) and I remembered this mini omelet-maker that my mom got me as a stocking stuffer. What the hell, I thought, I'll give it a try. I gave it a quick spray with non-stick stuff, sauteed a diced yellow bell pepper and a few chopped broccoli florets and beat up two eggs with a teaspoon of Dijon mustard, salt and pepper.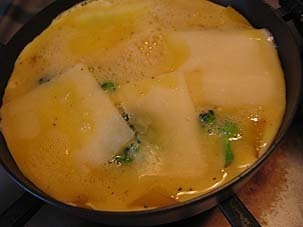 Added the egg and a little cheese (Tillamook roasted garlic cheddar) to the pan.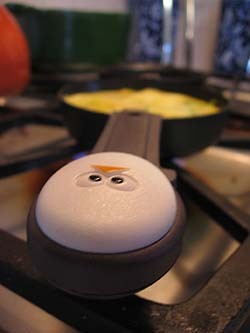 Covered it. Cooked a couple of minutes. Flipped it over and cooked that side for a couple of minutes. Opened it up and —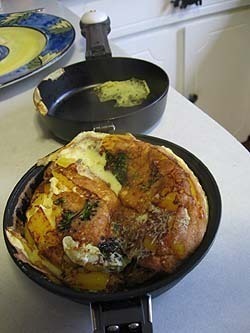 voila! Breakfast! Along with some blood orange segments, it was quite delicious.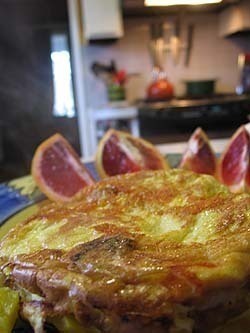 You know, I probably wouldn't have bought it for myself, but it worked really well. I'm sure I'll get a lot more use out of it with many more tasty omelets on the days when jwa is out jogging or um, sleeping in.