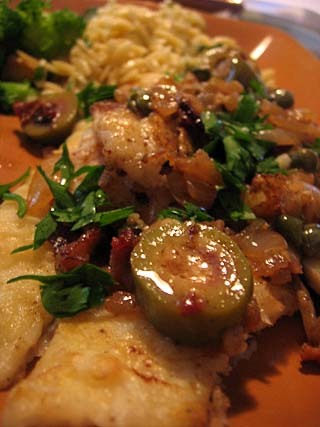 Wow! Two posts in two days! Amazing! Uh, anyway, lately, I have mentioned to jwa (threatened?) that we will be eating more fish — at least two times a week. The problem is, we have expensive, fancy-pants fish tastes. Mostly, we both like salmon, tuna and halibut and that's pretty much our fish repertoire. Now, don't get me wrong, I love salmon, tuna and halibut but, those fishes are kinda up there in price.
So, I am starting a new project to try different, more, shall we say, economical kinds of fish. First up? Some frozen "Wild Holland Sole Fillets" that I got at Trader Joe's. Price: $6.99/pound. Not bad.
After some searching, I came across a recipe that was featured on Cooking Live with Sara Moulton a few years back, that incorporates butter, olives, capers and bacon. See — we are eating more fish because it is healthy. We are eating the butter and bacon to eat more fish. Excellent!
Lemony Sole with Green Olives, Bacon, and Capers
4 (6-ounce) sole fillets
1/2 cup all-purpose flour
Kosher salt and freshly ground black pepper
2 tbsp olive oil
1 tbsp unsalted butter
1/4 cup chopped green olives
3 tbsp drained capers
3 cloves garlic, chopped or minced
3 strips cooked bacon, crumbled
1 tbsp chopped flat-leaf parsley
Beurre Blanc (see below)
Beurre Blanc
1/4 cup white wine
1 shallot, finely chopped (I used extra — mm!! shallots)
4 tbsp unsalted butter, cut into cubes and chilled
1 tspn fresh lemon juice
Kosher salt and freshly ground pepper
Optional: 1 tbsp cream
Optional: 4 more tbsp butter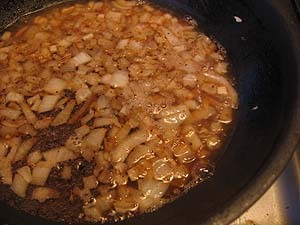 Combine the wine and shallot in a medium saucepan, bring to a boil, and cook until reduced by half. Now, if you are really crafty, before you even add the wine, you will use the pan you used to fry the bacon in. And you will sweat the onion for a few minutes first in residual, after-being-wiped-out, bacon grease. Next after reducing the wine-shallot mixture, add the cream (if using, I did not) and continue reducing until just thickened. Reduce the heat to low.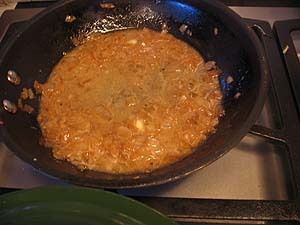 While whisking constantly, add the butter, little by little, waiting for each addition to be incorporated before adding more, to make a smooth sauce. Here, the original recipe called for 8 tablespoons butter — I reduced that by half. Whisk in the lemon juice and season with salt and pepper. Set aside in a warm area. (The sauce may break if it's too hot or too cold.)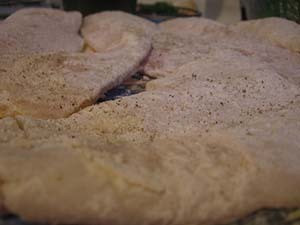 Dredge the fillets in the flour and season with salt and pepper. Preheat a large skillet over medium heat. Add the 2 tablespoons oil and 1 tablespoon butter and heat until hot.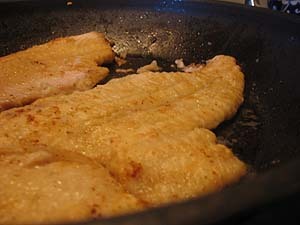 Add the fillets and cook, turning once, until just cooked through, about 4 minutes. Remove to a plate and keep warm with foil.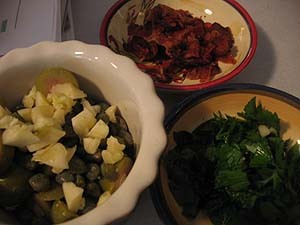 Remove the skillet from the heat, add the olives, capers, and bacon, and stir, scraping up the browned bits from the bottom, until the mixture has warmed through. If you have a lot of brown bits to scrape up, I found that adding about a 1/4 cup of white wine worked well.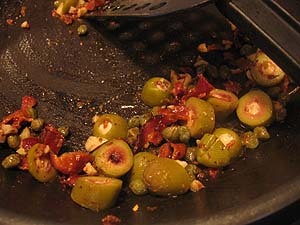 Add the beurre blanc and parsley and stir to combine. Spoon the sauce over the fillets and serve immediately with rice or orzo.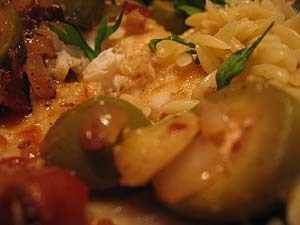 The verdict: Come on, it had butter and bacon. Of course it was really good! I tried to healthy it up just a little by using olive oil instead of vegetable oil, decreasing the pan-frying butter to just one tablespoon and reducing the sauce butter to 4 tablespoons. Eh, fine, it's still not exactly a healthy meal but it was a wonderfully successful fish experiment. And the huge side of steamed broccoli counts towards the healthy. So there.
Next up in the new kinds of fish experiment? Mahi mahi — probably next week.